Are you looking for the pink desk lamps or pink bedside lamps for reading in bed? Whether it is you who need this, or the book lover girl in your life, here are some pink desk lamps in different shades of pink, like soft pink, blush pink, hot pink and Ivy pink.
Some of these book reading desk lamps are rechargeable and other run on direct power from the USB power outlet.
Let's Start!
Pink desk lamps in different shades of pink
Soft Pink desk lamp with flexible goose neck and three level dimmer.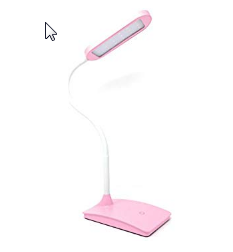 Light Quality: High-CRI LED light, in which the colors look more natural and eye friendly. 3 level touch sensitive dimmer that is touch sensitive. The color temperature 4000K warm white, is not ideal for reading in bed, but not as bad as 6500K cool white light.
Power: Rechargeable battery
Other Benefits: Flexible neck
Gift for a book lover girls: Warm and cool light, blush Pink desk lamp with Bluetooth speaker
If you are looking for a gift for a book lover girls who also loves music, then this pink lamp has an interesting combination of a desk lamp and a Bluetooth speaker. You can play sound from USB, Micro SD TF card, auxiliary cable, and via Bluetooth.
For reading in bed, you get warm light 3200K that has less blue light in it. For daytime use, you have other two color options: 4500K warm white and 6000K cool white light. It runs on direct power through any USB source. If you find it to be too bright, simply dim it to the lowest level. There are three dimming levels.
Foldable Flat, pocket-able pink desk reading lamp with date, time and room temperature display
Light Quality: No glare, No flicker smooth and even, cool white light. Not recommended for reading in bed, as it will disrupt your sleep. Otherwise, a great reading lamp. You can also dim the light if needed.
Power: Runs on direct power. Any USB power source like laptop, mobile charger or the power bank will work.
Other Benefits: Easy to use, Touch sensitive controls. Date, time and room temperature display
Cute Rechargeable pink elephant bedside desk lamp for kids and girls
If you do not mind getting a light with white light, then it is a cool looking elephant desk lamp in pink color. It has a rechargeable battery that charges in 3 hours, from any USB output with ease. Once charged, take it anywhere in your home and read upto 5 hours. It also has the option to dim the light upto 3 levels. Just touch the power button multiple times to change the brightness.
Not exactly Pink, Stylish Red bedside desk lamp for girls
It is a rechargeable LED desk lamp with warm white light color 4000K. You can direct the light using its 360 degree flexible goose neck. To dim the light according to your need, use its brightness adjustment option. With its rechargeable battery, you can read wherever you want, once it is charged. Charging is also easy, thanks to the the micro USB charging port that works with all USB outputs like the one your laptop has. Get this elegant, simple and futuristic lamp for you, or the book lover girl in your life by clicking the image.