Poor vision has a significant impact on people's quality of life emotionally and physically, as they find themselves less capable of doing what they used to enjoy. In this challenging journey, experts widely concur that one of the simplest and most effective aids to improve their vision is the right, high-quality lighting. If you've been tired of straining your eyes while engrossed in the pages of a good book, particularly when dealing with poor eyesight, don't worry. We're here to illuminate the path to a more enjoyable reading experience. Whether you're a dedicated bookworm or simply seeking a little extra illumination for your nighttime reading escapades, we've got the solutions you need. So, let's dive in and discover the ultimate reading lamp companions, crafted to make your reading adventures more delightful, even if your eyesight isn't what it used to be.
Best reading lamp for poor eyesight
These high-quality lamps provide even, focused lighting in low-light conditions. For magnifying lamps, please refer to the next section.
Stella II Premium 11W LED Desk Reading Lamp:
The Stella Two Task Lamp is an exceptional lighting solution tailored for book lovers with poor vision. This thoughtfully designed desk lamp is a result of collaboration with clinical eye doctors who understand the crucial need for enhanced illumination to assist in daily tasks. Key features include a weighted base for stability, a flexible and adjustable arm, and tactile raised touch controls for easy adjustments. The Stella uses LEDs which is the best lighting choice for reading. These are not only energy-efficient but also safe, producing minimal heat even during extended use. Furthermore, the lamp offers three distinct color spectrums – Warm (2800K), Bright White (4100K), and Cool (5500K), making it versatile for various activities.
Pros
Powerful 11W LED light source for bright and energy-efficient illumination.
High Color Rendering Index (CRI) of 90+ for accurate color representation.
Adjustable gooseneck arm
Four color temperature modes
Sleek and modern design
Tactile control
Built-in USB charging port for added convenience.
Energy-efficient LED lights with a significant lifespan.
Anti-glare
Cons
Higher initial cost compared to standard desk lamps.
Requires proximity to an electrical outlet for power.
Verilux SmartLight Full Spectrum LED Modern Floor Lamp: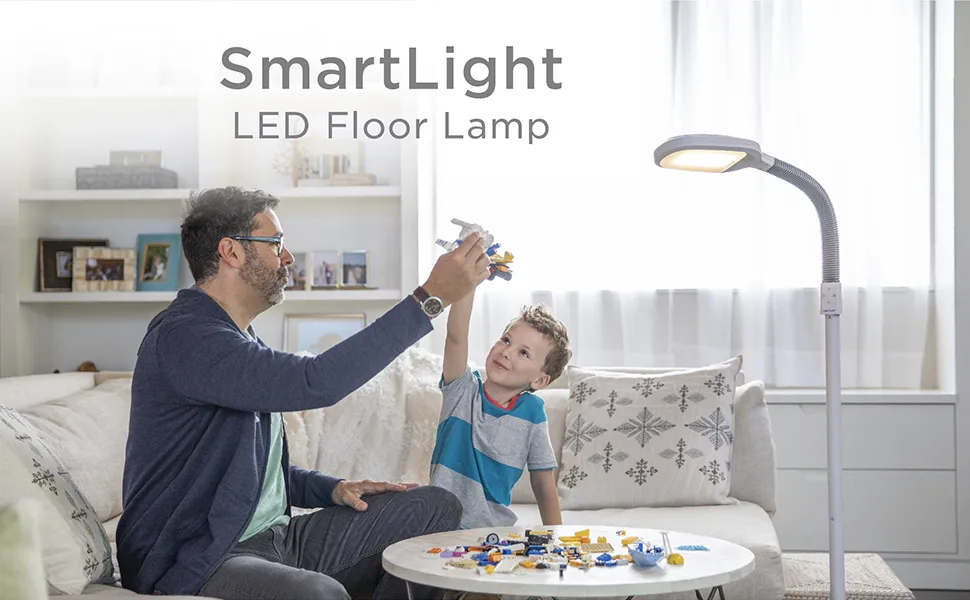 The Verilux SmartLight Full Spectrum LED Modern Floor Lamp redefines your lighting experience with its innovative features and modern design. This floor lamp harnesses the power of full-spectrum, long-lasting LED lighting, ensuring brighter, more vibrant illumination, making it perfect for reading and performing detailed tasks. What sets this lamp apart is its personalized settings. You have the freedom to tailor your lighting experience by choosing from 5 different light intensity levels and 3 color temperature settings, ranging from warm white to daylight. This customization allows you to create the perfect lighting ambiance for your specific needs. The floor lamp not only provides excellent lighting but also prioritizes eye comfort. It mimics natural daylight, eliminating flickering, and incorporates an Optic lens to control glare, ultimately reducing eye strain and fatigue during extended use.
Pros
Full-spectrum, long-lasting LED light for better brightness and color accuracy.
Personalized settings with 5 light intensity levels and 3 color temperature options.
Modern, sleek design that complements various room aesthetics.
Flicker-free and glare-controlled lighting
1-year warranty for customer peace of mind.
Budget-friendly.
Cons
Require proximity to an electrical outlet for power.
Limited portability
Light intensity and color customization may be overwhelming for some users.
OttLite Creative Curves LED Desk Lamp: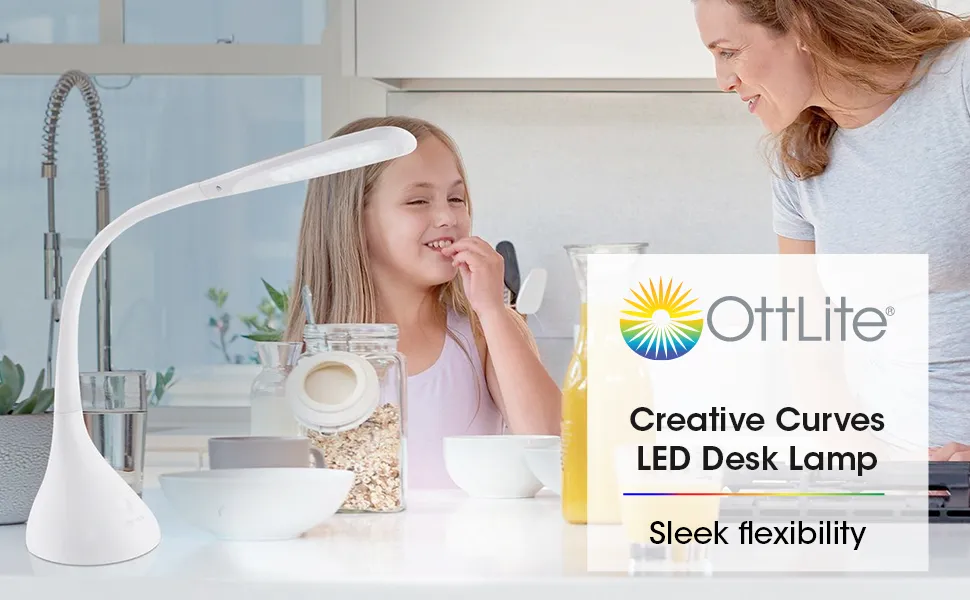 The OttLite Creative Curves LED Desk Lamp is a sleek and versatile lighting solution that enhances various activities, from reading and crafting to solving puzzles, by providing excellent illumination. Its compact design and flexible 20-inch neck allow you to position the light precisely where you need it, making it a valuable addition to tables, nightstands, and workspaces in homes, dorms, and offices. The OttLite Natural Daylight LEDs are exceptionally long-lasting, providing high-contrast, low-glare light for up to 40,000 hours, making this desk lamp a durable and reliable lighting solution.
Pros:
Versatile Lighting Solution
Offers four different brightness settings for customizable illumination.
Flexible Design
Compact and Sleek: Fits well on tables, nightstands, and office desks, saving space.
Natural Daylight LED.
Superior Color Rendering: Enhances clarity for reading and detailed tasks.
Long-lasting LEDs.
Low-glare illumination.
Highly affordable.
Portable.
High customer satisfaction rate.
Weighted base.
Cons:
Some users may prefer more advanced features, such as color temperature.
Potential for sensitivity to touch-sensitive controls.
Explore more: Lampat Desk Lamp Review – Modern, Adjustable, and Inexpensive.
Best magnifying reading lamp for poor eyesight:
Krstlv 24″ Flexible Gooseneck Magnifying Floor Lamp: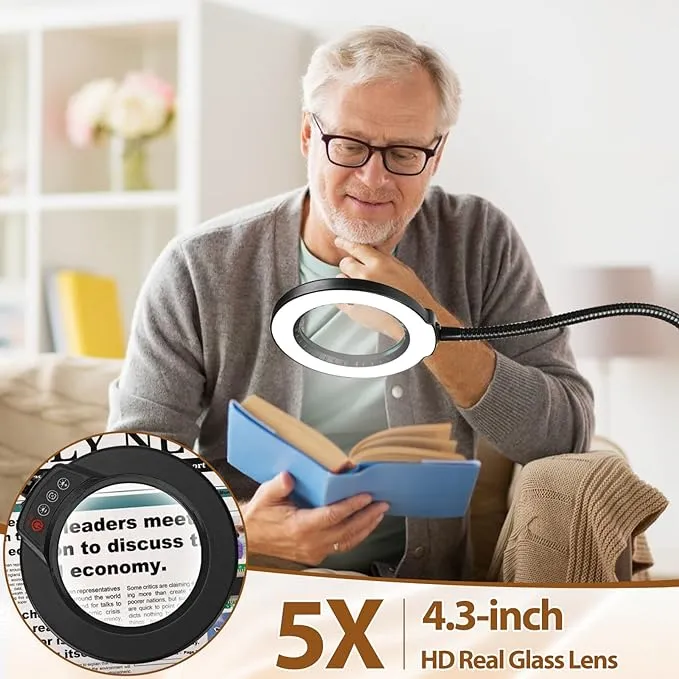 The Krstlv 5X Magnifying Glass with Light and Stand is a versatile and indispensable tool designed to enhance your reading. The 24-inch flexible gooseneck allows for precise positioning, ensuring that the light and magnifier are exactly where you need them. The 3-in-1 installation modes provide multiple setup options, allowing you to choose the most suitable configuration for your needs. The LED light offers five color modes and stepless dimming, enabling you to customize the lighting to reduce eye strain and ensure optimal clarity. This magnifier is perfect for reading while sitting on their couch.
Pros
Highly portable
5X Magnification:
Flexible Gooseneck
LED lighting
3 1 installation modes
Anti-glare
Affordable
Cons
Brightech LightView Pro Magnifying Desk Lamp: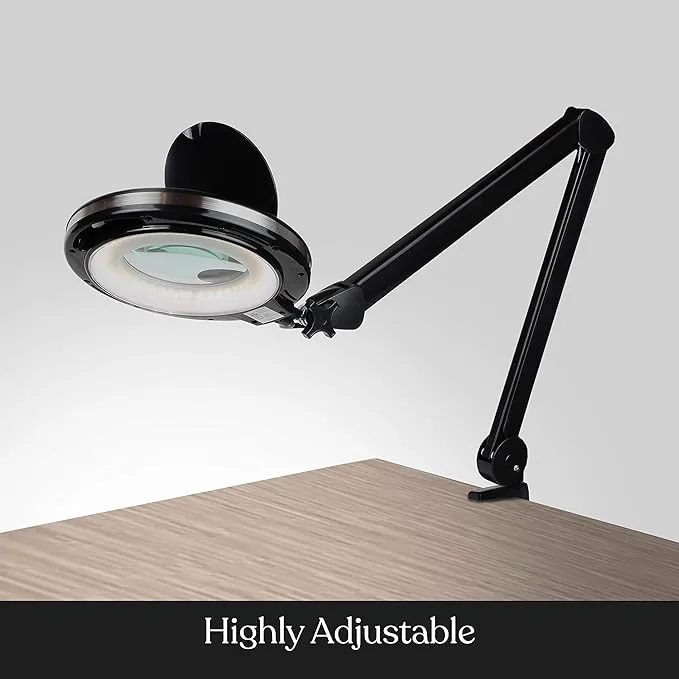 Brightech LightView Pro Magnifying Desk Lamp is a game-changer for anyone requiring precise, close-up work or visual aids to alleviate eye fatigue. This versatile tool has high-quality lenses, ensuring an enhanced reading experience without causing dizziness or strain. The magnifier keeps objects in sharp focus at a distance of approximately 8 inches, making it an indispensable aid for various activities. It has an adjustable gooseneck swing arm. This feature allows you to customize the angle of the glass lens, providing hands-free illumination for reading. One of the standout features is the 20-Year Life LED Lights, built to last and ensure maximum durability. Unlike cheaper acrylic or plastic lenses that warp and scratch easily, this magnifier boasts a genuine diopter lens that is scratch-resistant and impervious to the effects of heat. The 9W and 650-lumen LED lights are designed to endure 20,000 hours of use. With a substantial 2.25X magnification, it's a perfect companion for bookworms with poor eyesight.
Pros
Offers High-quality 2.25X magnification.
Dimmable LED Lighting
Quality Optics
Long-lasting LED Lights
Flexible Gooseneck Arm
Ergonomic Design
Space-efficient
Durable Construction
Anti-glare
Cons
Limited Mobility
Requires a Power Source
MagniPros 6X Large Magnifying Glass: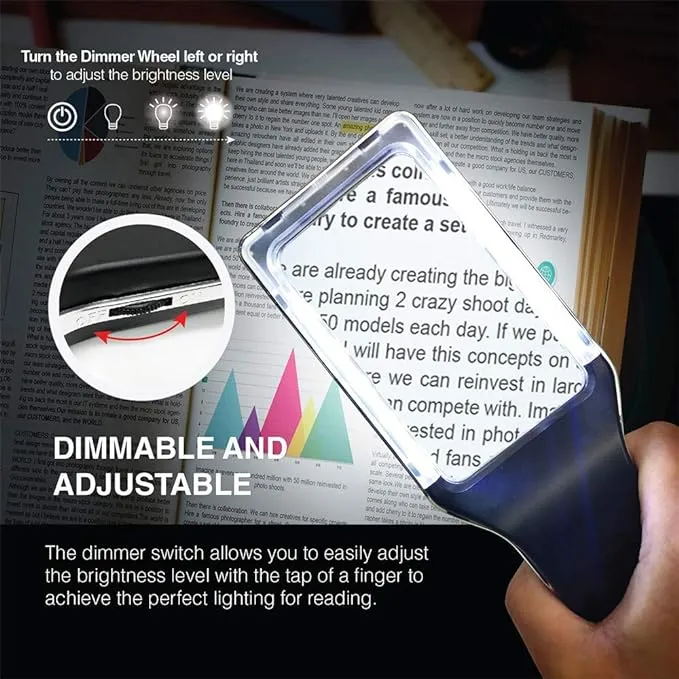 The rectangular magnifying lens presented in this product is thoughtfully designed to mimic the natural left-to-right reading pattern, offering a large viewing area without requiring constant hand movement. Measuring 4.35″x 2.7″, it magnifies up to 600%, making it ideal for various tasks. This LED magnifier is a solution to reduce eye strain and offers dimmable lighting, featuring a roller dimmer for easy brightness adjustment, peaking at 600 lumens, suitable for a range of tasks. Its lightweight construction, weighing only 6.5 ounces, and ergonomically designed handle make it comfortable for extended use, particularly for readers.
Pros
Large Viewing Area
Rectangular Lens Design
High Magnification
Crystal Clear Acrylic Lens
Scratch-resistant and shatterproof.
Dimmable LED Lighting
Ergonomic Handle
Long-lasting LED Lighting.
Cons
Battery operated
While relatively lightweight, some users might find the 6.5-ounce weight of the magnifier a bit heavy for extended use.
Tobegiga 10X Magnifier Lamp: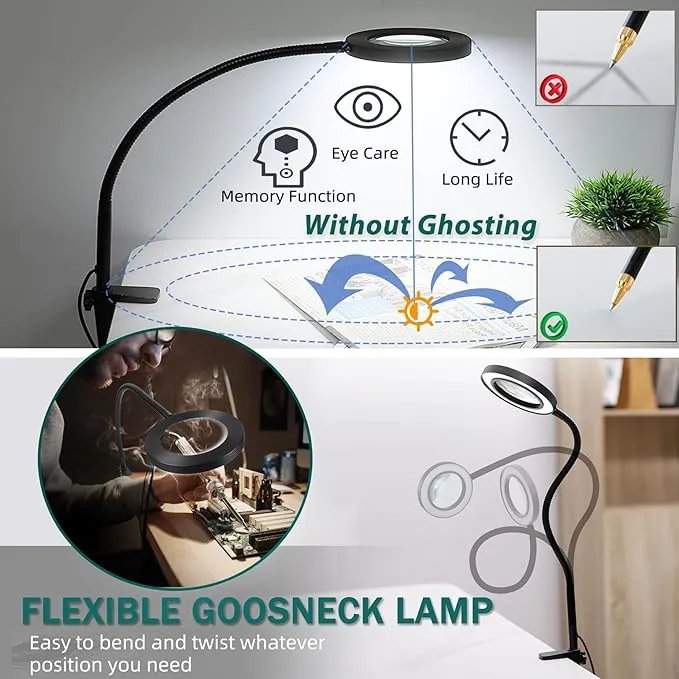 The Tobegiga Magnifying Lamp is versatile and portable lighting. With its compact size, standing at just 33cm tall, and a small 15cm wide base, it's designed for versatile use and easy travel. The rechargeable battery provides up to 8 hours of consistent brightness, and the LED lights around the magnification lens ensure uniform lighting for precise work. the 360-degree adjustable gooseneck provides hands-free convenience.
Pros
360-degree rotation gooseneck
Portable
Rechargeable
Glare-free
Different light levels
Sturdy base
Cons
Less durability
Slightly expensive
Moderately heavy for traveling purposes
Explore more: 7 Best Neck Lights for Reading
Buying Guide:
Brightness and Color Temperature:
When shopping for a reading lamp, the first consideration should be brightness and color temperature. Opt for lamps with adjustable brightness levels and color temperatures. LED lamps are an excellent choice, as they provide customizable illumination to suit your specific needs. Look for lamps with a color temperature in the range of 2700-3500 Kelvin, which simulates natural daylight and reduces eye strain.
Type of Lighting:
Incandescent bulbs mimic natural sunlight but can create uneven lighting. Halogen offers energy efficiency and focused illumination. Fluorescent bulbs balance brightness and safety. However, for reading with poor eyesight, LED lights stand out as the best choice, thanks to their energy efficiency and versatile designs, ensuring a comfortable and well-lit reading experience.
Adjustable Features:
Versatility is crucial when selecting a reading lamp. Look for lamps with adjustable features, such as flexible goosenecks, adjustable heads, and dimmer switches. These features allow you to customize the angle and intensity of the light to reduce glare and optimize your reading conditions.
Glare Reduction:
Glare is a common issue for those with poor eyesight. To minimize glare, choose lamps with anti-glare or diffusing technology. This helps prevent light from bouncing off the pages and into your eyes, providing a more comfortable reading experience.
Energy Efficiency:
Opt for energy-efficient reading lamps to save on electricity bills and reduce your environmental footprint.
Portability and Design:
Consider the lamp's design and portability. Look for a lamp that complements your reading space, whether it's a classic desk lamp or a sleek, modern floor lamp. Additionally, a portable lamp allows you to move it around as needed, ensuring you have the perfect reading light wherever you go.
Reviews and Recommendations:
Before making a purchase, read reviews and seek recommendations from others with poor eyesight who have found success with specific reading lamps. Online platforms and user reviews can provide valuable insights and help you make an informed decision.
In conclusion, when selecting a reading lamp for poor eyesight, it's essential to consider your specific needs and preferences. The right lamp can significantly enhance your reading experience and provide the necessary illumination for tasks, even with reduced eyesight.