In the ever-evolving landscape of modern technology, the way we read has been transformed. Gone are the days of relying solely on traditional lamps or overhead lighting to illuminate our books and e-readers. With the advent of neck lights, reading enthusiasts now have a convenient and hands-free solution that makes reading a seamless experience. These portable, wearable lights are designed to hang around the neck, providing a focused and adjustable beam of light, which not only improves visibility but also reduces eye strain during extended reading sessions. We will introduce seven of the best neck lights for reading, offering a combination of features, functionality, and style.
EZRED Bright NK10 ANYWEAR Neck Light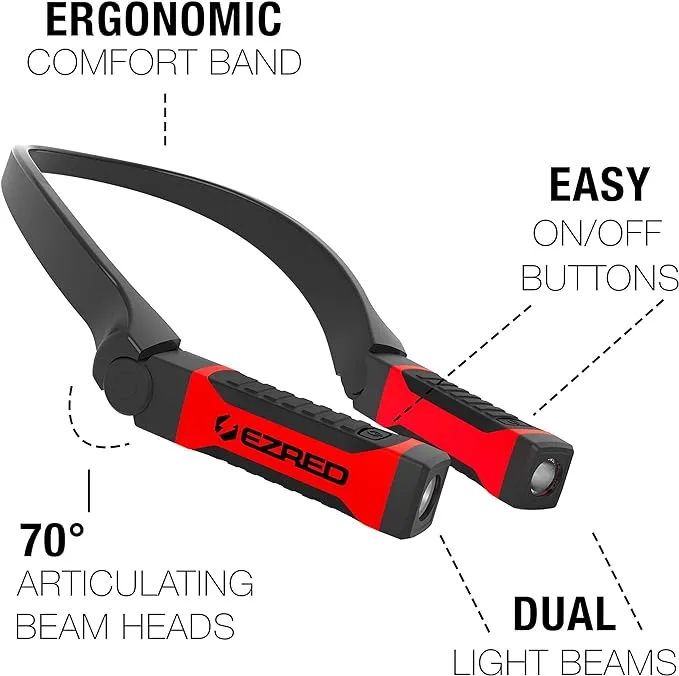 The NK10 Neck Light provides a powerful and uniform light beam, making it suitable for reading in both well-lit and low-light conditions. This neck light offers multiple brightness settings, allowing you to customize the intensity of the light to suit your reading preferences. You can easily switch between different levels to find the perfect level of illumination for your needs. It ranges from 50 to 200 lumens. The NK10 is engineered to emit a warm and natural color temperature. the lightweight design of the NK10 makes it highly portable. NK10 is versatile and can be used for various tasks such as crafting, repairing, or any hands-on work where focused and hands-free lighting is needed. The reliance on 2 AA batteries can be a hassle for some, as it requires frequent replacements. However, for others, this may not pose an issue, depending on their preference and availability.
PROS:
Exceptional brightness ensures excellent visibility for reading
Adjustable light settings and color temperature cater to individual preferences
Long battery life supports extended reading sessions
Comfortable and ergonomic design for extended wear
Multi-purpose functionality for various tasks
Durable build quality
Affordable pricing
Water-resistant
CONS:
Not waterproof
Run on 2AA batteries
Limited light direction control
Comparatively costly
Glocusent LED Neck Reading Light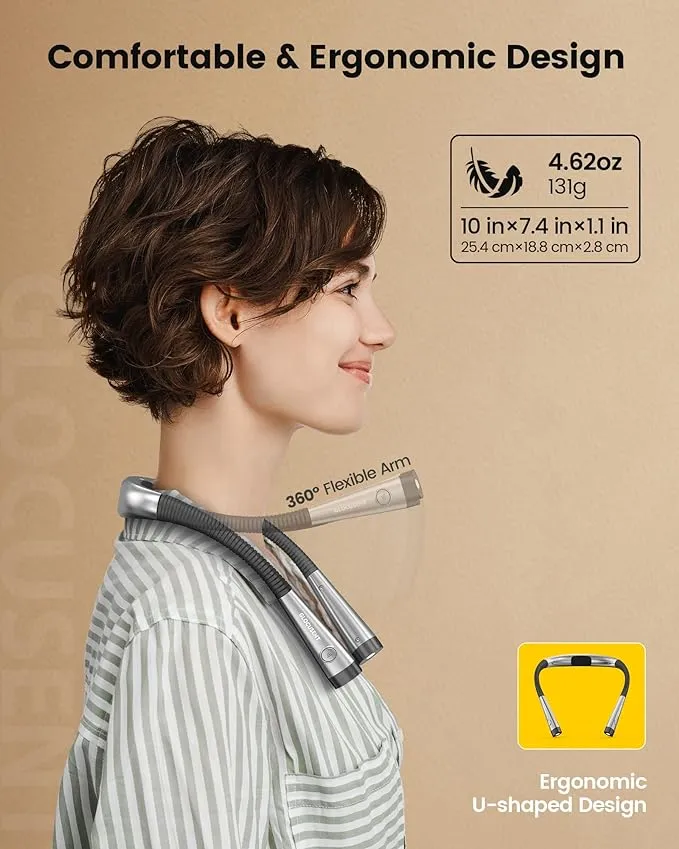 The Glocusent LED Neck Reading Light is a revolutionary illumination solution designed to enhance your reading experience in a way that cares for your eyes, user-friendly, and is incredibly versatile. With many remarkable features, this necklight is your ideal partner for all your reading adventures.
PROS:
Highly adjustable and flexible design for precise lighting direction
Multiple LEDs for even illumination with no hotspots
Three color temperature modes to match your reading environment
Adjustable 6 brightness levels for customized lighting
Rechargeable battery of up to 80 hours for extended usage
Comfortable and ergonomic design for prolonged wear
Versatile for various tasks
Durable and long-lasting construction
Anti-glare technology for reduced reflections
USB type C cable given
CONS:
Expensive
Limited light direction control
Victoper LED Neck Reading Light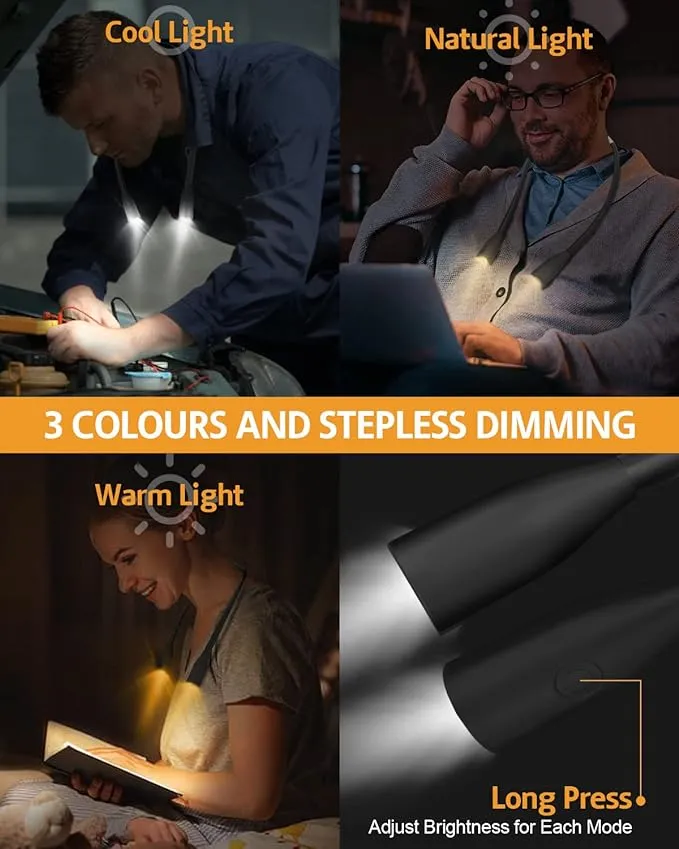 The Victoper LED Neck Reading Light is a budget-friendly version of the above neck light with almost comparable features. With its flexible design, adjustable settings, and ergonomic build, it provides a comfortable and customizable lighting experience. The light offers three color temperature modes, allowing you to select warm, cool, or natural white light, reducing eye strain during nighttime reading. With a rechargeable battery, it eliminates the need for constant battery replacements, offering an eco-friendly and cost-effective lighting solution. The Victoper LED Neck Reading Light is a reliable and user-friendly companion for readers, making it a valuable addition to your reading toolkit.
PROS:
Highly Affordable
Flexible and Adjustable Design
Customizable Lighting
Ergonomic Design
Ideal gift
Rechargeable long battery
CONS:
Not enough brightness levels
Limited direction control
Not partner friendly
LUXJET LED Book Lights Rechargeable Neck Lamp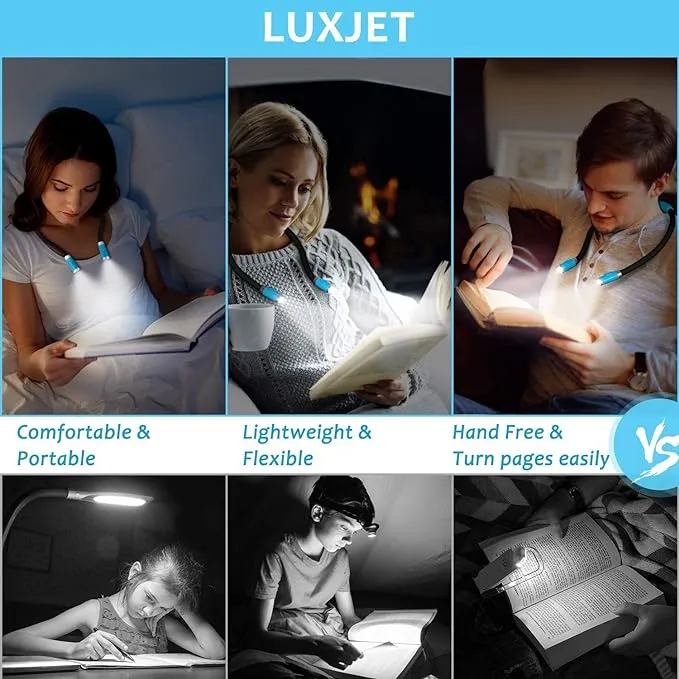 The LUXJET Neck Lamp is designed for comfort, providing an ergonomic fit that allows you to wear it for extended periods without discomfort. With its lightweight and user-friendly features, it's the ideal companion for book lovers, offering a delightful reading experience wherever you go. It has four LED bulbs with three adjusting brightness levels
PROS:
360 degrees Flexible
Affordable
Partner friendly
Adjustable brightness levels
Ergonomic design
Rechargeable
Stylish
CONS:
Not water resistant
Moderate battery timings of 20-40 hours
LEDGLE Neck Reading Light
The LEDGLE Neck Reading Light is another versatile and innovative lighting solution designed to elevate your reading experience, especially when reading in bed. Its USB rechargeable design, four powerful LEDs, three brightness levels, flexible silicone arms, and partner-friendly illumination make it a versatile and user-friendly tool for book enthusiasts. It has three light control features spot-on light, spread light, and both on. The touch control feature is a double-edged sword. It benefits some users with its convenience, but may not suit those who prefer traditional controls or tactile feedback
PROS:
Three color temperatures
6 brightness levels
Flexible arms
Comfortable to wear
Four LED lights
Partner-friendly
CONS:
Expensive
Touch control
Not water resistant
Short battery timings of 10 hours
Explore more: detailed review of the LEDGLE Neck Reading Light
Vekkia Rechargeable LED Neck Reading Light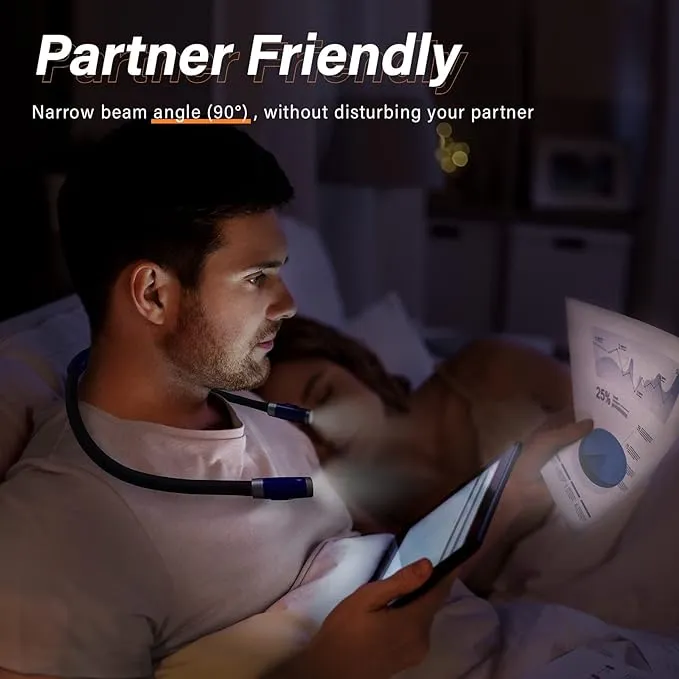 This neck light is another thoughtfully designed reading light for your comfort. The adjustable neck and head make it easy to find the perfect angle for enjoyable reading, reducing eye strain with soft, flicker-free LED technology ideal for extended reading. This book lamp is compact and lightweight for easy portability, and the rechargeable battery provides up to 7-40 hours of continuous illumination depending upon the usage and brightness level. Charging with the included Type-C cable.
PROS:
Eye-caring
Lightweight
Comfortable to wear
Partner friendly
Hair friendly and soft
CONS:
Moderate battery timings
Not water resistant
Moderately expensive
Energizer LED Rechargeable Black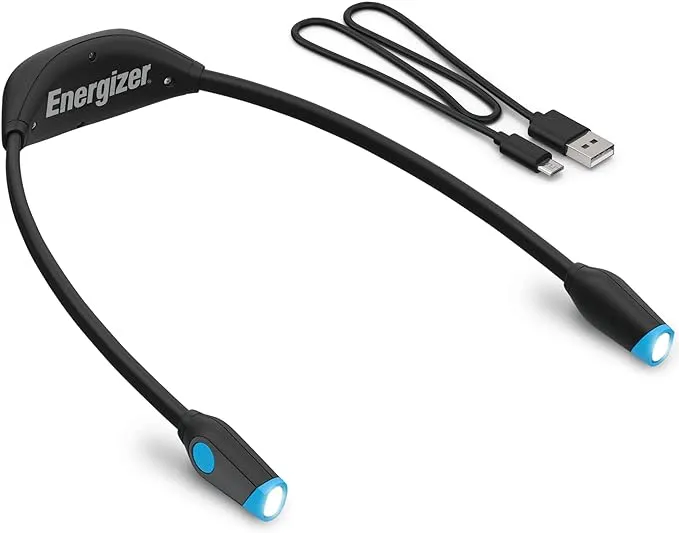 With its flexible and bendable arms, this neck light offers optimal adjustability, allowing you to position the light exactly where you need it. The three brightness levels and dimming features provide customization options to match your reading environment, ensuring a comfortable and eye-friendly reading experience. LED light runs up to 22 hours.
PROS:
Three brightness levels
Dimmable
Three color modes
Rechargeable
CONS:
Moderate battery timings of around 22 hours
Not water resistant
Explore more: Best Book Lights for Reading in Bed
Criteria for Choosing the Best Neck Light for Reading:
Choosing the right neck light is crucial for an enhanced reading experience. To make an informed choice, consider the key factors discussed below.
Comfort and Fit:
For a pleasant reading experience, prioritize comfort and fit in neck lights. Choose lightweight, ergonomic designs that avoid neck strain. Adjustable straps ensure a secure, customized fit, preventing light movement during use.
Light Intensity and Adjustability:
Brightness is key in neck lights. Seek models with adjustable settings to adapt to various reading conditions. Multiple lighting levels enable customization, from soft evening reading to daytime brightness
Color Temperature:
Some neck lights offer adjustable color temperatures, which can be a game-changer. Warm lighting is ideal for nighttime reading as it reduces eye strain, while cooler lighting is better for daytime use. A neck light with adjustable color temperatures provides versatility.
Battery Life and Charging:
Battery life is crucial. Opt for a model with long-lasting power, ideal for extended reading. Rechargeable options save on replacement batteries, with USB charging convenience.
Lighting Coverage and Direction:
Opt for flexibility in neck lights, as an adjustable neck lets you direct light precisely. Ensure it allows angle and direction control for a seamless reading experience, with even coverage across pages or screens, minimizing shadows.
Design and Style:
Consider aesthetics when selecting a neck light. Match the design and color to your personal style, whether sleek and modern or traditional and functional.
Durability and Build Quality:
Prioritize durability in neck lights with materials capable of enduring daily use, ensuring a long-lasting investment. Consider features like water resistance and rugged construction for outdoor or versatile use.
Additional Features:
Extra features can enhance your reading experience. Some neck lights double as book lights with clip-on functionality, while others have built-in page holders or storage pockets. Evaluate these features for compatibility.
Customer Reviews and Ratings:
Customer reviews and ratings are helpful to gain insights into real-world experiences with the product. These reviews often highlight both the strengths and weaknesses of a particular necklight.
Price and Budget:
Finally, consider your budget. Neck lights come in a wide price range, so it's essential to find a model that meets your requirements while fitting within your budget.
By carefully considering these criteria, you can confidently select the best neck light for reading that matches your needs and preferences. Next, we'll explore the top seven neck lights for reading.
Our Favourite Necklight:
The Glocusent LED Neck Reading Light stands out as a favorite necklight for reading purposes. Its multiple features, including adjustable brightness levels and a flexible neck, make it highly versatile and adaptable to various reading conditions. Moreover, its impressive customer satisfaction rate is a testament to its quality and functionality. If you're in search of a reliable neck light that combines durability, convenience, and value for money, the Glocusent LED Neck Reading Light certainly earns its place as a top choice for book lovers and avid readers alike.
Most Affordable Necklight:
The Victoper LED Neck Reading Light earns its praise primarily for its affordability. While it may not boast a multitude of features or high-end capabilities, it provides an accessible and cost-effective solution for those in need of a simple and reliable neck reading light. Its budget-friendly nature makes it an attractive option for individuals seeking an affordable way to illuminate their reading materials.