Are you an avid reader who loves to read in bed before drifting off to sleep? If so, you know how important it is to have the right lighting to avoid eye strain and discomfort. A book light is an essential tool for any book lover who likes to read at night, allowing you to read comfortably without disturbing your sleeping partner. In this blog post, we'll be discussing the best book lights for reading in bed as of March 2023. We've done the research for you to help you find the perfect book light that suits your reading needs and preferences.
Best Clip-on rechargeable LED book lights
The best clip on book light for reading in bed – First choice, because of all the features it provides!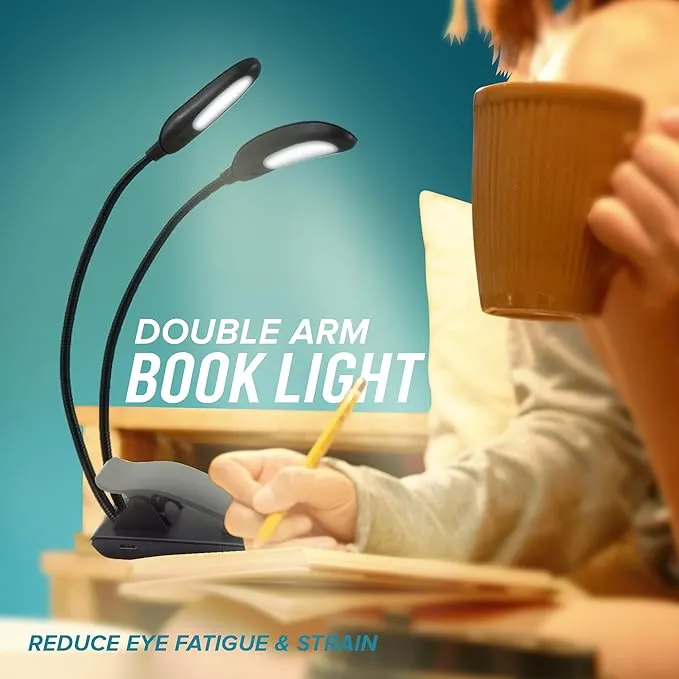 Ecologic Mart Book light, also called the Lamborghini of book lights, is the most complete, all-in-one clip-on book light. You can adjust its color (warm, cool, daylight), light direction (due to flexible goose-neck) and the brightness (9 levels, 3 for each color). It has a long lasting rechargeable battery that last for weeks on a single charge. While charging or while using the light, you can check the remaining battery percentage. The clip is strong and sturdy, yet completely safe for the pages or the screen of the kindle. You can use it as a bedside lamp, or the headboard light using its keyhole at the bottom.
Explore more: Ecologic mart book light detailed review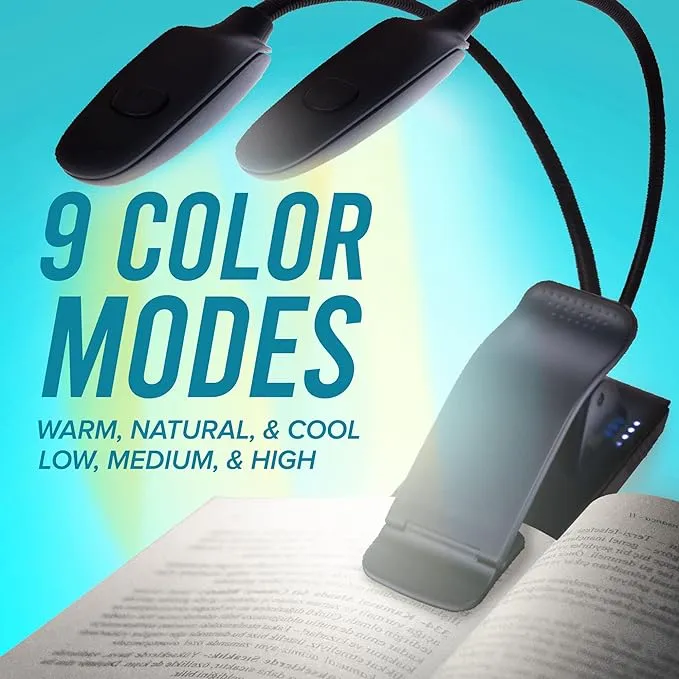 Dual-head version of Ecologic Mart rechargeable book light will provide more light to illuminate both pages of the book evenly, and this one has 18 brightness levels i.e. 9 in each head. It gives you more control over brightness. Some book lovers do not like the hassle of having a second head. If that is you, then this is not for you. Otherwise, this is the best clip on book light in warm color. because you will have the option to use either the one head or two heads.
Clip-on Amber book light, if you need a book reading light with no blue light, for better sleep
Hooga Amber book light is the best portable amber book light that does not disturb sleep cycles. It is warmer in color than the Ecologic Mart, as it blocks almost all the blue wavelengths that decrease your Melatonin production and delays your sleep. You can also decrease its brightness to half, if you want to read in dim light. It has a high capacity rechargeable battery that lasts for a week or two. If you want to read in bed without disturbing sleep, then this is the best choice.
Here is the Blue-light-free Hooglite amber clip on book light review
A small and compact book light that folds flat in a pocket friendly shape, and its transparent clip does not hide the text.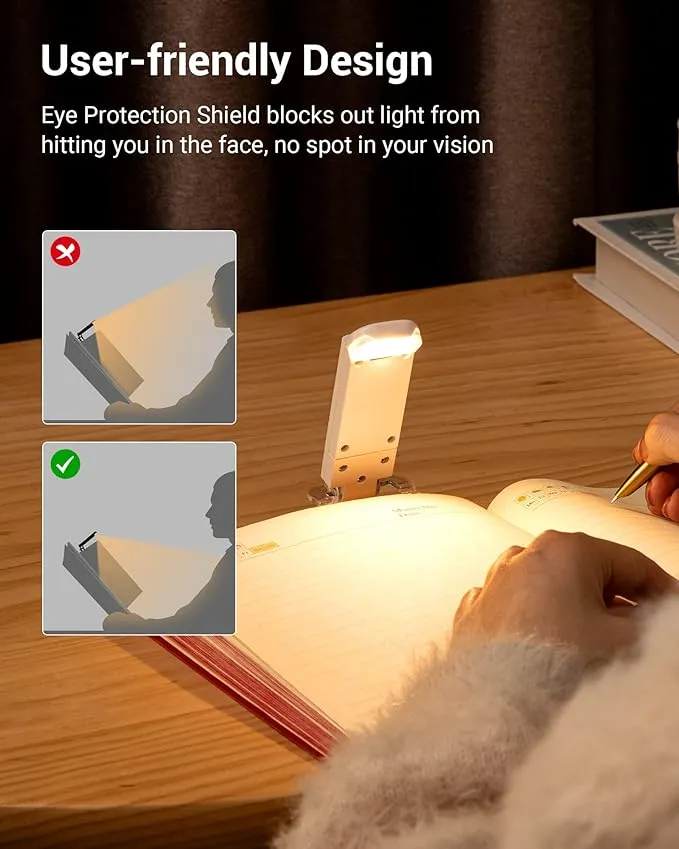 Dewenwils clip on reading light is one of the most lightweight book lights that offers you rechargeable battery, warm light that does not disturb sleep, adjustable light direction, brightness adjustment upto two levels, a clip that does not block the text behind, in just 1.3 ounces. On top of that, it folds flat into a pocket-able form factor. Comparing with the Ecologic Mart book light, it has a smaller battery that lasts for max 8 hours, and only two brightness levels. If you do not mind charging it often, and the two brightness levels work for you, then it a great book light with better portability and looks. Choose it, if you need compactness over features.
A dual head version of the above: A versatile and portable solution for comfortable reading
The Vekkia 10 LED USB Rechargeable Book Light stands out from other book lights due to its 3 different reading modes, including an amber color light which reduces eye strain and promotes relaxation while reading. In addition, it also offers both warm and white color light options, giving you the flexibility to choose the lighting that suits your preference. All of these features are conveniently packed into a lightweight and portable design, making it an ideal choice for those who love to read in bed or on the go.
Consider other types of reading lights:
A simple, warm light with 3 brightness levels is a robust choice, if you do not want a lot of options.
Vekkia 6 LED clip on rechargeable warm book light that is simpler than the Ecologic Mart book light, because of less options. Just the warm color light, and three brightness levels. You do not have to toggle between different levels of brightness and 3 color modes. Simply turn the light on, adjust the brightness and you will be reading in two clicks. It has a smaller rechargeable as compared to the Ecologic mart, yet it lasts for upto 60 hours. It means, you can read for weeks without needing to charge it. For travelling, you can also get a case for it. For details, check its detailed review
A small clip-on rechargeable book light for kids, girls and boys, also available in Pink color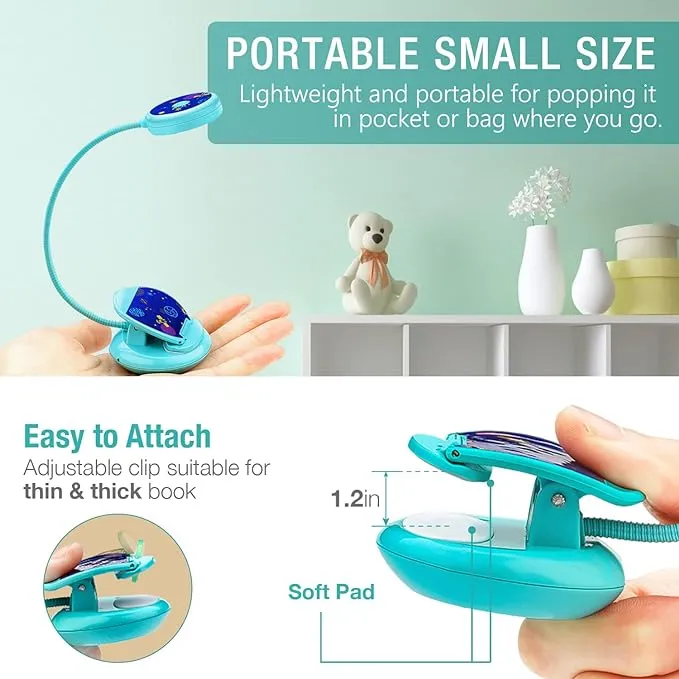 Vekkia Kids book light is a small book light that produces warm color light that is good for reading in bed. This dimmable kids light has 3 brightness levels. Its flexible goose-neck provide unlimited adjustment in the angle of light. Charge it for 2.5 hrs and read for up-to 30 hrs on lowest brightness. Its smaller battery makes it lighter than 2 ounces. For kids girls, it is also available in Pink color.
Bookmark size, clip-on rechargeable book light with warm color and step-less dimming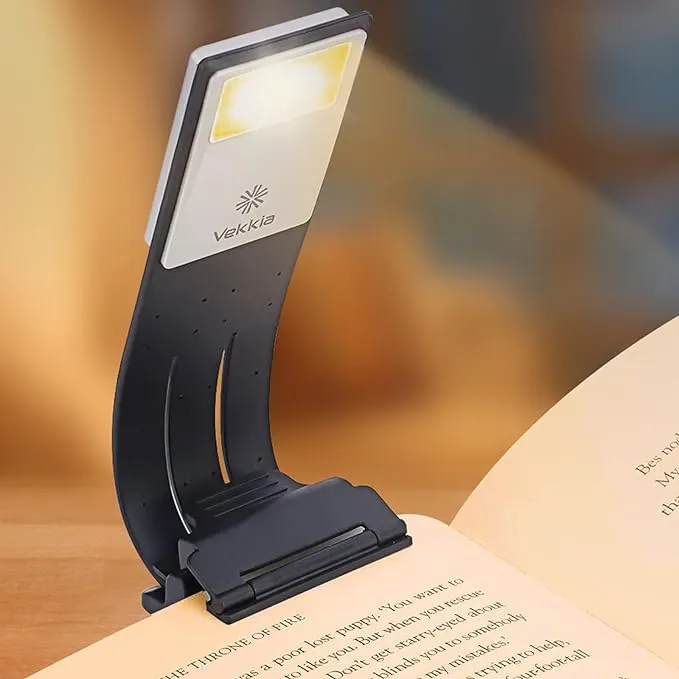 Vekkia Luminlite Clip on Bookmark book light is so slim that it can be used as a bookmark. It produces 3000K warm color light that is good for your sleep. You can dim this light precisely using its step-less dimming. Control the angle of the light by adjusting the flexible neck. Its rechargeable battery charges in 1 hours and lasts for up-to 8 hrs.
For more info, check bookmark light review
Mini rechargeable clip-on book light with 5 brightness levels, with both warm and cool light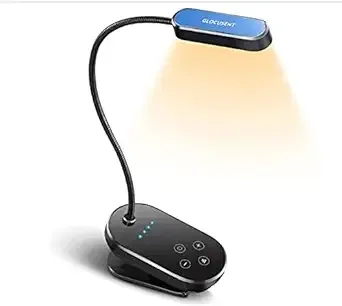 Glocusent 16 LED Mini Book Light is a tiny, yet rechargeable book light with warm and cool light and five brightness levels. Plus, it also doubles as a bookmark.
Really tiny and Lightweight rechargeable book light with high CRI Warm LEDs, and stepless dimming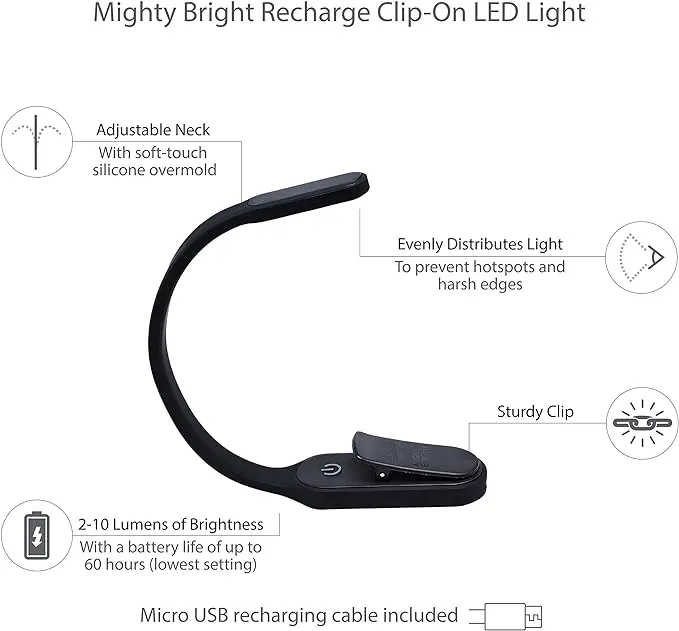 Mighty Bright 47012 produces warm 3000K light that is produced by two high CRI LEDs. Hight CRI Numbers of LEDs indicate the the colors will look more natural, just like they seem in the sunlight or incandescent bulb. Its continuous dimming gives you the power to precisely adjust the brightness levels from 2 to 10 lumens. The light direction is also fully adjustable. It runs on rechargeable battery that charges in 1 hr and lasts up-to 8 hrs. You can get it in 6 colors black, blue, green, purple, lavender and white.
The best clip-on solar rechargeable book light with warm light for reading while camping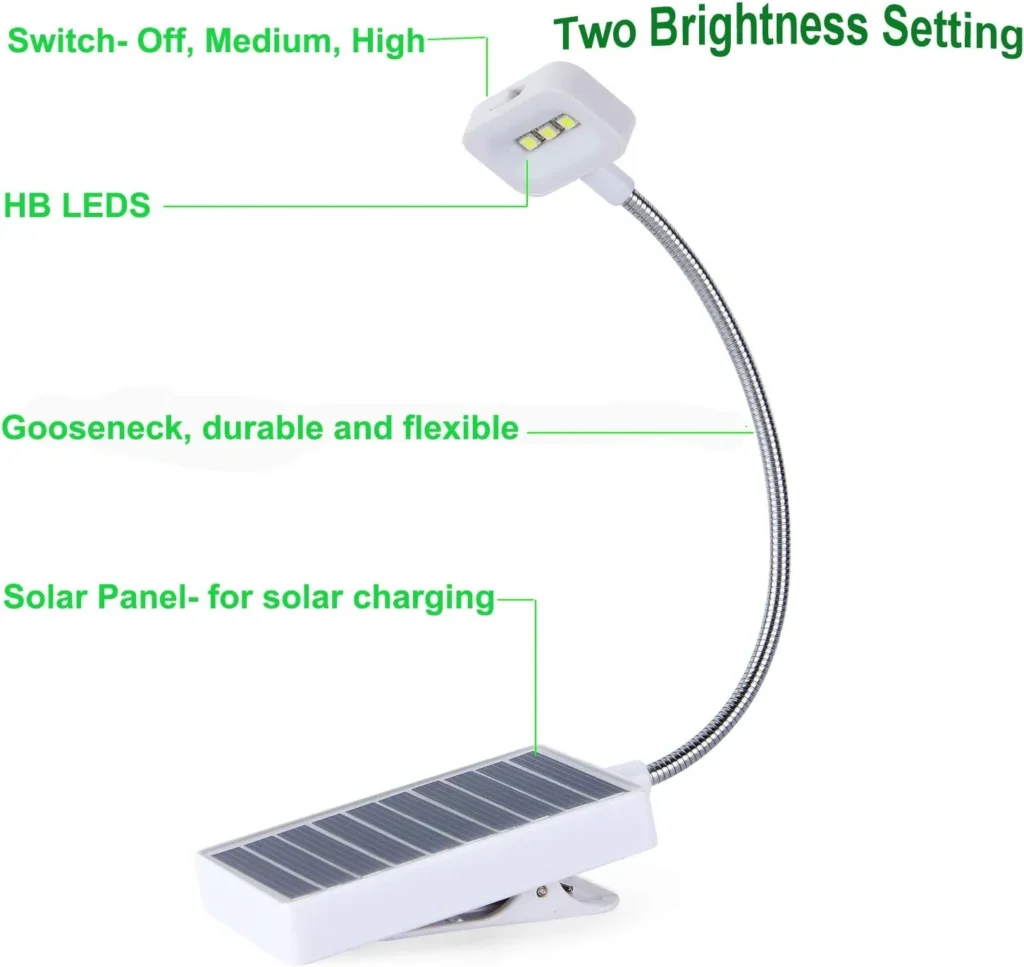 Glovion Solar book light is best if you read at night while travelling, specially camping in the woods. If you think that where you are going, you will not have easy access to the USB power source, or the AAA batteries, then this is the option to go. Other than the sun, you can also charge it via USB source. It produces warm light that is less disturbing to your sleep. You can also dim the light by using its low brightness setting. The same light is also available in pink color for girls
The smallest and the most lightweight rechargeable clip-on book light with dimmable brightness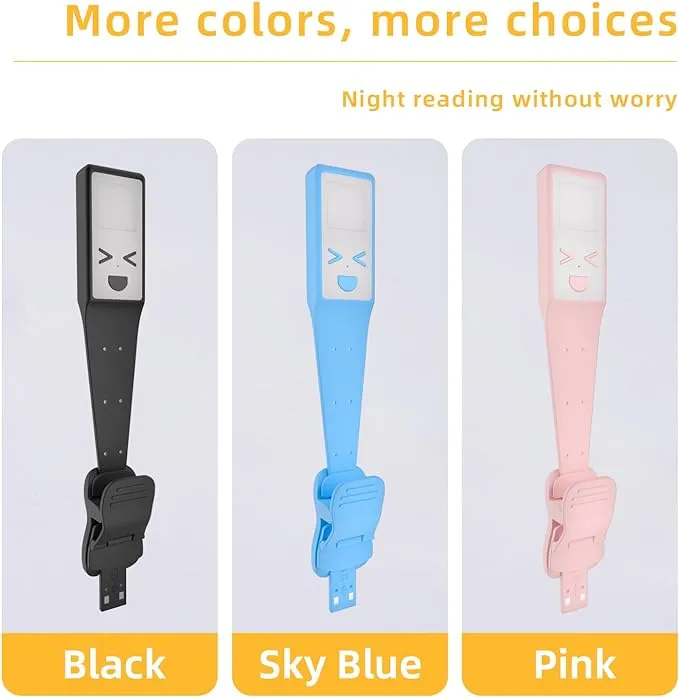 Lucarni portable clip-on book light is an extremely handy and lightweight book light for the book lovers who travel a lot. It produces warm smooth light in very small form factor that weighs just around one ounce. You can adjust the brightness up-to 5 levels. Its rechargeable battery lasts for 14 hours, and charges in one hour using any micro USB cable. You can also adjust the light direction, but it is not that adjustable as you get from a goose-neck style reading light.
White light book light that can go very dim, for those who want to stay awake while reading in bed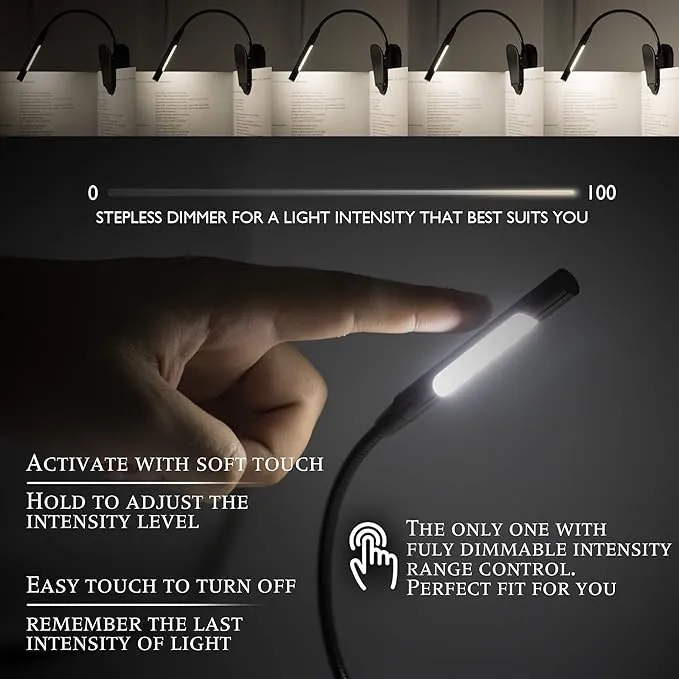 Lamimum rechargeable book light is great, if you love to read in bed, but do not want to fall asleep. This book light produces 5000K cool white light which suppresses your Melatonin production, hence you do not feel sleepy. Another good thing about this book light is, it can go very dim. It means, you can aadjust its brigtness from 100 to zero percent, using continuous or stepless dimming. Here is the detailed review of Laminum Book light
Best Incandescent book light – Zelco Itty Bitty Book Light
Have you tried reading with LED book lights but they just don't do the trick, causing your eyes to throb and you can't plow through a page in peace? Consider trying these incandescent or halogen book lights. These non-LED lights are designed for comfort—not intense light—and they provide a nice warm glow without the harsh flicker that could give you headaches.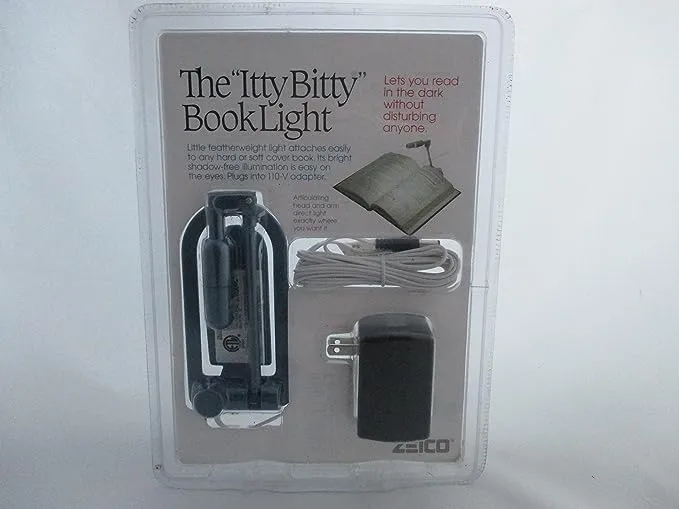 This incandescent book light is the Vol-2 with a tiny, weightless body that fits snugly in your hand so that you can direct the light wherever you need it. It attaches to virtually any book and includes a spare bulb tucked into its flexible neck. The incandescent light is so warm and pleasant that you'll forget it's on (it will not blind you). And it takes up virtually no space—you can stow it in a drawer or nightstand without taking up too much room.
Zelco itty-bitty book light Volume-2 is for book lovers with sensitive eyes. If you have tried the best book lights mentioned above but found them to be flickering and causing eye strain, then this incandescent book light might work for you. To make it clear, all the book lights listed here have high-quality non-flickering LEDs that produce soft and even light, but if you tried any of them, but you cannot withstand an LED light, then it is the only option left in the clip-on style book lights.
When folded, It measures just 5.6 inches long, which is easily pocket-able. It produces warm light at fixed brightness. The angle of the light can be adjusted up or down, but not sideways. It runs on either a direct plug-in power adapter or 4 C-cells in a battery pack that attaches to the light via cable. For more info, check its detailed review. Also, if you are looking for non-LED reading lights, then you will definitely love this post on Incandescent bulb lights for reading in bed
Best AAA-battery, warm, clip-on book light that folds into a pocket-able shape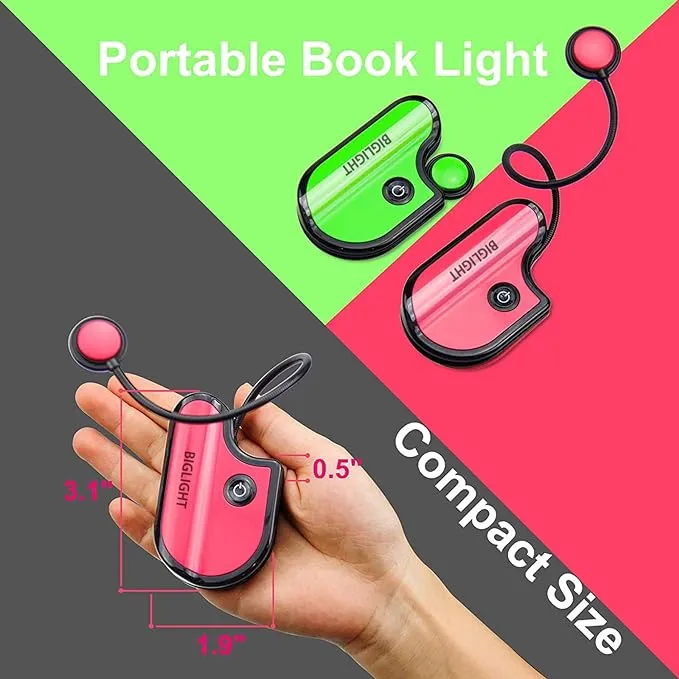 Looking for a book light that doesn't require a rechargeable battery? BIGLIGHT Book Light might be the answer you're looking for. This unique, lightweight, and foldable gooseneck light runs on AAA batteries, so you don't have to worry about recharging it. Its flexible gooseneck helps you orient the light in any direction you like, and when not in use, the gooseneck folds around the base of the light, making it portable and pocketable. The warm color light has 2 levels of brightness, and its one-button operation makes it very easy to use. With up to 10 hours of battery life on a single AAA battery, it's a great choice for those who prefer not to deal with rechargeable batteries. Plus, with a package that includes both a green and a red book light, it's perfect for kids or anyone who wants to add a bit of fun to their reading experience.
Coin cell batteries clip on book light for kids, girls and boys, available in a lot of designs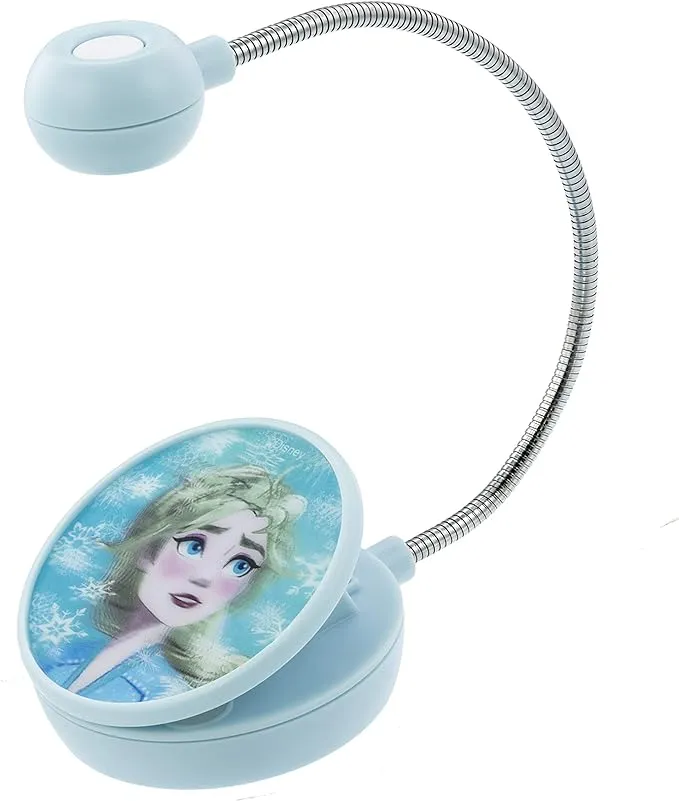 Introducing the fun and versatile Withit clip-on book light for kids, available in over 30 adorable designs! Powered by coin cell 2032 batteries, these book lights emit a cool white light at 6000K and feature a simple one-button operation with one brightness level. Don't forget to stock up on extra coin batteries for extended use.
More Reading lights for bed
If you are in search of the best reading light for bed, but none of the above mentioned clip-on book lights fulfill your requirement, then you can check best reading lights for bed, where you will find the best reading lights of 15 different types. It includes, floor lamps, desk lamps, reading lights for kids, and elderly and pink color reading lights for girls.
FAQs
Are book lights bad for your eyes?
Book lights are not bad for your eyes. Rather these are good for your eyes, because these prevent your eyes form unnecessary eye strain, by nicely illuminating your books. Their light is soft and pleasant to the eye, that is, you will not see any hotpots or glares on the pages of the book. Plus, most of the best book lights come with the option to adjust the brightness which makes it easy to dim the light if you find them too bright to read in bed.
What is the best clip on book light for reading in bed, if you do not want to disturb your sleep?
If you do not want to disturb your sleep cycle, the best light would be the one that produces warm, or even better, amber color light. Most of the lights presented in this article are either warm or amber color light. Only the last two light, 14 and 15, are not good if you are conscious about your sleep. To understand why amber or warm color light is good for inducing sleep, check out this article on Which color light is best for reading in bed, White or Yellow?
Single head vs Dual head book light, which one is best for whom?
If you notice carefully, you will find that the price of the dual head Ecologic Mart book light ( the overall best book light) is just slightly higher than the single head version. So, you might think, why should I get the single head one, if I can get two head option in relatively same price?
The answer is, it depends on whether you like portability or you prefer more options and control. Single head book light is easier to manage, without compromising the light. Dual head reading is just one step ahead of the single head version, in terms of brightness control and the option you have to use both head if you need more light, or need more dispersed soft light.
These are not radically different thing, but you get what you pay for. And, you do not need to pay extra, if you are happy with the single head, and do not need extra options.
What is the best book light to read in bed, if you want to stay awake?
The book light you need in this case is the one that produces cool white light, or the one with color temperature between 4000K to 6500K. The Higher the color temperature, the more you will stay awake. The reason is, higher color temperature light has more blue light in it. Blue light suppresses melatonin production. Melatonin is a sleep inducing hormone.