If you have someone in your life who is suffering from Parkinson's, you know how painful it is to watch that person suffer through this debilitating illness. It can be highly frustrating to see your loved one struggling to hold a book, and you can't just grab and hand it to them.
Whether you're diagnosed with Parkinson's disease, are a caregiver, or want to help, this article will show you how to find the best bookholders for Parkinson's patients.
Therefore, I have selected some of the best book holders for Parkinson's patients that will allow them to read hands-free while sitting or lying in bed.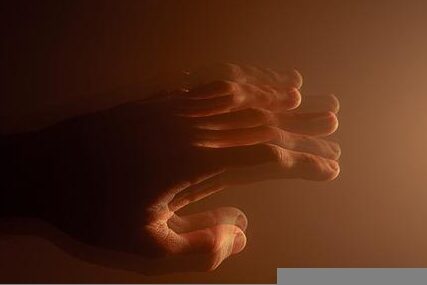 Best Book holders for Parkinson's patients
For many people, carrying a book can be a significant chore. Books can weigh a lot and are bulky to carry. But, for people with Parkinson's disease, carrying a book can be a real challenge. To make it easier for Parkinson's patients to carry their books, I've rounded up a list of book holders that make reading more accessible and fun.
Note: For the following, click the image of the book holder you like to check the price and more information on Amazon.com
1. Levo book holder for reading on the chair and in bed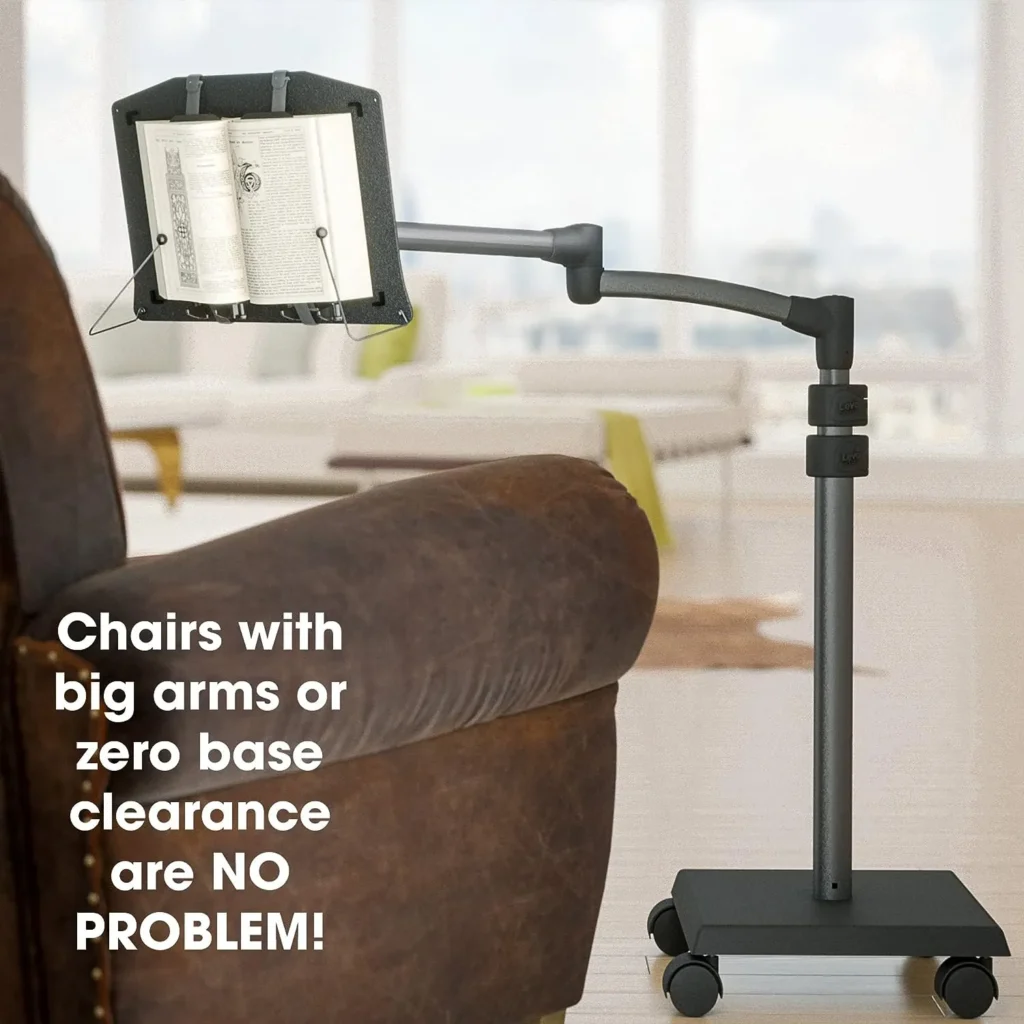 This is a good floor-standing book holder for Parkinson's patients who need to read in bed or sit in a chair. It has a sturdy frame that can hold various books and e-readers and adjust easily. For example, you can adjust the book's position to be comfortable while reading in bed. Turning pages is also easy, and the best part is that Levo can hold the book over your head when you want to read lying down flat.
2. Mind Reader Bookstand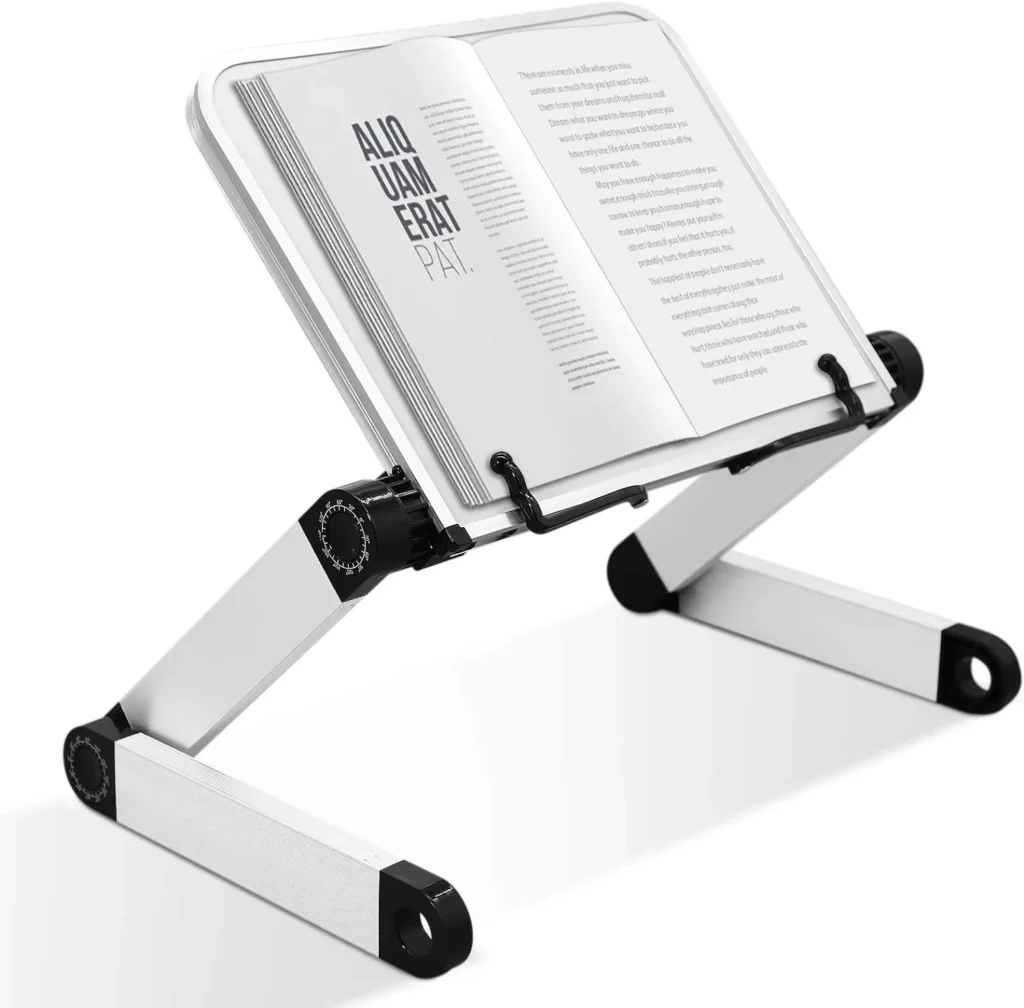 If you are looking for multipurpose, lightweight book stands for holding books or magazines, this is for you. It has a sturdy, collapsible frame, easy to use, and holds various books. It can be adjusted to be comfortable for reading while sitting in a chair or reading in bed. The best part is that it has built-in page holders.
3. Superior Essentials Book holder with light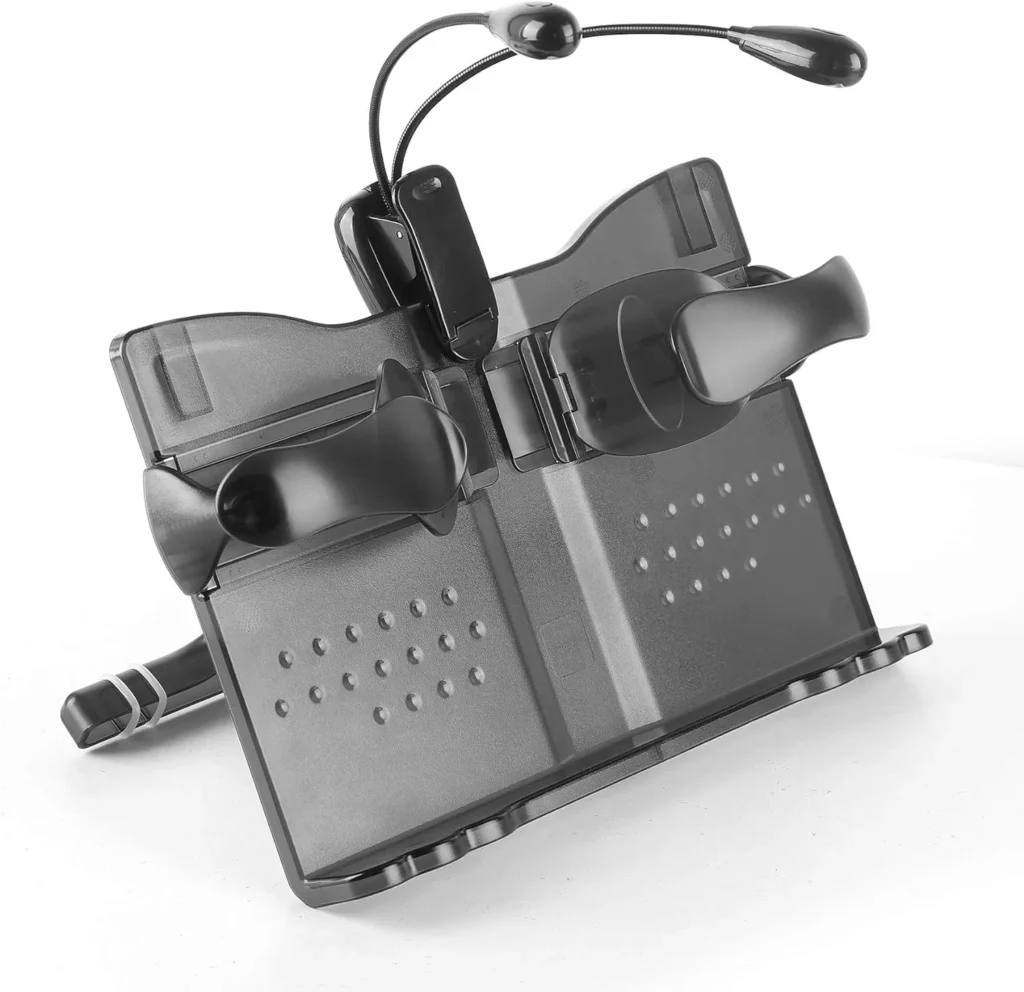 This is a suitable book holder for Parkinson's patients who want to read on their desk or overbed table. It holds books securely and folds flat for easy storage. This book holder is also an excellent idea for people who travel and need to take their books along. The light comes with the book holder and is attached by a clip. You can adjust the angle of the light to suit your preference.
4. The Book Seat book holder pillow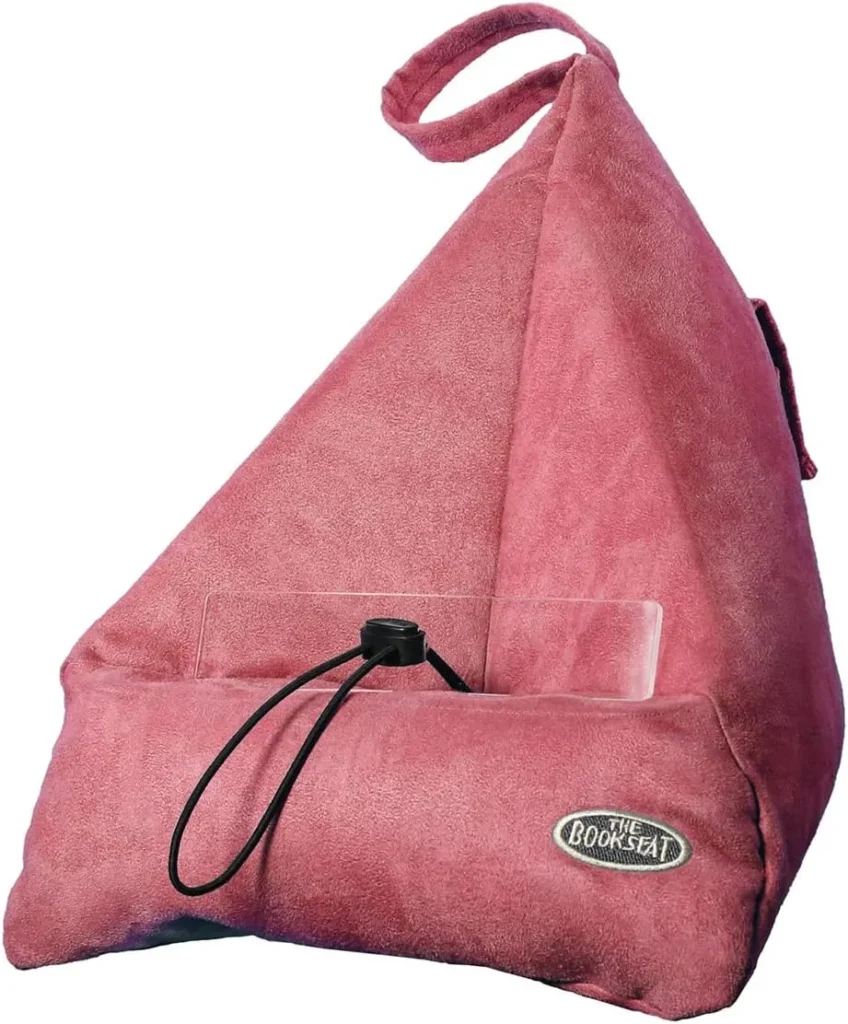 This is a good bookholder for Parkinson's patients who like to read lying down or on a sofa. It holds the books in place. It's a good idea to use this book holder as a pillow. The slight adjustment in angle is reasonable because it allows you to read at different angles without moving the book. This book holder is light and easy to carry, so you can also use this book holder for reading while traveling. It also works with leaders and is easy to clean.
5. FlipKlip Portable Page Holder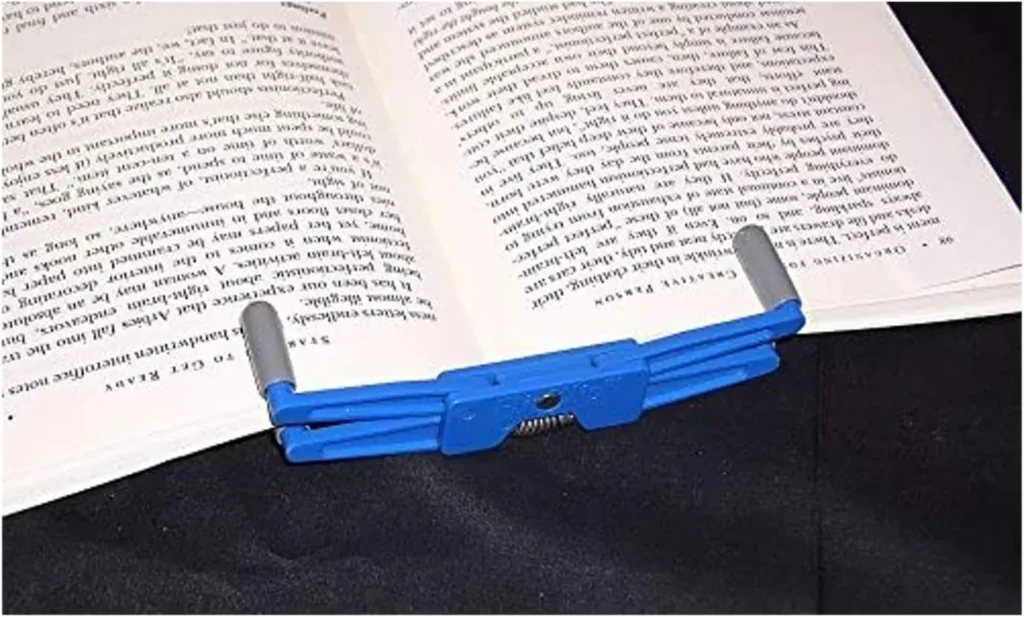 Flipklip is a page holder that works with all kinds of books and makes reading more manageable and more convenient by holding the pages open. The delicate clamping action of this book holder means it is perfect for turning the pages. Among the best page holders, this one is best for Parkin's patients who want a simple, pocketable solution to keep the books open will love this book page holder. They can carry it with them anywhere and use it to keep open their book's pages.
6. Rounds Book holder arm for Bed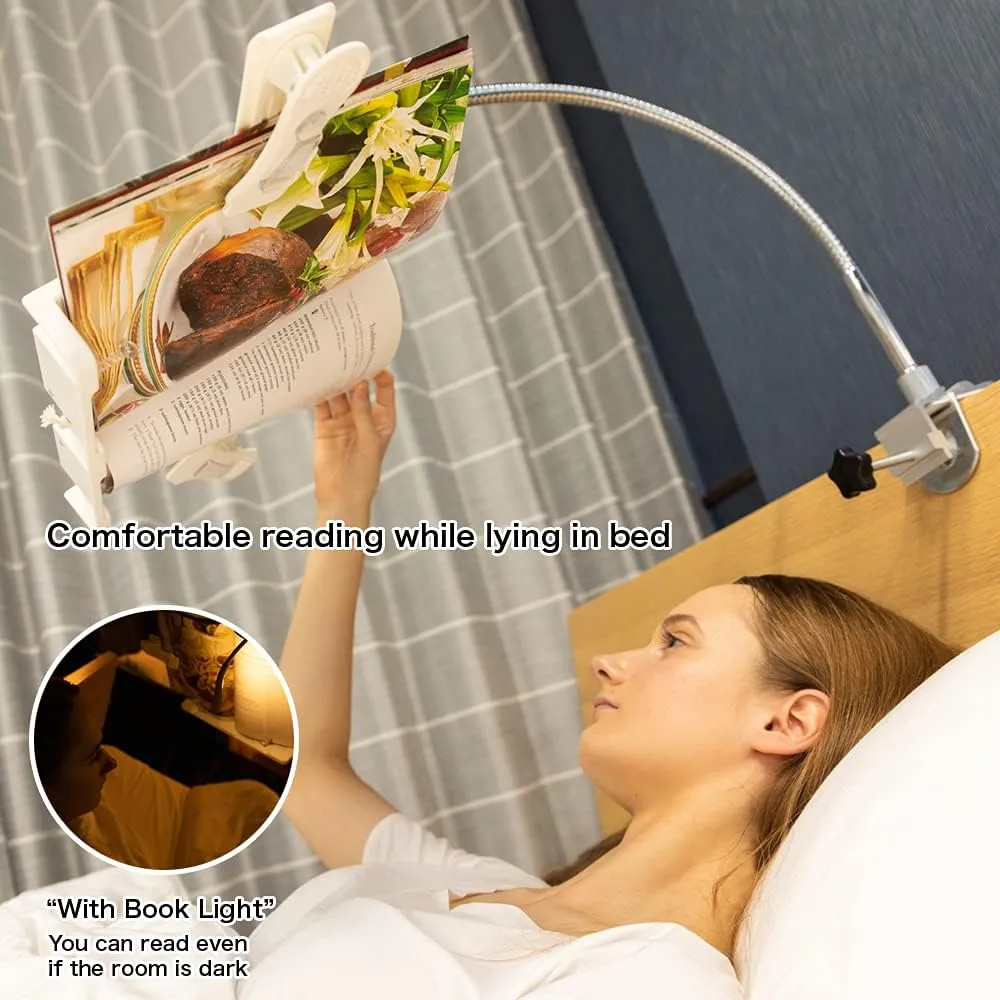 If you mostly read in bed in one place, this book holder arm is a good solution. It's a flexible arm that can hold books in front of your eyes. It is not as sturdy as the floor book stand, but it is easy to use, and it seems like the book is floating in mid-air at a perfect angle and height. The only downside, it's not as sturdy as the floor book stand, but it's good enough to hold your book for reading.
7. Wishacc Reading Mount Holder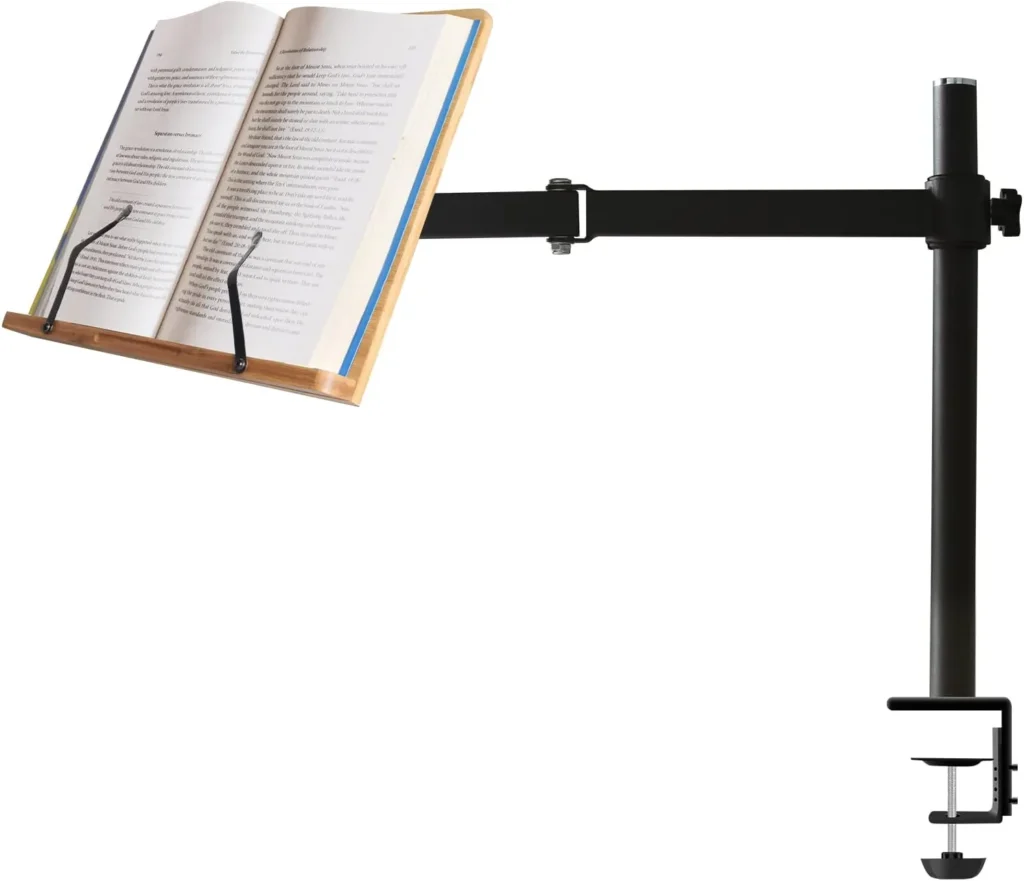 This is an alternative to the bookholder arm mentioned above, but it is sturdy. It has a sturdy base so you don't need to worry about the stability of the book holder arm. You can put books on top of this holder's arm, and it holds them perfectly. It also has a page holder to keep your book open and hands-free. This book holder arm is ideal for people who read mostly in bed. This book holder is easy to set up and use, making it perfect for people who want a simple solution to keep the books open while reading in bed, chair, or desk.
8. Cushioned Lap desk with eight adjustable angles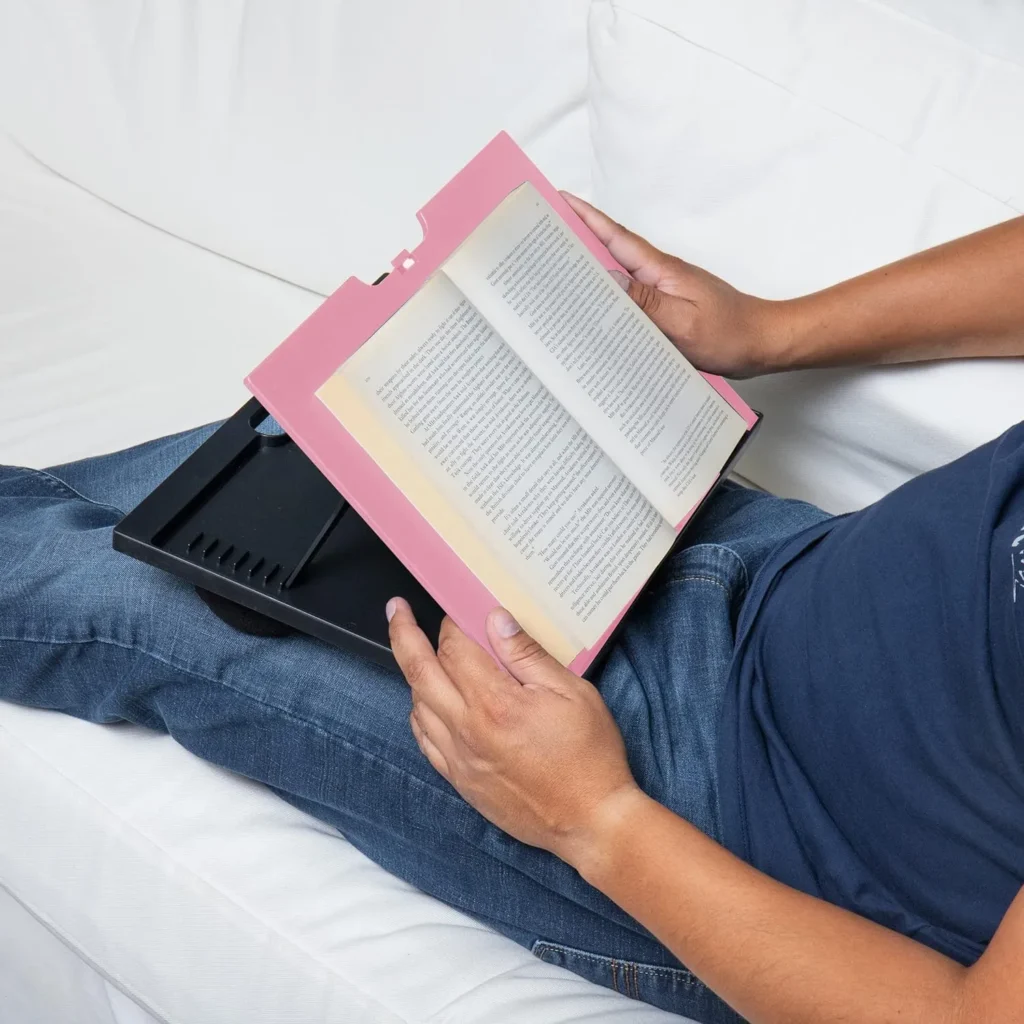 Mind Reader is cushioned Lap desk with an adjustable angle. You can choose among the eight preset angles and position the book at the right incline. It is lightweight and easy to carry, and a handle at the top makes it easy even for Parkinson's patients. They can use it on the bed or couch in a sitting posture. The cushion at the bottom provides a balance of stability and comfort, plus the design of the pillow allows the air to pass through and not cause sweating. The only downside is that it does not come with a page holder, so You will need a FlipKlip page holder to read hands-free.
Conclusion – How do they compare with each other?
Levo is the best option as it can help Parkinson's patients read in bed or couch, anywhere in the home or office, truly hands-free. Then comes the rest of them. You can choose them based on the specific use case. For example, if you do not want to raise the height or change the angle, FlipKlip will work fine. The book seat is great as it doubles as a pillow too. Mind Reader cushioned lap desk, or the adjustable book stand should be preferred when you want to use the laptop on the tabletop. Finally, a superior essentials book holder is great for reading on a desk or over-bed table.
Explore more:
3 Best Book Stands for Large Textbooks
Reading Made Easy for Elderly: A Guide to Finding the Perfect Book Holder