Just one hour of blue light exposure delays your sleep for up to 6 hours, and one hour exposure to green light delays it for three hours. So do you still want to expose your eyes to blue light in the evenings? No way!
Then, here you will find the
Reviews of Best Blue Wavelength Blocking Glasses
This section will list the reviews of the best blue light blocking glasses for reading and computer use. It is further divided into two sub-sections.
One section is for the glasses designed to be used without prescription glasses, or they can have prescription or magnification lenses directly inside the frame, like Gamma Ray.
The second section is for the blue light blockers worn over the prescription or reading glasses. Hence they get the name: Fit-over blue light blocking glasses.
For Perfect Eyesight
If you do not wear any prescription glasses, then there Blue light blocking is best for you. I have listed three kinds of glasses here: Cheap, Mid-range, and Expensive.
Let us start with the cheapest option that is also the most recommended one. It is the Uvex Skyper. And here is
Uvex Skyper Review – Cheapest, yet Effective!
If you are constantly exposed to a lot of blue light in the evenings, and you find it difficult to sleep, then you must get one. It will give you better quality sleep by blocking more than 98% of the blue light from your iPad, Kindle, TV screen, or any other blue light in the room.
Most of the blue blockers block just 50 to 70 percent of the blue light. Some glasses block 90 percent, but very few blocks this much blue light.
Now something about the company and the name. It is a German company which has been there since the 1950s. Uvex's name has two parts. UV and EX. UV stands for Ultraviolet light, and Ex means excluded. So, Uvex means something that excludes all the Ultraviolet light. As the name suggests, they block most of the UV and blue light.
These have orange-tinted glasses that use a special Spectrum-Control-Technology to block almost all the harmful blue light.
They also help to increase the clarity of the text. In addition, your eyes will feel more relaxed as compared to reading without them.
It has a great industrial design that is very comfortable to wear for a long time, but this design does not look cool. If you want better-looking glasses, then there are other options available, like Duco, Gunnar, and Gamma-Ray glasses, but they block less blue light as compared to these glasses.
These are available in only one size, but it fits most people well. Take it as a first step towards blocking blue light in the evenings. Then, try it for yourself; give it to kids, your spouse, and everyone else you love. See the results, and then move towards better-looking and more expensive options.
There are two adjustments that these classes offer.
One is the length of temple arms. You can increase or decrease their length up to three different levels, so that they fit you well and you can wear them comfortably.
Second is the inclination of the glass. It helps your glasses to better adjust with your face to maximize comfort and ease of use.
Its fixed nose bridge sits comfortably on your nose without creating any pressure points and helps glasses stay without slipping.
These glasses completely wrap over your eyes, blocking any blue light even from the side. This kind of design is not available in other, more expensive options.
They have a special Uvex extreme anti-fog coating which will help them remain clean and clear in foggy weather or when you are enjoying hot coffee. The steam of the coffee will not blur the lens.
It is a quality product made in the USA and meets ANSI standards Z87+ standard and CSA Z94.3 standard.
These Uvex glasses do the job of blocking blue light very well, even if you compare them with the highly-priced glasses.
The only thing they lack in style. I know, It is a subjective thing and can differ from person to person. But still, I have noticed that most people find it industrial-looking, boring, and lacking any character.
You can take it as a first step towards better sleep. Get these classes and try them for yourself, and once you are convinced, it works for you because you have the best quality sleep and feel a better quality of life. Then, you are ready to invest in more expensive blue-light-blocking glasses, and you can look for other pricier options under $50 or $100. Those expensive glasses are stylish, and you can easily wear them at a party while dining out with a friend or walking in a shopping mall.
These glasses also help you read in bed when you don't have a warm or amber color book light. You can use any book light and wear those glasses, and these glasses will block out most of the blue light.
They are designed such that not only are the glasses budget-friendly, but repairs are easy as well. It is because only the lenses can be removed and replaced separately. It means, If an accident happens and your lens breaks, then you can economically replace the lens, but the frame stays the same.
These glasses are not for the people who wear prescription glasses. But you don't have to worry, because there are two options available for you.
Either you can buy clip-on lenses that glasses can clip onto your existing glasses, Or you can get a fit over glasses. Uvex also makes fit-over glasses, and there are other companies as well that make those.
You should not wear these or any other blue light blocking glasses while driving as these block almost all the blue light. This, in turn, can reduce the visibility of blue objects in front of you. If you wear them while driving, the glare from other car headlights will reduce, which is good, but some objects with proper light will be difficult to see, and it can be highly dangerous.
Duco Review
Duco has two versions. Light yellow and amber-tinted.
Light yellow glasses block lesser blue light and let more colors in, and that is why you can still see the difference in colors. These can be used for gaming or for working on the computer.
Amber color glasses block more blue light, but you will not see the difference in colors as clearly as you do with other glasses. And colors do not matter while reading, making them ideal for reading purposes, especially if you read at night.
Duco Light Yellow Review
Let's review Duco glasses which are primarily video gaming glasses or computer glasses.
This has a stylish-looking design with yellow-tinted lenses. They do not make it look like you are in an orange glass bottle. Rather everything looks normal with a slight yellow tint. Compared to the Uvex Skyper, they look better and are priced slightly higher, but they block less blue light.
The quality of the lenses is great. It is made from good quality materials. Plus, there is an anti-glare coating to reduce the reflections. It means your eyes will not get fatigued.
Duco claims that their glasses increase the clarity. I think It is not true, and what they just mean to say is that it maintains the clarity of the objects or the text you are seeing.
The temples are so thin and minimal that you can easily use them while using your favorite headphones. In addition, they will not cause any stress to your ears.
As you will be using these glasses for a long time, they must have a robust build to withstand daily use easily. To accomplish that, Duco used the injection molding process to extrude plastic temples in one go. This enables them to be strong yet flexible. In addition, it is practically unbreakable as you can bend its temple arms up to 90 degrees, and they will not break. Plus, to enhance the safety of the glasses, they have included a hardshell case to protect the glasses from any scratches.
They are extremely light and have an ergonomic design. Their weight is just 20 grams which are feather-light. In addition, their nose pad has a curve that enables the weight of the glasses to be distributed over a large area, so you do not feel any stress. But when compared to Uvex Skyper, the nose pad is not as broad and wide as it is in Uvex glasses.
Suppose you compare the Duco VS Gunnar. Duco glasses do not magnify things like the Gunnar, which has slight magnification to its lens. It is important because some people like glasses with magnification as it makes it easier for them to read, but others find it difficult to wear them for long as it causes headaches. So if you are just starting, you should go for the zero magnification lens, which is this one.
It is perfect for men, women, teens, kids, and everyone who uses computers or tablets in the evenings. It will help them get the more deep sleep that most of us are deprived of in this digital age.
These are mid-range glasses that are reasonably priced. They are about double the price of Uvex but still cost way less than the Swannies or Gunnar.
If you are not satisfied with the results, you ask for your money back, as it comes with a 30-day money-back guarantee.
Conclusion:
These are great for office use. You can wear them and protect yourself from the blue light that comes from computer screens. Plus, they are feather light, look stylish, and are fairly priced.
These are great classes, and once you try them, you will find that you can wear them for longer sessions without causing any discomfort. And once you are used to it, then it will be difficult to leave these glasses. I mean, who wants burning eyes, headaches, and sleepless nights?
These glasses block blue light from digital readers like iPad or Kindle, but these do not block that much. So you should also get a pair that blocks more than 98% of the blue light to get the maximum benefit. That would be ideal for reading in bed.
Duco Pro Amber tinted Review
Let's review Duco 223 Pro, which has an amber-tinted lens that blocks more blue light than its brother. However, due to the darker yellow color, they block 90% of the harmful blue light. That is why it not only protects you from eye dryness, eyes strain, and headaches, but it also enhances your melatonin production for even better sleep.
You hardly notice the presence of these glasses on your face, as, like their brother, they are also ultra-lightweight. However, if you compare them to the Swannies, which have acetate frames, Duco glasses are 50% lighter, and when compared to other similar plastic glasses, they are 60% light.
Their temple arms are also the same, with the same durability and flexibility. So, they are also very comfortable to wear for long.
They are large enough to fit any face comfortably. One size fits most Men, women, and kids, and everyone is going to love them.
They also have the same anti-glare coating, which prevents your eyes from unnecessary strain.
They are one of the best glasses for nighttime reading, whether you read on iPad, Kindle, or read real books. But Suppose you want to use them during the daytime when you are in your office, partying with your friends or traveling to your home. In that case, they are also perfect because they look stylish so that you do not feel awkward and everybody is not laughing at you in social gatherings.
Spektrum Computer Glasses Review
Let's look at the features of Prospek computer glasses by a company named Spectrum Glasses, and see how they are good for kids, teenagers, elders, or anyone trying to save their eyes from blue light?
If you want the style of Duco glasses and the function of Uvex glasses, then it is the way to go. Plus, you get anti-glare and anti-oil coating with some scratch resistance. All that in a price that is three times the price of Duco and six times the price of Uvex glasses.
They look stylish so that you can wear them in any public place with confidence. Or you can use them while reading in bed.
They block 99% of the blue light. Thanks to their patented lens technology.
The frame of the glasses is made of plastic which makes them lighter. As a result, there will be no stress on your nose even if you use them for 10 hours a day.
They help keep your eyes fresh and prevent eye fatigue when you use a computer or read for a longer period. It is because of its anti-reflective coating that blocks all the stray light.
These have an Anti-fog coating so that they do not steam up when you have a hot coffee cup.
They also have an anti-oil coating so that fingerprint does not stick easily. And they are not dust magnets. This makes them stay clean for longer without having to maintain them continuously.
They also block 100% of UV light that includes UVA and UVB.
There is zero magnification on them.
They come in their case and a cleaning cloth. The lenses are made of plastic, but the plastic is of good quality. You will not find quality lacking anywhere.
Their 90-days satisfaction guarantee ensures that you buy them without any worry. If, in any case, you do not like the glasses, return them.
These are ideal for you if you work on the computer for long hours to submit a report or complete the project. It is good for a computer programmer or a reader who loves to read before bed, but not for a gamer or a digital designer who works on Adobe Photoshop or a video editor. In programming or reading, you do not need the color accuracy which you do need in other tasks.
If you work on a computer the whole day, watch TV at night, and then read on your Kindle before going to bed, you are absorbing a lot of blue light. This might have caused you headaches, but those problems will be a thing of the past after using these glasses. Your eyes will feel relieved. You will have better deep sleep and wake up feeling fresh.
Spektrum Prospek for kids and teens
These are the blue-light-blocking glasses that are specifically designed for kids and teens. Their vibrant colors look cool, but they block lesser blue light.
These do not make a difference, and that is why you should get them for your kids or grandchildren. Let me explain.
As they only block 50% of blue light, they do not make an instant difference in your kid's sleep cycles. These glasses will not cure their eye strain in one day. But they will still see the color as they are used to. Everything will not become orange or amber-colored. That is why they are most likely to keep using these glasses. As a result of reducing blue light into their system, you will gradually feel the difference in their sleep. As they say, something is better than nothing.
So, I would not recommend getting these as the first choice because you won't get the full effect: increased Melatonin, more deep sleep, no headaches, and lesser strain or eye fatigue.
But the main purpose of these classes is that the color of the surrounding does not change, so it will be easier for kids to adapt to these glasses.
Imagine giving a true blue-blocker with the orange-tinted lens to a child. They will instantly feel the difference and might not want to keep them on.
But these glasses will protect them from half of the dangerous blue light in the evening, and he will happily wear them because of the colors and style.
Swanwick glasses review
If your blue light blocking glasses do not fit you well because they are only available in one standard size, then Swanwick glasses are a great option. Now everyone in your family can have the glasses that fit them perfectly. They are available in small, regular, large, and kids sizes.
But the availability of the different sizes is not the only plus point that these glasses have.
These are some of the most popular blue light blocking glasses loved by many celebrities. Maybe this is why they are expensive, and that is my next point—the price.
These glasses are expensive, especially when you consider Uvex and Duco. However, they defend the price by claiming that:
Not only the Swannies is the first to make blue light blocking glasses, but they make the glasses that are specifically designed to give you better sleep. They say that Uvex glasses are just orange-tinted safety glasses, and their primary purpose is not to give you a better sleep. I do not buy that argument because Uvex glasses do the job very well.
If you do not agree, tell me why?

If the price is not an issue, and you love how they fit, then I must say that these are a great pair of blue-blocking glasses that help you sleep better. You can use them for reading before bed or while using the computer.
I especially like their kid's size option as it will help the young ones play video games on their phones or tablets.
Another reason why the price is high is that they are build using top-quality materials, be it the acetate frame, the spring hinges, or the polycarbonate lens. This is a tiny investment that you make for better sleep. You will be using them for years so that they will be paid off well.
So, if you want to get these blue blockers for quality, style, and perfect fit, then that is a good decision.
These are good for parents who are worried about the health of the kids who wear industrial glasses, but they are constantly stuck to the screens, whether it is for playing games or doing some serious work. These will make them look cool while taking care of their eyes and sleep. It is a good investment in their health.
Gamma Ray 009 Computer & Reading Glasses Review
Gamma rays 009 are among the cheapest blue blockers that look stylish and block more than 90% of the blue light. That is how you get good quality sleep, there is less strain on your eyes, and you also do not get headaches. These are a great alternative to expensive options like Swannies and Gunnars computer glasses.
These are good as reading glasses that block blue light as well. There is also an option to choose from 6 magnification levels. It means that these can be used as blue-light-blocking reading glasses. But there is one problem that you might face. The lenses get smudged easily, and it is difficult to keep them clean for a longer period.
Gamma Ray blue blockers have three models: 003, 007, and 009. All of them are blue blockers. They help relieve eye strain and give you better sleep. But the difference is that 007 and 003 block lesser blue light, and the lens color is also different. This makes them good for wearing in the office or working on digital graphics. But the ability to different colors comes at a cost. They block just 50 to 70% of blue light, whereas 009, which we discuss here, blocks 90% of the blue light.
Now, if you want to use blue blockers just for reading, I strongly recommend you buy the 009 version that blocks blue light the most.
The glasses not only look good, but they also feel comfortable to wear because they are light in weight and weigh just 22 grams. The frame of these glasses is made of metal which makes temple arms flexible yet durable enough to withstand daily use. In addition, it has nose pads designed to distribute the weight of the glasses evenly so that you do not get pressure points on your nose, and you can wear them for a long time. Whether you wear it for up to 10 to 12 hours for the whole day, you won't feel any stress on your nose or your eyes.
It is a quality product that FDA approves. Plus, it meets ANSI standard, ISO standard, and EU standards of quality.
Considering the style, price, and performance, I would strongly recommend you these glasses. And if you are not satisfied, they offer 90 days money-back guarantee, a lifetime frame, and a lens-breakage warranty.
That Fit over prescription glasses
Regular blue-light-blocking glasses will not work for you. So, in this case, you have two options:
Fitover glasses
Clip on lens
Fitover glasses:
The biggest plus point of these large fit-over glasses is that they cover up the whole field of view, and no blue light can harm your sleep, even from the sides.
Before buying the wrap-around fit-over glasses, you must check if they can fit over your glasses because sometimes they are not large enough to cover the glasses completely, which is irritating to see.
The downside of fit-over glasses is that they add bulk and weight to your face. This can cause discomfort if you plan to use them for longer reading sessions. But not all the glasses are built the same. If the manufacturer has taken care of and designed them so that their weight is evenly distributed, it will easily become your habit, and you would not even notice wearing them.
Clip-on lens:
The biggest advantage of this design is that they can clip onto any prescription glasses, no matter which size they are. The design of these lenses is pretty minimal, and that is why they are also very light. They are handy to keep them with yourself all the time, whether you are traveling in the office for reading in bed.
But the downside is that they let stray blue light in your eyes.
Uvex S0360X review
Let us look at the features of Uvex and see how it is different from the Uvex Skyper? And how is it perfect for those who wear prescription glasses?
Uvex S 360 X is different from its brother, Uvex Skyper. These are bigger, they do not have a black bar to hold the lenses, and their lens color is also orange, not amber.
As you know, Orange-tinted and amber-color lenses block most blue light. These glasses use Orange tinted lenses which block more than 90% of the blue color light. This color has the most energy in it. Hence it is the most damaging to the eyes and sleep.
You can fit your prescription glasses inside because their size is large enough for the most. They are 7 inches wide and 2.5 inches from the top to the bottom of the lens. So, they can fit over easily. But you can use these even if you do not wear glasses. Both the Uvex Skyper and the Uvex 360 are great and cheap. So, you can have both and use one as a backup.
These glasses will give you a better fit so that you can enjoy wearing them for long. In addition, there is an option to adjust the length of the temples. You can adjust the length up to three levels.
You will see clear for a longer period and do that even while enjoying your hot coffee. It is because these glasses are not a fingerprint magnet, and they do not fog either. Their anti-fog coating prevents your glasses from steaming up and catching any mist.
Plus, if you put these glasses on the table, lens side down, they will not get scratches easily, as there is an anti-scratch coating on the lens. But keep one thing in mind before buying. What I have understood is that you can choose any one of the coatings, but not both. You can either have the glasses with an anti-fog coating or the one with an anti-scratch coating. Amazon ONLY sells the one with anti-fog coating. You can click the image to know more details.
These come with a plastic bag and a box.
You can enjoy the broader field of view as these glasses do not have a plastic bag in front to block the view. These are made from a single piece of molded plastic that flows from one side to another. It immerses you in your environment, and it feels like you are in an orange bottle because everything changes its color to an orange tint. But there is a downside of not having a black frame. You can not replace its lens separately like Uvex Skyper. Whenever the lens is damaged, you will have to replace the whole glasses. It is expensive as compared to just replacing the lens. But still, it is way inexpensive than other blue-blocking glasses.
The only downside of their bigger size is that they are not the lightest glasses you can buy. Instead, they add bulk to your face. Plus, if you wear them for several hours straight, you will feel stress on your nose. You can fix this problem by adding cushioning on the nose bridge to prevent it from slipping down the nose.
Does it make it difficult to read books, the Kindle, or the iPad?
No, although they are big glasses, they are still comfortable to wear for a longer period. You can easily read through the books on an iPad or a Kindle. The only thing these glasses change is the color of the text which does not matter because you are getting good quality sleep.
Swanwick Fit-over Review
If you want to read before bed, sleep better and do all that in style, these fit over Swanwick are good for you. You wear these blue blockers over reading glasses.
They look good and blocks most of the blue light. You can even wear these in the office or while traveling.
They are for those who wear prescription or reading glasses. But, like Uvex 360s, a lot of people also wear them without glasses.
These, like other blue blockers, keep text clear and vivid. As a result, you can read before bed easily and have a good night's sleep.
These are high-end glasses with a premium price, but unlike Swanwick Swannies, these are not available in multiple sizes. One size fits most. But it is large enough to fit any glasses inside, whether you use prescription glasses or reading glasses.
These glasses have acetate frames that can form the shape of your head as you wear them for a long period. But if you want them to be comfortable the first time you wear them, you can take them to an optician or an eye-wear professional. He will heat and adjust the temples so that they will fit you well.
If you use them with headphones, they will work perfectly without stressing your head.
They have an anti-glare coating on the front and back of the lens. It reduces eye strain and fatigue.
These are quality glasses that FDA approves.
They are expensive, but they work well and look good. Plus, you get great customer service. Use them with or without your prescription or reading glasses, block blue light and Enjoy better sleep.
Anti-Blue Light Amber Glasses
Wear prescription glasses or use reading glasses?
Looking for blue light blocking glasses that blocks more than 90% of the blue light?
Tight on the budget and want something inexpensive?
Want to try out the blue light blocking glasses for the first time.
Then, this fit over anti-blue light Amber glasses is best for you. They are just under $30.
They block 90% of the Blue Light Between 450 and 520 nm. Thanks to its Amber color lens. As discussed earlier, glasses with light yellow color lenses block 50 to 70% of the blue light, but Orange or Amber tinted glasses block more blue light.
It has a modern rimless design that can fit over any glasses. The frame holds the glasses from the top side only, so there is no frame on the bottom of the lens or the sides. This gives you an uninterrupted, wider field of view.
Its frame is pretty lightweight and does not cause any strain if you wear it for longer. In addition, there is a ledge that rests on the glasses to hold itself securely.

They are FDA-approved. The quality of the glasses is what you should expect at this price. They are not super awesome, but they get the job done. They are designed in Canada and come with a storage box.
These fit-over glasses will help you enjoy reading at night without disturbing your sleep. You can also use them to play video games or as computer glasses in the office. They work well in any setting of your choice.
Best Clip-on Blue light Blocking Amber Lenses
If you use prescription glasses, then you have two options to choose from. One is the fit-over glasses that I have mentioned earlier, but there is another option that you can use. It is a clip-on Blue Light blocking lens. As the name suggests, you can clip it onto any prescription glasses you have.
Clip-on blue blockers are especially helpful if the Rx glasses you are wearing are already so bulky that they do not fit inside any fit-over glasses. They work for all sizes and can be clamped onto any glasses you have. There will be no size issue anymore.
They will not fit on your prescription glasses if their nose is wider than a quarter of an inch cause of its spring clip which opens 3/16 to ¼ inch.
It will fit very well on most glasses as they are thinner than a quarter of an inch.
Can you flip the clip-on blue-blocking lens?
No, these do not flip up because they have a mechanism that is limited to just clipping. If the company makes them flip, the mechanism will be heavier. However, their minimal and simple mechanism makes them light and comfortable to wear for a long time. And, by the way, if you are wearing them to block blue light, you should not peek anyway.
If you have one clip-on glasses, all the family members who wear glasses can try blue blockers. And get one for them later.
They are minimal and occupy less space which is ideal for traveling. You can keep it with you anytime, anywhere, and clip it when you're using the computer or reading at night.
They are Biorhythm safe. That means, If you wear these glasses, you will find a great quality improvement in sleep, and it will block almost all the blue light.
They look beautiful and minimal. The lenses are clear and bright. They make it easy to read in bed by keeping text clear yet blocking all the harmful blue light.
They block 100% of the blue light from 280 to 490 nm and block more than 99% of the light in the critical 450 to 510 nm range. This wavelength is most destructive to sleep.
They come with a 100% satisfaction guarantee. In addition, if they break with normal use, the company offers a full refund within the first year.
These are the orange-tinted lens that helps to relax your eyes. But there is a disadvantage that everything you will see changes its color to an orange tint. This does not matter when your primary purpose is reading text. But if you are a digital designer who works on graphics and media files on the computer, or a gamer who likes to retain colors, then it is not good for you.

The amount of light these glasses block and how the detail is given shows the company's professional attitude. It shows that they have done the research and tested the product well to give a concrete reply whenever asked.
The design of these classes is very minimal. However, the quality of the material is also good, and they are built to last for a long time if used properly.
Blue Light Blocking Glasses FAQs
In this section of the guide, I will cover all the common concerns related to blue-light-blocking glasses.
What is Blue light?
The light we see in the daytime is comprised of different color lights. We can see that in the rainbow when the light coming from the sun splits into different colors. One of the colors is Blue which has the highest amount of energy because of its short wavelengths. So the blue light in daylight is not bad as it helps keep us awake.
But what is bad is when you subject yourself to the blue light in the evenings. You do this by constantly staring at LED screens that emit light that has blue light in them. This is what is harmful to sleep.
Blue light effect on the brain and sleep
When you expose yourself to the blue light in the evenings or just before going to bed, it negatively affects sleep.
It is because nature wants us to be awake in the daytime and asleep at night, so it has a mechanism that syncs our sleep cycles with the time of the day. Or, we can say, it syncs our internal clock with the external clock.
This mechanism is triggered by the amount of blue light that our eyes see. It is a four-step process.
First, our eyes detect blue light and send a signal to the brain that there is blue light in the surroundings.
Then, our brain interprets the signal and believes it is daytime, the Sun is still up and there is blue light out there. So, it decides to keep the person awake.
Then, our brain sends a signal to the Pineal gland and tells him to suppress the production of Melatonin which is a sleep-inducing hormone.
As a result of Low Melatonin level in our body, we remain alert and active.
Darkness in the surroundings indicates nighttime, and warm light indicates evenings. So, when there is dim or warm light in the surroundings, our melatonin production increases; we start to feel sleepy and go to bed.
Now you understand that blue light in the surroundings negatively affects our sleep. It means, if there is blue light in the surroundings when you are trying to sleep, you will not be able to do so quickly.
This can happen when you watch TV, use your phone, an iPad, or read in bed without a warm light. It is because all these things emit blue light.
The effect is so intense that just one hour of blue light exposure delays your sleep for up to 6 hours, and one hour of exposure to green light delays it for three hours.
Do you still want to expose your eyes to blue light before bed?
Why to get Blue light blocking Glasses?
In today's world, we use computers, tablets, LED and enjoy the nightlife in metro cities. We are exposing ourselves to a lot of artificial light with a lot of blue light.
When our eyes absorb blue light, our brain detects it as daytime and does not produce Melatonin. So, even at night, we do not feel sleepy.
This is bad because sleep deprivation causes an overall decrease in quality of life. You do not feel fresh and energetic when you wake up, which means that you do not have the energy to accomplish the day-to-day tasks efficiently. And in extreme cases, it can also develop into Insomnia. Which I am sure you do not want.
Then, what is the solution?
Now, to overcome this issue, what we need to do is, In the evenings, block all the blue light that we possibly can. So, that brain thinks it is evening and sleep time is coming, so I should produce more Melatonin.
Now, the question is, how can you block all the blue light in the evenings without sacrificing the activities you normally do? For example, how can you not use the phone? How can you skip going out in the evening?
No, You cannot skip those activities. And the good news is that you do not have to leave those.
How?
The answer is Blue light-blocking glasses!
How does Blue light blocking glasses work?
Although the problem of blue light seems complex1, the solution is simple and works like magic. It is Blue light blocking glasses.
You can simply wear these glasses in the evenings, and it will block most of the blue light. Plus, these glasses also block all the short wavelengths of light, including green light, which are also destructive to sleep, but to a lesser extent.
Using these glasses in the evenings makes you feel sleepy at night and get more deep sleep. This will make you feel happy and energetic during daytimes, and you will be able to perform well at your workplace or home. In short, this simple gadget can potentially improve your life to a whole new level.
Blue Light Blocking Glasses Benefits
Blue light-blocking glasses are beneficial for improving sleep and preventing eye strain which also causes headaches. Other benefits include dry eye relief, a decrease in macular degeneration, help in light sensitivity. It also helps reduce anxiety, blood pressure, blood sugar, and hunger. Researchers also found blue light blocking glasses helpful in preventing or correcting jet lag.
These conditions are caused by excessive exposure to blue light during evenings or before sleeping. But if you wear blue light protection glasses, then you restrict the intake of blue light. This results in better eye health and good quality sleep.
I have already discussed above that how blue light affects sleep and the brain. Read that section to get a better understanding. Now let us discuss each benefit one by one in detail.
Reduces Sleep Insomnia
If your sleep is disturbed due to an upcoming exam, or someone temporarily has a fever in your home. It is called Acute Insomnia.
But if you cannot fall asleep for three nights a week and this lasts for up to three months, you have chronic Insomnia. In this condition, you will feel dissatisfied with your sleep. You will feel lazy. Hence it will affect your overall quality of life. This usually happens because of poor sleep habits or changes in your work timing or when you move to a new location.
There are many reasons for this condition, but whatever the reason might be, you can reduce Insomnia by using blue-light-blocking glasses.
Migraines
Blue light reacts with the special receptors in your eyes that triggers pain. Reference link
Blue light-blocking glasses can help, but not everyone 2
F-41 tinted glasses are found to be most helpful 3
Relieves Headache
Blue light protection glasses are proved to help decrease headaches—the team at Bustle4 tried these glasses and seen some great results. Those who get headaches after viewing computer screens for the whole day felt some relief. But they also said that it is important that you wear them throughout the day.
They also found that you feel dizzier while wearing them. So whether you wear them in the office or use them for reading before bed, this also proves the sleep-inducing capabilities of blue-light-blocking glasses.
One thing that can improve the results is if they had tried yellow-tinted glasses instead of clear ones. It is because yellow-tinted or amber glasses block more blue light than those of clear tint.
Prevents Blue light eye damage
Blue light is supposed to do permanent eye damage, commonly known as macular degeneration, which is the next point I will talk about.
Prevents Macular degeneration
Macular degeneration is an age-related eye disease in which the sufferer's eyes are damaged. This happens in old ages, for example, after 50 years. And blue light is one of the main reasons for this. Excessive blue light exposure damages cells in the retina of the eyes5. In some extreme cases, the patient loses his vision completely.
Relieves Dry Eyes
Using computers, watching TV, or focusing your eyes on a mobile or tablet screen for longer periods can cause dry eyes, which cause irritation and discomfort. It results in headaches and eye damage. Blue light-blocking glasses help reduce this dryness.
Relieves Eyes strain
Short wavelengths scatter more easily, or they are more difficult to focus. And blue light has short wavelengths compared to the other colors in the visible light spectrum, so it is not easily focused. This creates a visual noise that reduces contrast, and your eyes have to make more effort to see the text. Blue light blocking glasses helps you by filtering this blue light. This keeps your eyes relaxed. Hence, these glasses help in providing eye strain relief.
Digital eye strain also causes difficulty in focusing, also called blurred vision, which is my next point.
Blurred vision
Blurred vision, or you can call it difficulty in focusing. This is the symptom of digital eye strain caused by the blue wavelengths from computer mobile or TV screens. This condition can be temporary or can have a lasting permanent effect on your eyes. Blue light blockers help to protect your eyes from blurred vision.
Light sensitivity
Blue light sensitivity or Enhanced S-cone syndrome is a condition in some people that badly affect the eyes. It has both short-term and long-term effects.6
Everyone is sensitive to blue light to some extent. But those who have this light sensitivity have more blue light receptors in their eyes. This makes blue light more damaging to them.
But the good news is that you can easily protect yourself by using blue-blocking glasses in the evenings and before sleeping.
Increases intentional use of Tablets or phones
I found7 this benefit of blue light blocking glasses is very interesting. Imagine wearing blue-light-blocking glasses every time you plan to use your mobile phone or tablet before sleeping. Now, it will be more conscious more difficult to do. It is because, as soon as you hear a beep, rather than just picking up the phone from your side table and start swiping, now you will pick the glasses and then use the phone. So the simple process just got a little more complex, which requires multiple steps. That is how blue-light-blocking glasses prevent the unintentional use of tablets or phones. So they are beneficial in two folds: first, they make it complex to use your phone in bed, and secondly, if you must use it, they prevent you from sleep-killer blue light.
Reduces Anxiety
Blue blockers increase melatonin production in your body, which is responsible for relaxing sleep cycles. If your body does not produce Melatonin, you will feel alert, and if this condition lasts longer, you will become hyperactive. This will result in a lack of sleep and increased anxiety. So, if you want to be at peace, then wear blue-light-blocking glasses before using any screen during nighttime.8
Reduces Jet Lag.
When you travel from one time zone to another, your cardiac rhythm, responsible for your sleep cycles, does not change instantly. It needs time to adjust. But if you are on a work trip, this difference in your sleep and work can be a huge productivity loss. So, to help yourself, you can wear blue light blocking glasses before traveling to pre-adjust9 your cardiac rhythm to the new location. You know, our cardiac rhythms calibrate themselves using the blue light coming from the sun. But we can also artificially calibrate it using blue-blocking glasses. Wearing them will trick our brain into thinking it is nighttime. It will produce more Melatonin, and hence you will feel sleepy when you want to. That is how you can prevent your body from being jet-lagged.10
Neck and shoulder pain
Blue light is not just damaging your eyes and sleep, and it is also responsible for neck and shoulder pain.11
According to a nationwide survey of nearly 10,000 adults by The Vision Council, nearly 9 out of 10 Americans use digital devices more than two hours per day. In addition, over half regularly use two digital devices simultaneously.
About a third of those surveyed reported having symptoms of digital eye strain, including neck and shoulder pain (30%), headache (23%), blurred vision (22%), and dry eyes (22%).12
To prevent this condition, you should use blue-light-blocking glasses and take a break after a maximum of 20 minutes. This will relieve your eyes, neck, and shoulder muscles and increase blood circulation. This will prevent neck and shoulder pain and will also contribute to better overall health.
You do not need to take long breaks; rather, just a minute or two will be enough. But the key here is constantly taking a break after every 20 minutes.
Optimal Metabolism
According to new research, blue light affects melatonin production, which is linked to sleep and the metabolism of your body. So, this means that if you expose yourself to artificial blue light, you will face many problems and diseases in the long run.
But if you protect yourself from excessive blue light by using blue-light-blocking glasses, your metabolism will run at an optimal rate. This will give you the following benefits.
Controlled blood sugar levels
Prevention from diabetes
Hunger control
Prevention from heart diseases
Prevention from obesity
Controlled Blood sugar or Diabetes
A better metabolism guarantees better blood sugar levels1314. And metabolism is controlled by the same hormone which controls your sleep cycles. It is called Melatonin. If you control your melatonin production using blue wavelength blocking glasses, you will have a better insulin response which will better control your blood sugar levels.
Hunger Control
Research finds that Blue light exposure makes you more hungry than being in the dim light environment15. This also makes sense. When we are awake in the daytime, we need food to feel energetic to go through the day, but we do not need that much energy at night. So, nature has linked hunger levels to the amount of light in the surroundings.
You can change your hunger levels by exposing yourself to the right amount of blue light.
You can better understand the link between increased obesity and the artificial light we absorb before sleeping from cell phone screens and tablets.
So, if you want to live a healthy life where you are not ashamed of your waistline, prefer not to use any screens before sleeping and if you must have to, use blue light filter glasses to prevent yourself.16
Depression
You can surprisingly control depression by effectively using blue light. The type of depression that can be controlled using blue light is seasonal or winter depression.17 18 19
Cancer Prevention
Researchers20 think there is a link between prostate cancer in men and exposure to blue light. They do not know how it is linked exactly, but there seemed to be a connection21. Although, I believe that it is not true. If the study shows some signs that blue light might be linked to cancer, they are not sure how there might be other reasons that might have affected the study sample.
But still, there is no harm and only benefits of using blue-light-blocking glasses in the evenings. So, just go for it.
Preventing heart diseases
Heart diseases happen due to a combination of things happening to your body. And Melatonin is very effective in controlling a lot of them. Melatonin hormone is not only helpful in getting good quality sleep but for better heart health as well. According to the Lightning science group22, these are the benefits of Melatonin for heart health.
Acts as an anti-inflammatory
Reduces tissue damage caused by strokes and heart attacks in animal research
Lowers blood pressure
Tunes down the sympathetic nervous system, which makes it easier to fall asleep
Has antioxidant properties
Reduces hardening of the arteries
Effects both heart constriction and relaxation, and
Reduces total cholesterol levels
Now you can see how proper melatonin production is beneficial for good quality sleep and for a range of other benefits that contribute towards a better life.
Prevents Obesity
As I have already discussed that when melatonin production decreases, your metabolism rate also slows down. This triggers slow insulin response, which results in increased blood sugar levels. This is not good even in the short term, but the worst part is continuing for a longer period. In that case, your body starts accumulating fat, making you obese and putting you at risk of many diseases, some of which are temporary and some are lethal.23 24
Now, the question is, should you take the risk of these diseases if you can simply avoid them by avoiding blue light in the evenings? The answer is No! You should avoid using any screens in the evenings, but if you must use them, then use blue blocker glasses.
Finding the best
Now when you understand the importance of blue-light-blocking glasses and know how they work, you might want to get one so that you can see the difference yourself. But once you decide to get a pair of blue-blocking glasses, you find that there are many options available in the market.
Now, the question is, which are the best blue-light-blocking glasses that you should get?
There are a lot of options available in the market at different prices. There are also different names for these glasses. And that makes it confusing to finalize.
If you look at the price of different glasses, you will think, should I buy the cheapest one under $10? Will it even work? Or should I go for the more expensive option, which is under $50? Or even that will not work, and I should go for an even more expensive option under $100? Are they the same? Does price have an impact on quality and performance?
And other than the price, there are quite similar products but with very different names. Like, they are marketed as video-gaming-glasses, computer-glasses, orange-tinted-glasses, Amber sunglasses, and some are just plain yellow sunglasses. So are all of them are same? Or do they differ in functionality?
Let us discuss them one by one.
I have shortlisted three glasses. And then also looked for what others are recommending.
What did I shortlist?
Inexpensive glasses to start off by UVEX, available in Fit-over style. One size fits all.
Mid range and stylish, Amber glasses for sleep by Spectra479, and they have clip-on lenses available for prescription glasses.
Pricey, but stylish Swannies that are available in simple and fit-over style.
What do others recommend?
I searched for the best blue-light-blocking glasses and found these websites.
Here is a quick look at what they were suggesting. I will review and compare the suggestions later to find the best.
Biohackerslab is focused on the biohackers community, which is driven to figure out how to live your life up to maximum potential? It's a nice website. They have recommended and compared the pros and cons of these three blue-light-blocking glasses.
Duco computer glasses.
Uvex.
And Swannies.
Consumer Reports tested three glasses, and here are the results.
Uvex orange tinted skyper blocks almost all the blue light.
Gunnar intercept blocked 50% the blue light.
Spectrum pro cut blue light only 33%.
Discover ASMR is about getting good quality sleep. They recommend these glasses.
Gunnar optiks.
Spektrum glasses.
BluBlocker Black Nylon Sunglasses.
Uvex.
Sleep-Better Blue Light Blocking Glasses.
Genevieve from Mamanatural
She uses Uvex glasses and is quite satisfied with the results it had on her sleep. I also have read the comments. One user is also recommending fit-over glasses from Northland Outpost.
Health.com recommends
Uvex, Swannies and Spektrum Elite. They like Swannies as they are more stylish. However, Uvex is just good for the task, that is, to block blue light. Spektrum Glasses lies in between. They are fairly priced and look acceptable, but they also block 99% of the blue light.
Chirocentre.co.uk has compared and recommended three top-rated blue-blocking glasses.
Kate from nytimes.com says that people using blue-light-blocking glasses find it very effective in improving sleep quality in this digital age where we are constantly bombarded with artificial blue light before sleeping. The sources of this light are L E D, computers, and tablets.
She further mentions that not only the color but the intensity of the light also affects sleep. For example, you can see the relation between a dim light and sleep in the graph shown below.
To avoid this huge exposure to blue light, you can wear blue-light-blocking glasses, use e-book readers instead of tablets as they use more eye-friendly lights. Or you can completely avoid using tablets and read paper books in the evenings and in bed.
Healthline emphasizes the same point that blue light disturbs melatonin production, which affects sleep quality.
They have shown a study comparing sleep quality among the people subjected to dim light vs. bright light vs. blue blocker sunglasses.
The graph below shows that wearing blue-light-blocking glasses 3 hours before sleeping can give you some boost in melatonin production as you might get from being in dim light.
So, whenever you are exposed to bright light in the evening, wear blue-light-blocking glasses to get better quality sleep.
Here is a graph.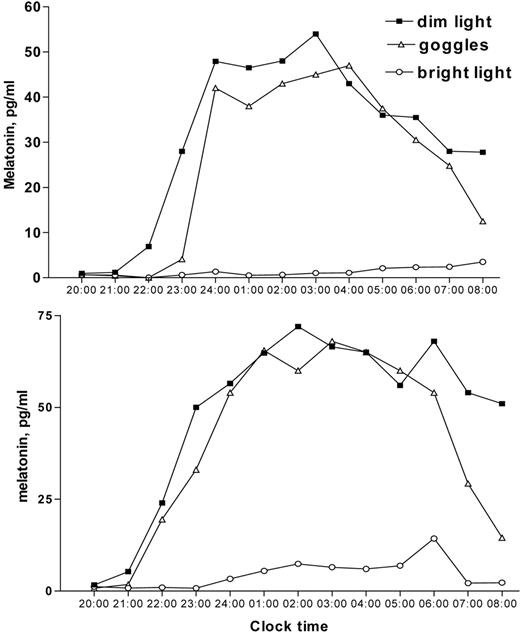 Lifehacker compared Uvex vs. Gunnar glasses and concluded that the option is between looking silly and less silly. According to them, Gunnar glasses look less silly and block 65 percent of the light, and the Uvex glasses block almost all the blue light but look sillier. In conclusion, you will look silly anyway, so why not get the cheapest pair of glasses that at least do one thing at its best? That is, to block all the harmful blue light.
Considering what I have shortlisted and what other people are saying, now let's discuss each one of them and see if they are good or not? And if they are good enough, then how well do they compare with others?
Do they Improve clarity while driving?
Are you looking for blue-light-blocking glasses for nighttime driving? Do you think that they will increase clarity?
No, Blue light blocking glasses do not improve the clarity of the object you see.
Some people believe that if they wear blue light-blocking glasses while driving, they could see better at night, completely false.
It is based on common sense and the basic principle of how we see?
Suppose we could understand how we see25 things, then we will never fall into the trap of marketing which says Blue blocker lenses increase clarity while driving.
We see in three steps.
Lights falls on a object
Some of the light gets absorbed, and the rest is reflected to our eyes.
That reflection is processed by our brain which understands what we are seeing.
Things get clear when they are in the proper light. If you increase the amount of light, the object will get clearer and vise versa. It will be difficult for you to see that object in dimmer light.
Imagine you are wearing blue-light-blocking glasses and there is a blue object in front of your car. Now, it is blue because it absorbs other light and only reflects those wavelengths that appear blue. But your glasses block that wavelength of light. Now tell me, whether your visibility will increase, decrease, or would remain the same?
It will decrease, either partially or completely. So, do not buy these glasses for driving.
See this video for 48 seconds to know why you should not get them?
When you wear these glasses, you think you can see better in the dark, but the reality is the opposite. These glasses decrease nighttime visibility. But, not just that, they also let you believe that you see the better. So you imagine how much dangerous it could be?
But if your only purpose is to protect yourself from glares, and you want some good anti-glare glasses, then you can consider yellow-tinted blue-light-blocking glasses. But they should be LIGHT yellow, and you should only CONSIDER them, as they are not the most recommended. See this video from 46 seconds onward to know more.
As you can see, the doctor recommends that you go for the anti-glare glasses with no color at all as the first choice. Do that when it is extremely necessary because if your eyesight is perfect, you will see much better without any glasses, anyway.
If you want to increase clarity while driving, then, first of all, make sure that your eyesight is perfect. Then, visit an eye specialist near you and examine your eyes.
The next step will be to check if the windscreen is clear from both sides. Most people usually clean them from outside, and there is some fine debris inside which gets ignored. So could you clean it up as well?
But if you decide to buy anti-glare glasses that also protect you from the blue light coming out of the headlights, you should consider the variant that is very slightly yellow. You do not want something that blocks a lot of blue light and decrease your visibility during nighttime.
Do you know what protects you from glares the most? It is the polarized sunglasses.
See this video. How do they block all the glares?
But they are good for fishing, not driving. Why? Because they reduce water reflections and you can see things clearly inside the water. They block all the stray light, and only the light from the front object can come in. But even these are not good for driving as they also reduce clarity. They work well as sunglasses in the daytime, but they do not work best in reducing glare from oncoming headlights.
The right intention to buy blue-light-blocking glasses is to get better sleep. With these glasses, you get less blue light in your eyes, which enhances Melatonin production, and you get more deep sleep.
Blue Light Blocking Glasses For Night Driving
Should You Use Blue Light Blocking Glasses For Night Driving?
There are two opinions about this:
One side says that they use it daily while driving, it helps to protect their eyes from any glare from other cars. There are a lot of blue light blocking glasses that are marketed as "drive better" glasses. They claim that these glasses increase the clarity of the vision at night. All of that is completely false. Why? You ask. See the next point and read the mentioned reference.
The other side says that these glasses only block blue light. Period. They cannot increase the clarity because it increases when you increase the brightness of the light on any object. They do not create any light, rather just block some part of it. So, how can they improve clarity? It is impossible. The reality is rather than improving clarity blue blockers decreases it by blocking a certain color of light. The problem gets worse when you think you are viewing better when in reality you are not. Forensic Aspects of Vision and Highway Safety, Sunglasses Association of America and many other glasses manufacturers including Uvex recommend not wearing blue light blocking glasses while driving at night. For details, you can read the dangers of night driving glasses.
But if you are still going to use them, use the ones with the lightest yellow tint. Do not ever use dark yellow or dark orange glasses like Uvex. You can get Duco or Gamma Ray 003.
Blue light blocking glasses test
We have reviewed different blue light blocking glasses. Some of them had the dark orange color lens, like Uvex and Swannies, while some used lighter tones of yellow in their lenses. These companies mention the amount of blue light their glasses block. For example, Uvex Skyper blocks 98% of the harmful blue light while Gamma Ray 003 blocks just 50% of the blue light.
What if we want to test it ourselves? Is there a way to check that? And if yes, then how to tell if your glasses have blue light protection?
If we could test the blue light blocking capabilities of the glasses, we would use them with confidence.
You might have the computer glasses, and you just want to know how to test their blocking ability? I mean, if they do, you do not need to buy another pair of glasses. Right?
So, how to check blue cut lenses or glasses at home?
First, let us start with the simplest test. Just look at any blue LED in your room. For example, the LED of your Wi-Fi router, as shown in the image.

You can also look at other devices to see if anyone of them has a blue LED light. Just look at it and notice the difference. If there is no change after wearing the glasses, it means your glasses do not block any blue light. But, if you feel the light becomes invisible, which means your glasses block blue light.
How much blue light do they block? It will depend on how much blue color you will see after wearing your blue blockers. If you see more blue color passes through, it shows, your glasses block less blue light. So you should get a better one.
The second method to test if your glasses block blue light is to use a blue light test strip. This handy tool is from Spectra 479, which also makes blue-light-blocking glasses. I have reviewed their glasses in the above section of this article.

Just look at the strip while making sure that your screen is at full brightness. If your glasses block blue light, you will find that this disruptive zone will look very similar. But if they do not block that color light, you will feel the difference as you can do it now.
The third way how can you test your blue light filter is to look at these two diagrams. If you could see the difference while looking it through the blue blocking filter, that means your blue light filter does not work up to the mark. So you should consider getting a better blue blocker. The cheapest one is the Uvex which blocks 99% of the blue light.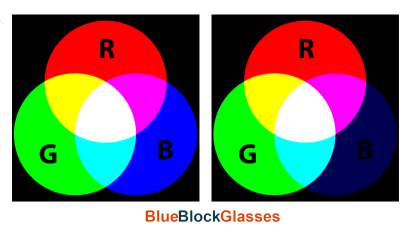 How do these tests work? How authentic are they?
Blue light blocking glasses blocks blue light that is in the 280 to the 510-nanometer range. Out of which, the most harmful range is from 490 to 510 nm. It is the shortest visible wavelength that is also the most energetic. Hence, It is most damaging to the eyes and sleep. This range has blue or violet colors.
Now, these three tests identify whether any light in that range passes through or not. If it does, then your glasses are not good.
If they only block 50 to 70% of the blue light, you will see the difference in the images. But if they block more than 95% of the blue light, you could hardly tell the difference.
These are not the most accurate test and by no means an alternative to a detailed professional test. But they will give you a good idea whether you need better blue light blocking glasses or not.
Video Gaming Glasses VS Blue blockers for Reading.
Video gaming glasses block blue light, but they do it to a lesser extent. They have yellow-tinted lenses that block 50 to 70% of the blue light so that you can still enjoy the colors while playing video games. Another benefit is that you can wear those glasses even in the daytime and enjoy better sleep. They blend in pretty well. I mean, You can wear them in the office, while visiting the market, or whenever you can not wear those orange-tinted glasses.
Blue light blocking reading glasses just aim for one goal, to restrict all the harmful blue light. They are not designed to blend well or such that you can still see all the colors. However, they do the primary job well and block almost all the blue light. That is why you will not be able to see the colors vividly. And when you are reading text, that's not a problem. The main thing you are concerned about is having a good night's sleep. And these classes do the perfect job of that.
The alternatives.
If you do not have blue light blocking glasses, and you do not want to buy even the under $10 glasses, Uvex, then there are three things you can do to test if blocking blue light in the evenings will increase your sleep quality?
If you use an iPad or Kindle for reading or use the computer before sleep, you can install a program called f.lux on your system. It will change your screen colors according to the time of the day. For example, 4000K in the evenings, below 3000K at night, and if you want a candlelight amber light, set it to 1800K.
Use warm color lights in your bedroom.
Avoid using any screen that is TV, computer, tablet, or mobile phone. And use the warm color light in your bedroom. Use that bulb that has a color temperature of less than 4000K.
Use warm color book lights while reading in bed.
If you use a Clip-on book reading light to read in bed, go for the warmer light. Use either an Amber book light or Ecologic Mart eye care warm book light. These lights produce very less blue light and hence do not interrupt your sleep cycles.
Use any of these alternatives or apply all of them. Then, when you feel the difference, you can go for the blue-light-blocking glasses with confidence.