Update 17 September 2019: If you are looking for an amber color book reading light with no blue light, that does not disturb your sleep cycle, then there is a new and better addition in the market. It is called Hoogalite. Earlier, there was only one option for amber book lights, i.e. Somnilight. But, this new amber book light has excelled in quality. You can check Hoogalite amber book light detailed review, or quickly check its price on amazon.
---
Do you want to read in bed without disturbing your sleep, and your partner? Are you looking for an amber reading light that is completely blue-light-free? Then SomniLight dual-head rechargeable clip-on book light with flexible neck is a great solution.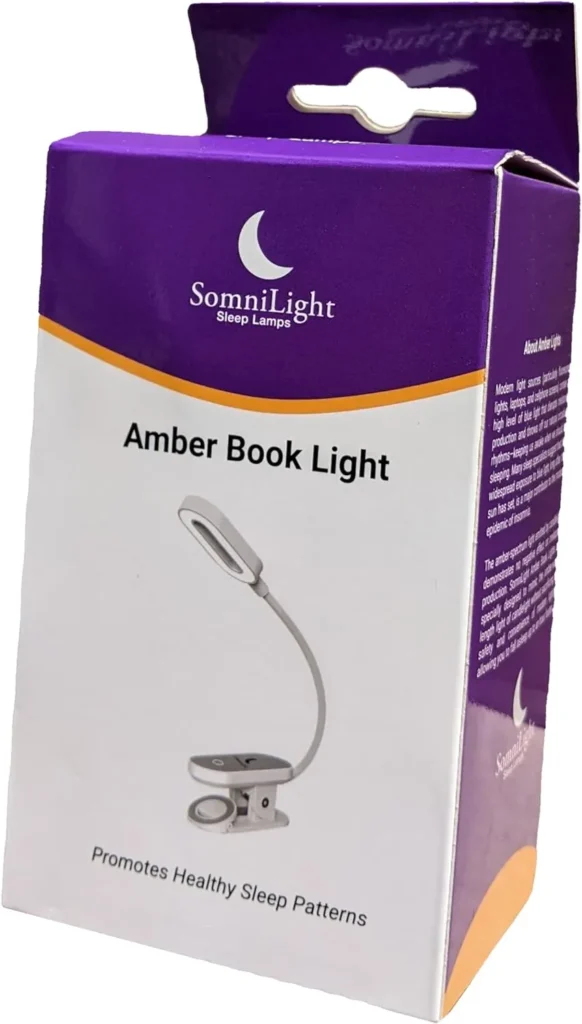 The main benefit that you get out of it is…
Somnilight book light produces amber color light that has color temperature of 1500K. On light spectrum that ranges from 510nm to the 700nm. In simple words, there is no blue wavelength light. It means, reading with this light will not disturb your melatonin production or sleep.
Plus, It is rechargeable and lasts for 20 hours on one charge. That is enough for a couple of weeks if you read for an hour a day.
Moreover, you can clip it to any paperback or hardcover books easily without damaging pages or adding a lot of weight. Or use this warm amber book light for reading on Kindle
The only downside is the price that is two-times the price of other high quality warm book lights. Specially, if you consider the fact that the battery stops charging after a year of use (source: user complain). The battery is not replaceable like the one in Ecologic Mart book light

Pros
1500K color – The Warmest of all warm book lights
Native Amber LED feels like candlelight
USB Rechargeable battery lasts 20 hours
Dual-Head with flexible neck
Adjustable brightness levels – from very dim to bright
3.2 oz Lightweight and portable
Sturdy clip that does not damage the pages
Warm amber book light for kindle
Cons
Higher price than other warm book lights
The rechargeable battery lasts for year, and is not replaceable.
Dual head design might be necessary for some.
The light is very bright for some, even at one head low settings.
The light leaks out
Possible solutions to Cons
Get a lower price book light shown in alternative section below, and cover that book light with an amber color film
For leaking light, and overly bright light, cover it with black tape.
Do all this for this 1500K amber color LED light, or get Ecologic Mart or LuminoLite book light. Or this tiny bookmark book light.
Remember, the point of getting this light over other best book lights is the amber color and 1500K that is not available in any other light.
SomniLight Amber book Light Benefits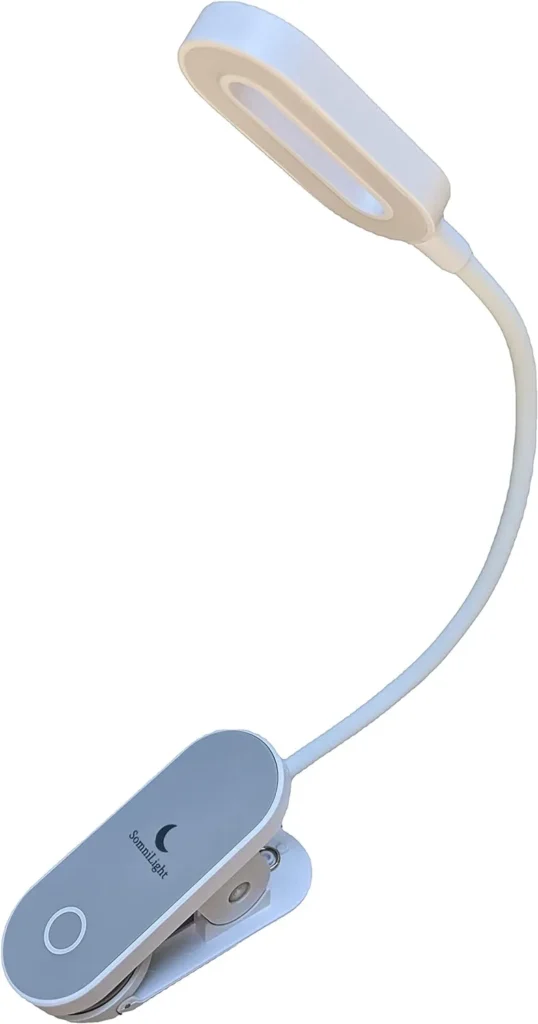 Somnilight rechargeable amber LED book light is a great gift for bookworms who love to read in bed. Why? The reasons are mentioned below in detail.
Easy To Use
Somnilight amber book light is very easy to use. Just clip it to the book or the kindle and adjust the position of the head. Turn in on by pressing the buttons on the back of the head, and press multiple time to adjust the brightness, and start enjoying your favourite book.
Helps You Sleep Better – No Blue-light
Using this amber book light, you will be able to read in bed without disturbing your sleep. You will sleep earlier, and get a better quality deep sleep. The reason is the absence of blue light, that decreases melatonin production, which then delays your sleep cycle.
This is the only clip on book light with 1500K color temperature Native LEDs. These provide the warmest light possible light. Or the amber light just like the flame of the candle.
Native LEDs means, LEDs produce amber color light. There is no coating on the LEDs that make it amber.
Does Not Disturb Your Partner
If you are struggling to read in bed without disturbing your partner, then this is a great solution. Just point the light away from your partner, and read in the very dim settings – one side, low setting only. If some lights leaks out, it will be less harmful to sleep, because of its amber color.
But, for the few users who are super sensitive to light during nighttime, even the little amount of light is enough to disturb their sleep. In that case, cover the light with black tape, or read my article on how to read in bed without disturbing your partner.
Read Longer Without Eye Strain
If you read a lot in bed, and that stresses your eye, then Somnilight book light will be a great help to. You will be able to read for long period without any eye strain. Thanks to its high quality LED that has no flicker, amber color light that is less irritating to eyes, the ability to dim the brightness, and smooth light without hotspots or glares.
But, it is not for all. For example, A user found that it is not that best for him and her wife, so he called the company. They responded promptly, and refunded them. So, do not worry, if that does not work for you.
Lightweight and Portable
Somnilight amber book light with a built-in rechargeable battery weighs just 3.2 ounces. It is not the most lightweight, but still does not add much weight when you clip it to the book or e-reader.
Being lightweight, also makes it a great travel friendly portable book light that you can take anywhere you go.
Works with Paperbacks
As it is a lightweight book light, so you can attach it to paperbacks without adding a lot of weight to them. But, it is not the most light, so it is not the the best book light for paperbacks. You can say, it works though.
For magazines and flimsy books, it is not recommended, because of its two heads that can be difficult to manage.
Sturdy Clip For Books And Ereaders
Its clip is sturdy enough to hold the books, yet soft enough that is easy to operate. Even kids can use it easily. Plus, it does not damage the pages of the books.
If you plan to use it with kindle or any other e-reader, then it works perfectly with that as well.
Direct The Light Precisely
You have the power to control the direction of light precisely. Its sturdy yet adjustable gooseneck is easy to maneuver, and once set, keeps its position.
Using this, you can direct the light away from your partner, or change the light direction if it is causing glares on the book or e-reader screen.
Long Lasting rechargeable battery with charge indicator
It has a built in battery that is enough for reading 20 hours. Practically, this will last for weeks, if you read for a couple of hours every night before sleeping. Now, you do not have to find a plug, or keep changing the batteries.
Its hassle free rechargeable battery also has a charge indicator that turns green when the charging is complete. This protects your battery from overcharging.
But, like other Lithium-ion batteries, it does not last a lifetime. Some users say that it lasted for almost a year, while they were expecting 4-5 years, in this price. It is something that you should keep in mind before buying. If you want a warm book light for which you can change the battery then check out Ecologic mart book light with rechargeable and replaceable battery, or other best book lights.
Charge It Anywhere – USB Charger Included
It uses a standard USB charger to charge the battery. That is easily available in laptops, power banks, computers, and mobile chargers. So even if you forget the charger in home, you will not have to worry about charging it.
The company has included the power adapter in the package. Most book lights only provide the cable, and not the wall adaptor.
Bright Amber Headboard Light
If you are looking for an portable amber color headboard reading light, then you can use this book light. It is bright enough to be used as a headboard book light. Just turn on the brightness to full and use the both heads.
Very Dim Book Light For Light Sensitive Book Lovers
It is not only bright, but can also be used as a very dim book light. For that, use one head, and use it in the lowest brightness.
Still, if you find the light to be bright, then there are two options. Either get a warm light with more levels of brightness, or cover this with a black tape, leaving only a small area to let the light come out.
Amber Book Light for Kids
If you are worried about your kids who read at night, and their sleep is delayed, then this amber light will be helpful. With its amber light, your kids will sleep earlier and get a deeper better quality sleep than they normally do.
Amber Book Light for Elders
This is a great light for elders as is, but if he or she has vision problems, the the Somnilight amber lamp with magnifying glass would be a better option. It has the same 1500K amber LEDs, plus the magnifying glass for clear reading.
Good Customer Service
If you do not like the light, or the light has some problems then do not worry, the company will listen to your, and do their best to treat your complaint. You can buy Somnilight with confidence.
Alternatives
The best alternative is mentioned at the top, i.e. Hoogalite.
Somnilight coupon code:
if you are looking for a coupon code, then check these codes:
Conclusion
It is expensive but worth it, as it is the only amber color book light in 1500K color temperature. Just read the cons and alternatives before buying to make an informed decision.