Do you enjoy reading in bed before you go to sleep? If so, having a reading light can make the experience much more enjoyable. A reading light provides the right amount of illumination to allow you to read comfortably without disturbing your partner or straining your eyes. In this blog post, we'll discuss some key factors to consider when choosing the best reading light for your bed and also suggest some best ones.
Reading Lights for Bed: Buying Guide
Type of Light
The first thing to consider is the type of light you want. There are several options, including:
LED Lights: LED lights are energy-efficient and long-lasting. They are also available in a range of colors and brightness levels, making them a popular choice for reading lights.
Halogen Lights: Halogen lights are brighter than LED lights and produce a warm, yellowish light. They can be more expensive and use more energy, but they are a good choice if you need a brighter light for reading.
Incandescent Lights: Incandescent lights are the traditional choice for reading lights. They produce a warm, yellowish light and are available in different wattages. However, they are not as energy-efficient as LED or halogen lights.
Style of Light
The style of the reading light is also important. You can choose from
Wall-mounted lights: These lights are attached to the wall and can be adjusted to direct light where you need it. They are a good choice if you have limited space on your bedside table.
Table lamps: Table lamps are a popular choice for reading lights. They are available in a range of styles and sizes and can be easily moved around your bedroom.
Clip-on lights: Clip-on lights attach to your book or headboard and are a good choice if you like to read in different positions.
Brightness Level
The brightness level of the reading light is important for your comfort and eye health. You want a light that is bright enough to read by but not so bright that it causes eye strain or disturbs your partner. Look for a light with adjustable brightness settings so you can adjust it to your liking.
Color Temperature
The color temperature of the light can affect your mood and sleep. Blue light, for example, can disrupt your sleep and make it harder to fall asleep. Look for a light with a warm color temperature (around 2700K) that mimics the warm glow of a sunset.
Energy Efficiency
Finally, consider the energy efficiency of the reading light. LED lights are the most energy-efficient option and can save you money on your energy bills. Look for lights with the ENERGY STAR label to ensure they meet energy efficiency standards.
In conclusion, a reading light is a great addition to your bedtime routine if you enjoy reading in bed. Consider the type of light, style, brightness level, color temperature, and energy efficiency when choosing the best reading light for your needs. With the right light, you can enjoy a comfortable and relaxing reading experience before you drift off to sleep.
1. Clip-on Book Light for Reading in Bed
If you are someone who likes to read in the dark, clip-on book lights are the perfect solution for you. Lightweight & portable, these lights will stick securely on your paperback books and even your Kindle. The battery has an astonishing lifespan of weeks so you won't have to worry about it running out on you during a captivating read.
Ecologic Mart book light ( check my Review on that) is one of the best clip-on book lights because of its features, quality, and brand. Here are its top benefits:
Three color modes are available: warm light for reading without disturbing sleep, cool light for reading without falling asleep, and neutral light for reading in various situations.
Soft, even light, and adjustable brightness to prevent eye strain.
The Flexible neck on this book light allows you to direct the light precisely on the book so you can read without disturbing your partner.
The battery life on this light is incredible – It can last for weeks without needing a recharge!
It has a keyhole at the bottom which means that it can hook in any nail. That is, you can attach it to your wall or headboard.
Ecologic Mart is my favorite type of clip-on book light because it fulfills about 90% of user cases. However, other options include dual-head or AAA battery book lights, which you can check out in this post about the best book lights.
2. Clip-on Lamp for Headboard or Desk
Clip-on headboard lights are bulkier and have a wider 2.36" clamp than book lights. However, a lot of people find these clip-on headboard lights more convenient because if you don't change your position often, these lamps will stay put on the bed while a book light will need to be adjusted every time you move.
These lights illuminate a wider surface area. That means if you don't want to disturb your partner, these probably aren't the better for you. However, if you want an evenly lit space with a nice ambiance, these are probably better for you.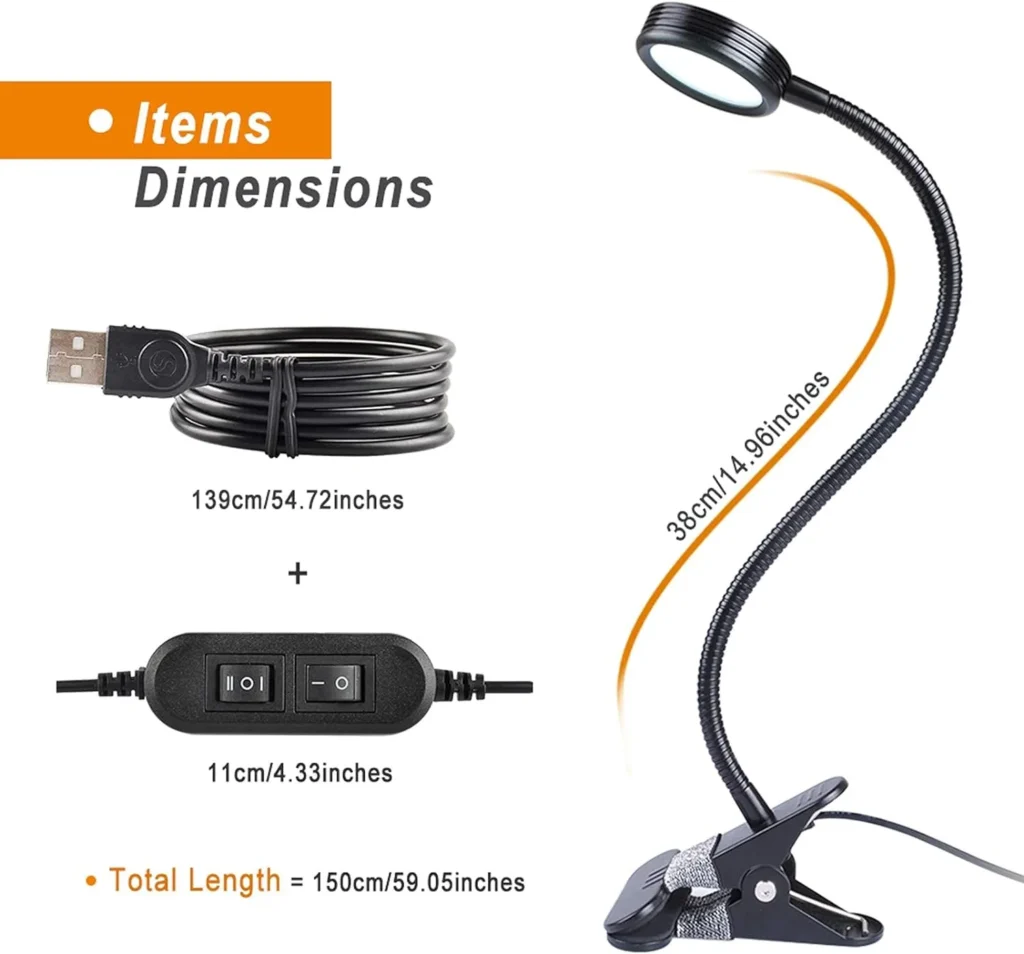 LePower is one of the best clip-on headboard reading light with a wide 2.36'' clip that clamps onto the headboard easily, has warm and cool color light modes, adjustable dimmable brightness, and a long flexible gooseneck to direct the light precisely. It runs on a direct plugin from any USB source.
The LePower clip-on headboard light doesn't have a timer or remote control function. If you want either of these things then go read this post about the best clip-on bed headboard reading lights.
3. Bedside Table Reading Lamps
Bedside Table reading lamps are a good choice if you do not want anything to be attached to the book. And, you find it easy to use a bedside lamp than a headboard light. Plus, you need a multifunctional light that also works while reading on a desk, floor, or on the sofa. Some bedside lamps also transform into floor lamps. The light from a lamp is less focused than a book light, so it is not ideal for reading when a partner is sleeping beside you.
With most bedside lamps, you are either super bright and disturb your partner or you're too dim to read. The Lepro Bedside Lamp solves those problems. Featuring an LED light that rotates up and down, it is specially designed for reading in bed. The gooseneck light is gentle on your eyes and won't disturb your partner.
Also check out this article for more options: Best Bedside Table lamps for reading in bed – 35 Unique Options
4. Adjustable Floor Lamps
Floor lamps are multipurpose lights that are useful for reading in bed but can also be used to illuminate the entire room. They are also great for reading in a reading nook or on the sofa or floor.
Some adjustable floor lamps also double as a bedside or desk lamp which makes them even more useful. They don't take up much space and can be moved around easily by simply grabbing the handle.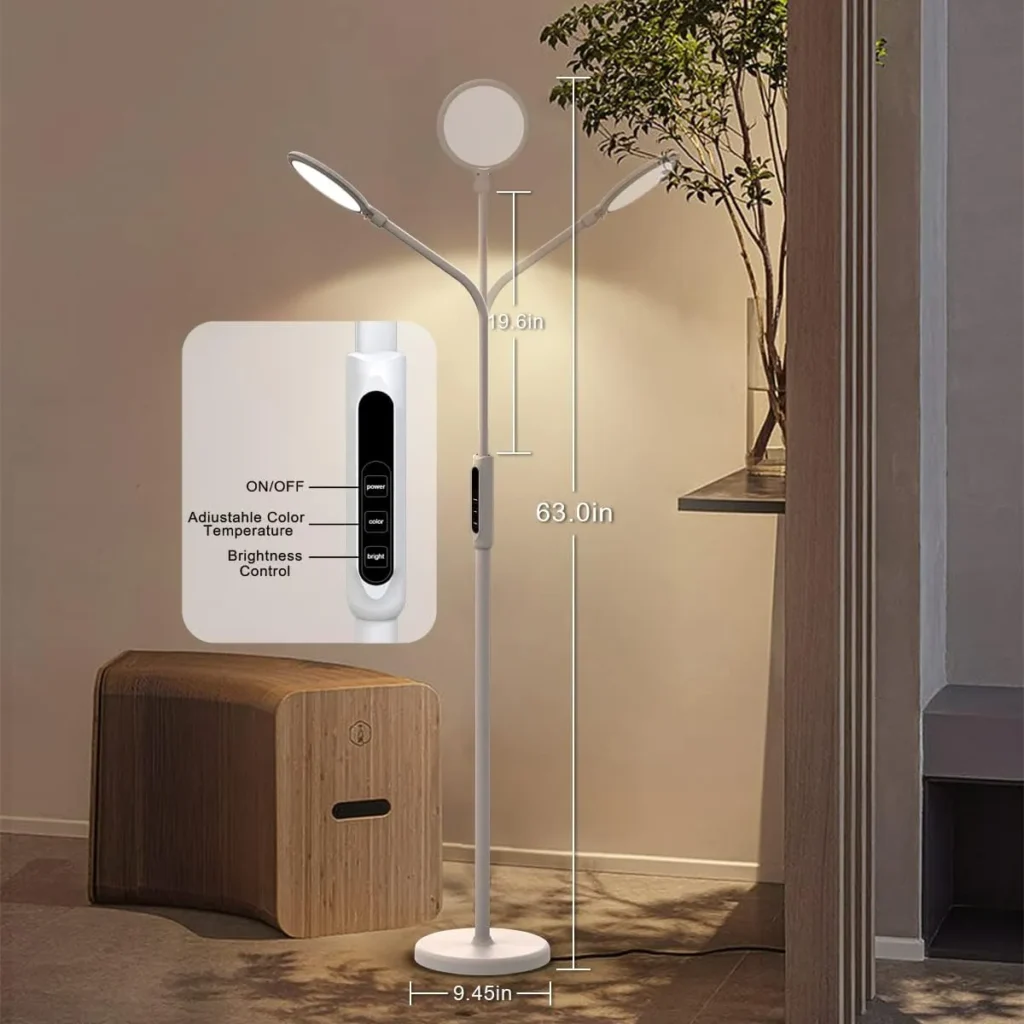 The Syrinx LED floor lamp is suitable if you need a desk lamp, a clamp-on headboard or desk lamp, and a floor lamp in one package. Here are the top benefits:
The perfect lamp for any occasion, from your desk to your bedside table. Easy to assemble – no tools or screws needed!
Stylish and modern design blends into any environment – minimalistic and sleek.
With features like a touch control, remote control, and timer, you'll never need a second lamp again.
Easily adjustable to fit your needs (illumination intensity or color temperature) with just the press of a button
5. Wall mounted reading lights
Wall-mounted reading lights work best if you read at the same place daily. These are great for the bedridden, the elderly, and kids. The main benefit is, you do not have to charge the batteries, or manage these lights in any way.
Although these require initial setup, once it is fixed and ready, it will be very easy to start reading – Just get the book, go to your bed, and start reading! On top of that, these lights look beautiful in the room. You can get them in different styles and designs, like modern, minimal, vintage, and luxury.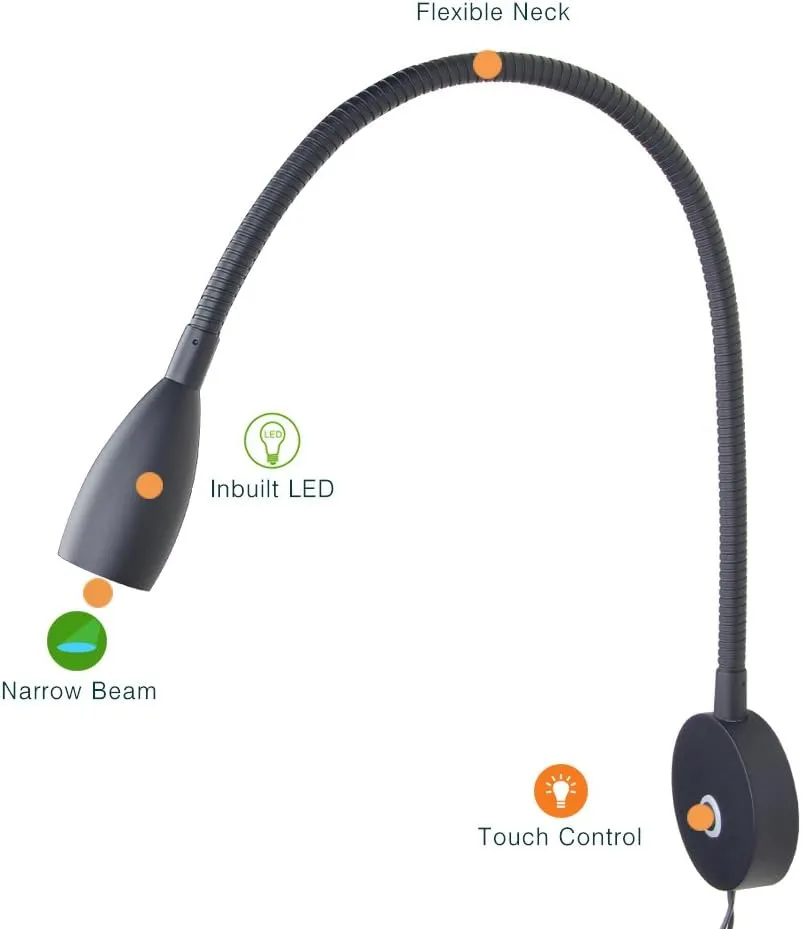 Acegoo gooseneck wall light is the best wall-mounted reading light that looks minimal and stylish, yet packs a lot of useful features. It has warm light, flexible goose-neck, dimmable brightness, and a recessed LED beam. You can also mount this overhead reading light to the headboard.
Here are its top benefits
The directional, focused beam of light is perfect for illuminating only the book.
With a touch dimmer switch, you can adjust brightness to your needs.
No more disturbing your partner with blinding, bright lights!
The warm light will help you sleep better and enhance your productivity the next day.
6. Wall mounted ambient Bar light for reading
Wall-mounted ambient Bar lights are becoming increasingly popular in the world of reading. They create an environment with just enough light to read by, without creating glare or blinding the reader with too much brightness. They emit gentle, soothing light that does not cause eye strain.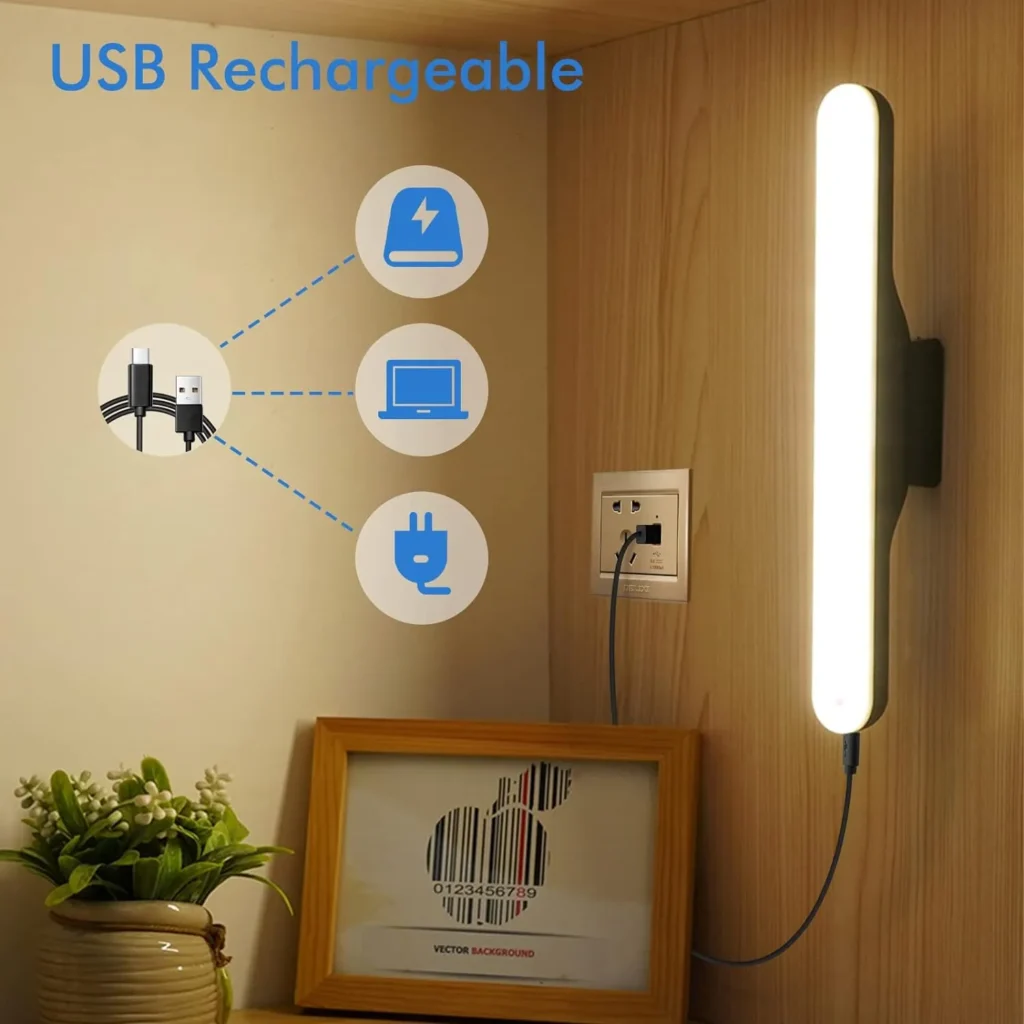 Semlos Wall Bar Light is a rechargeable LED bar light that attaches to the wall magnetically. It provides ambient light that is perfect for reading in bed. Especially suited for bunk beds.
Sleek and minimal Reading lamp with a warm, soothing light. Perfect for bunk beds.
You can adjust the angle and dim the light to your preference with touch control.
Smart memory function remembers your last brightness setting, so you don't have to fiddle with the controls all the time.
Comes with a built-in 2000mAh battery that lasts up to 8 hours depending on brightness setting and use.
7. Neck lights for reading in bed
Neck lights are perfect for when you want to read in bed but don't want to bother your partner with an overhead light. This is especially true if you're trying to read something that has a lot of text or diagrams that will require going back and forth between pages or paragraphs.
Explore our selection of the 7 Best Neck lights for Reading
The only problem with this light is that, whenever you turn the page or move a bit, then the light moves and shakes. This might not feel pleasant at first, but eventually, you get used to it.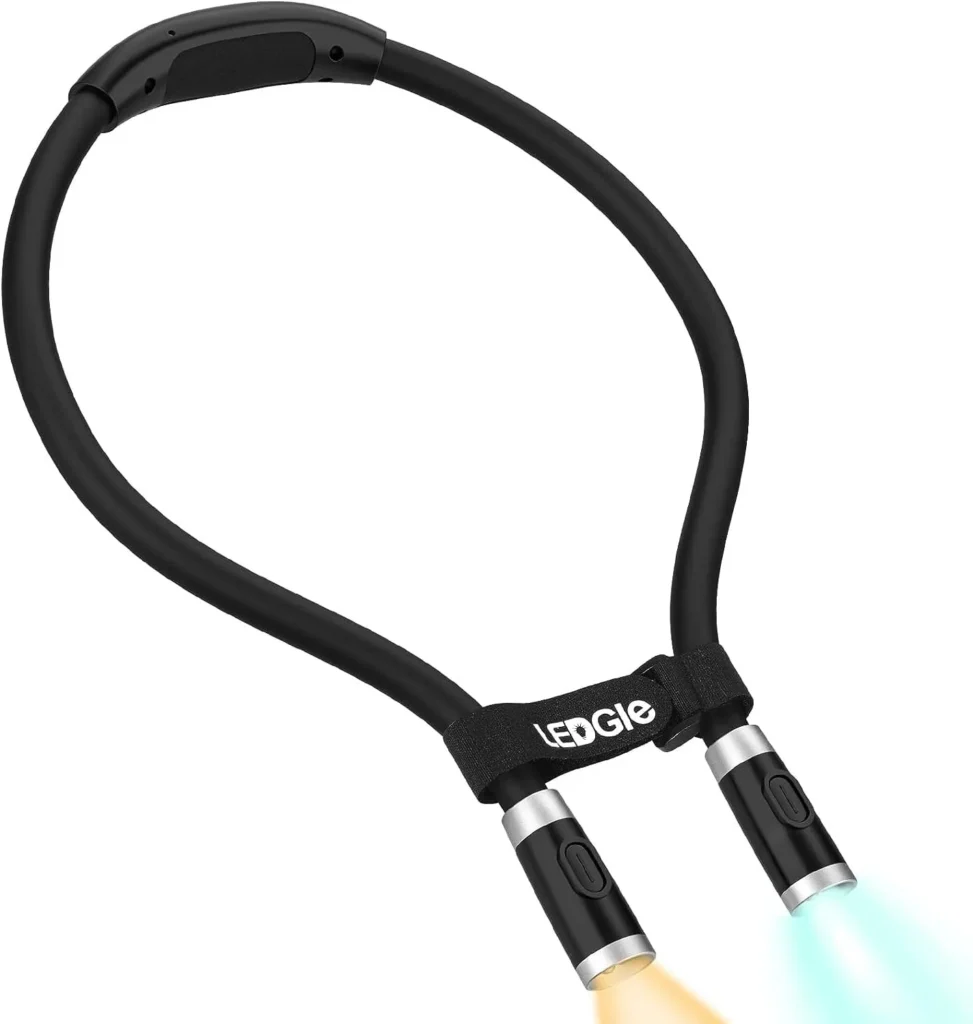 Ledgle Neck light is perfect for any reader. The light is soft, not too bright, and produces warm and cool light depending upon the use. You can have it on during the day, or at night when you're trying to relax and read in bed.
Emits a soft, warm and relaxing light that won't disturb your sleep but will let you read comfortably anytime.
Conveniently adjustable brightness. Flexible arm that directs the light where you need it.
With an 8520 mah rechargeable battery that lasts up to 6 hours with just a single charge, you can read worry-free for as long as you want, even in the dark!
Ledgle Review: A light that wraps around your neck for reading in bed
8. Head torch for reading in bed
Headlamps or headbands are used to provide lighting for reading, ideally outdoors. They offer a focused light that allows you to keep your eyes on the text with no strain.
For day-to-day home use, they can be too bright and distracting. Plus, these are not comfortable to wear for long periods of time due to the weight and tightness of the strap.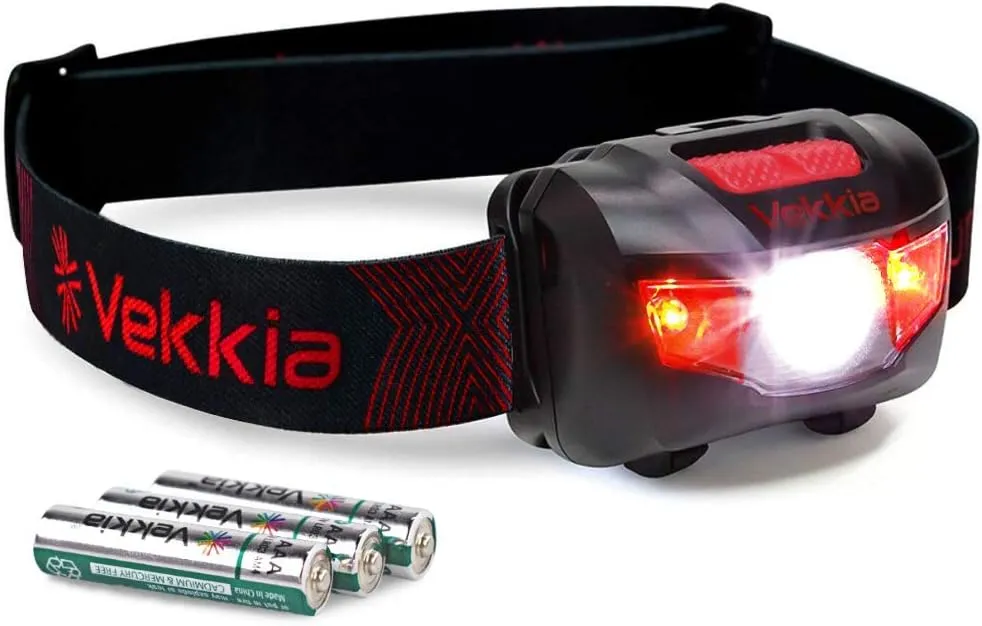 What makes Vekkia Headlamp one of the best headlamps for reading in bed is its versatility in different settings. It can be used just as a reading light or a camping light. It has a powerful and wide-cast LED light that can be operated with one hand, and it's lightweight so you won't have to worry about it weighing you down.
Vekkia heahttps://amzn.to/49LFnQedlamp is one of the best reading lights to wear on your head while reading in bed. It runs on three AAA batteries that last for days. It has red and white light. You can use red light if you do not want to disturb your sleep. To direct the light, you can move it up or down 45 degrees.
Here are its top benefits:
The Red spectrum light will not disrupt your body's natural melatonin production and may also help you sleep better.
No need for an outlet to charge. AAA batteries are all you'll need for this bright and rugged reading light.
Go from soft to bright with 5 modes and adjust the angle to direct the light exactly how you need it.
Comes with a water resistant, rechargeable, ultra bright LED reading light for camping.
9. Clip lights for reading glasses
Do you find yourself squinting to read at night? If so, clip lights for reading glasses may be the solution to your problem. They attach to your reading glasses and provide a small halo of light that's perfect for reading in bed. With clip lights, you won't need to turn on a bright lamp or disturb your partner with overhead light.
They can be used in bed, in a car, or on the go when you need some light. Some clip-on lights come with built-in rechargeable batteries while others require coin cell batteries which can be found at any grocery store.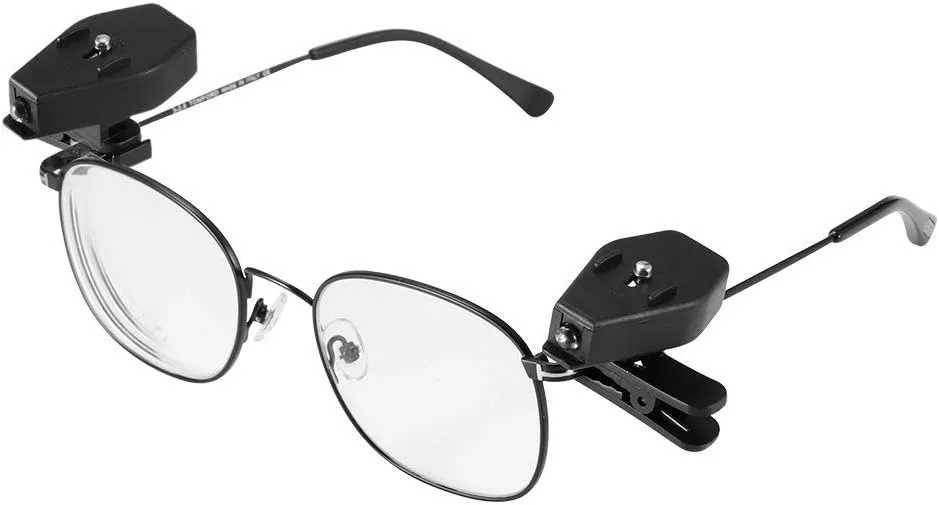 The Allomn clip-on light is portable, lightweight, and easy to use. The light can be clipped on either side of the glasses frame or the front of the frame. This allows for flexibility in where the light is located and how it can be used.
The Allomn clip-on light is a great alternative to a bulky book light. It is small enough to be stored in a pocket, purse, or briefcase. As a result, it can be brought anywhere you are going and provide the necessary illumination for reading without disturbing others who might be nearby.
If you do not want to get a Clip light for reading glasses that run on coin cell batteries and want a rechargeable option, then check this Rechargeable Clip Light for Glasses by Nachteule
10. Lighted Reading glasses
Lighted Reading glasses are the most versatile reading light. This type of light is both hands-free and head-mounted, so it can be used anywhere. These glasses offer a bright, clear light that is easy on the eyes. You can wear them in any location, whether it's at home, school, an office, or while traveling.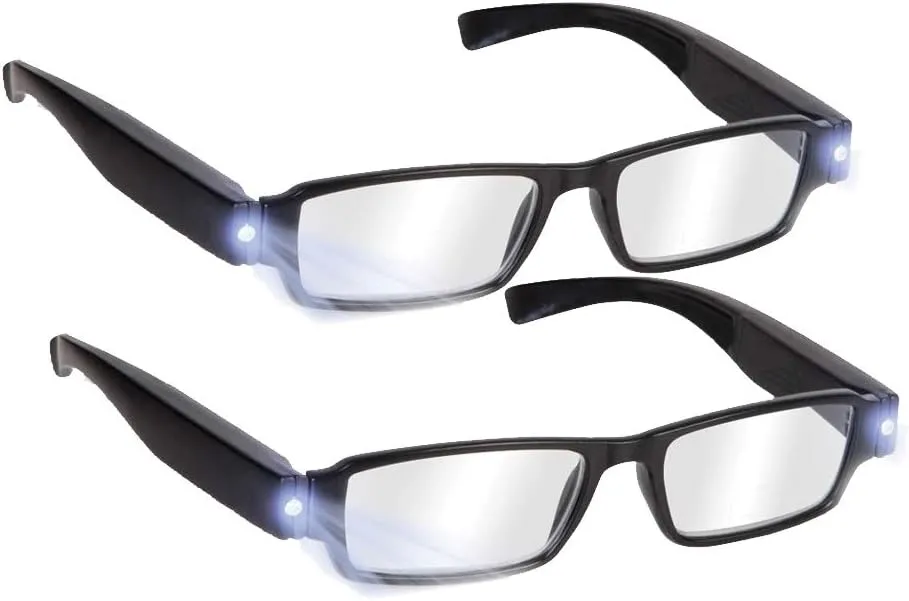 DuanMei Lighted readers are one of the best reading glasses with built-in LED lights. They run on 4 coin cell batteries which are included in the package. You also get a nice cleaning cloth and a carrying case. Here are its benefits:
Don't worry about running out of battery or waiting for a charge.
These stylish glasses are lightweight and won't hurt your nose or ear while you wear them.
Magnification levels of +1, +2, +2.5+, and +3+3.5+. Choose your lens power to cater to your specific needs as a reader.
11. Flat Panel LED reading light
Flat-panel lights are the best because they only shine on the page, so no light disturbs the partner. They're also flat & lightweight, much more convenient than heavier fixtures. But they do scratch easily – be careful!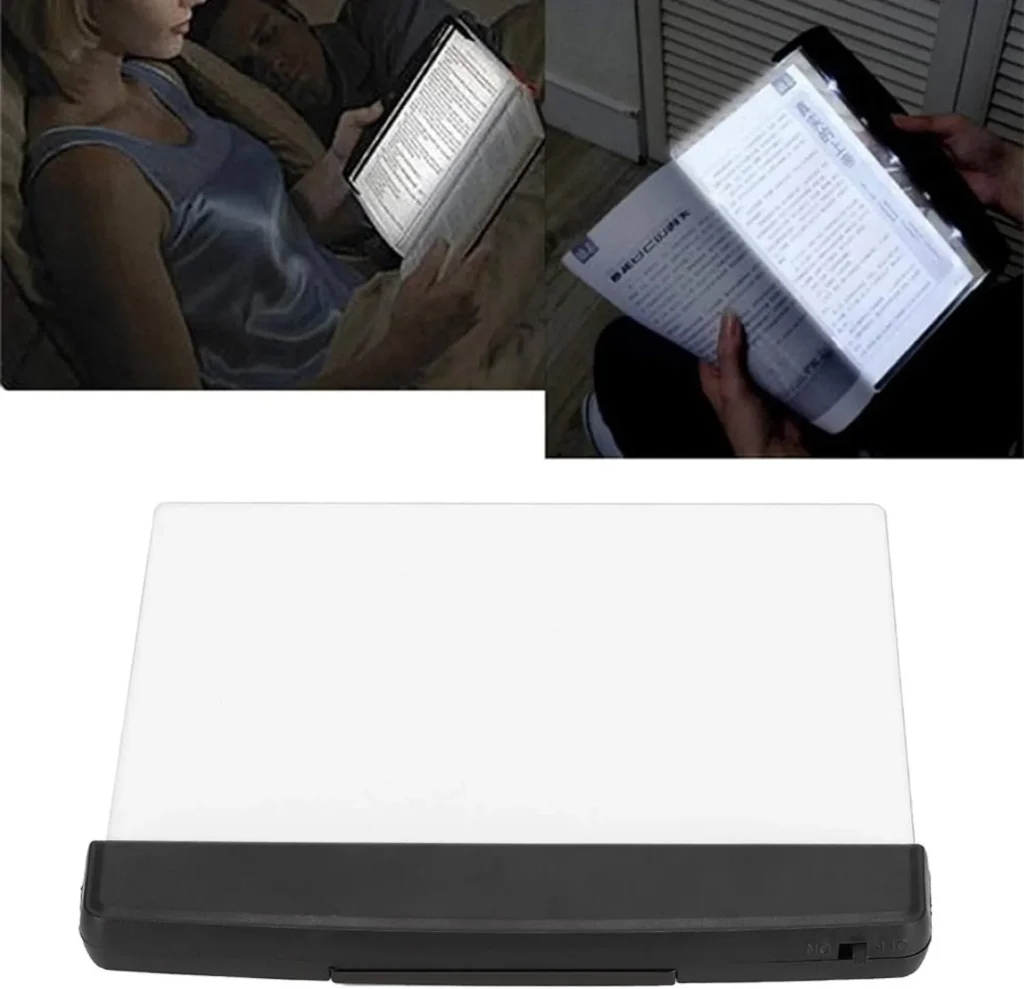 Flat panel LED book light covers the most common problem of scratches by providing 3 lights in one package. So if you get it scratched you can use the other one. It is available in three colors, blue, pink and white. Here are its top benefits:
The light yellow light that is not too bright for your eyes, prevents eyestrain.
Ultra thin panel that prevents the edge typeface from deforming.
Made of high quality ABS material for durability.
Runs on standard AAA batteries that offer long hours of use.
12. Reading lamp with timer for kids
We have all heard the story of a child that has fallen asleep with a light on and woken up in the middle of the night, or we've been reading to them and they fall asleep with us. This reading lamp is designed to help parents by automatically turning it off after 15 minutes.
This reading lamp was created with kids in mind, but it can be useful for anyone who likes to read before sleeping. It is designed so that parents don't have to worry about remembering to turn off the lamp when they put their children down for bed because this product will do it automatically for you!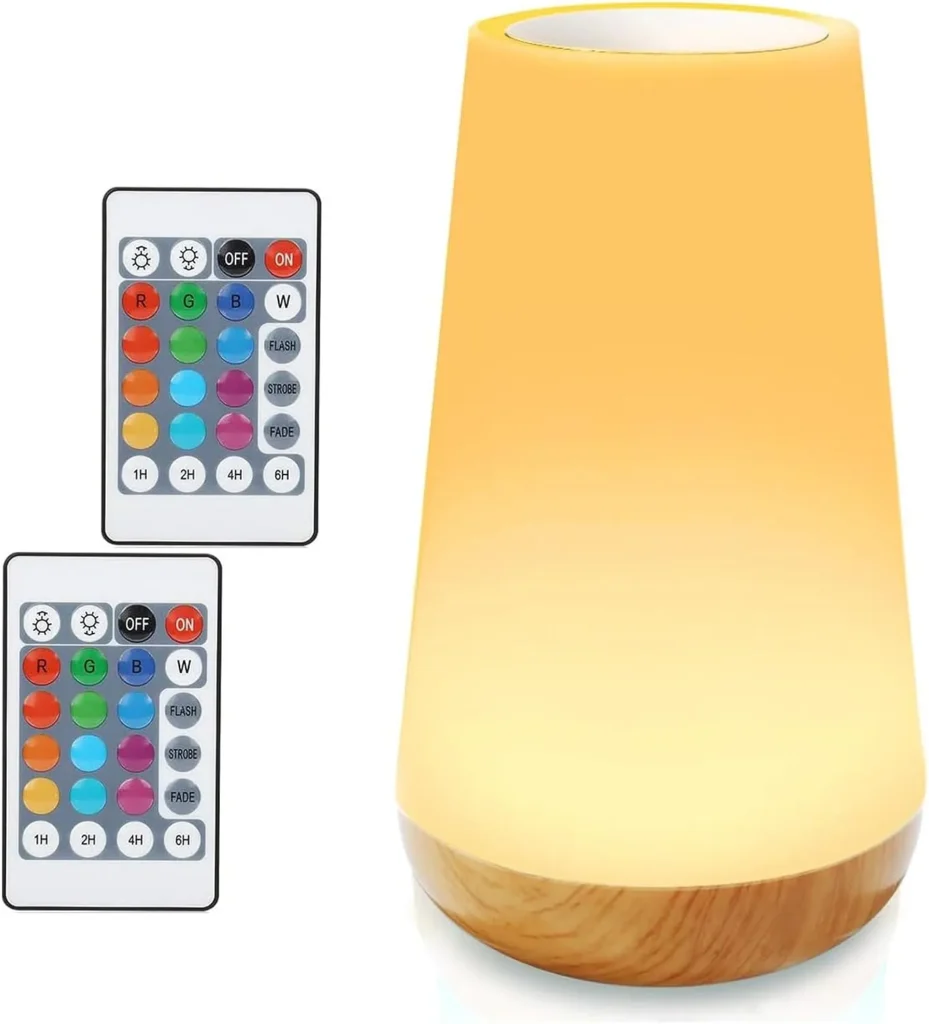 TAIPOW Touch Night Light is a must-have for every bookworm who also suffers from insomnia. It has a warm and calming orange light, like that of a fireplace. Here are its benefits
Set it to stay on for 1,2,4 or 6 hours with the help of the auto off timer.
Simply tap to switch between any one of the 5 level dims you want.
Create a calming ambience with 13 different RGB color light modes.
Here are the best kid's reading lamps with timers.
13. Animal Night Reading light for kids
Whether it is a night light or a lamp, kids tend to love cute animals. The cute animal design makes it easier for the kids to fall asleep and stay asleep without being afraid of the dark. It also helps them read books at night without disturbing others in the home.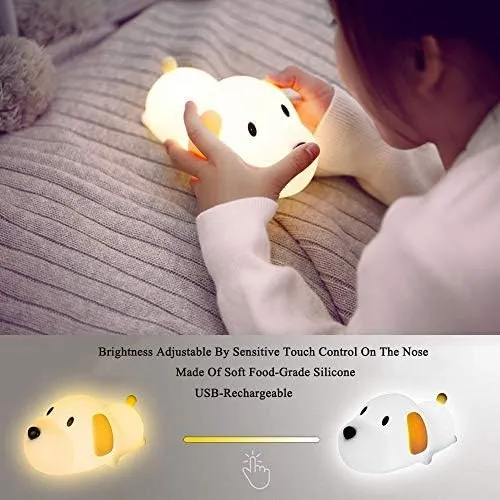 The adorable silicone Puppy night light will keep little one's company and provide a soothing glow when it's time to sleep. They're soft and safe for kids to hold, and the timer will automatically turn off after 30 minutes. The top benefits are:
Touch the nose to turn light on or off, touch and hold to adjust brightness.
Made of soft food grade silicone for safety of your child.
Comes with both warm and cool lighting, while also having an auto off timer that shuts the light automatically.
Here are the Best Night Lights for Kids: 37 Different Animal Designs
14. Folding Wooden book lamps
These multifunctional lamps emit a soothing ambient light. Although running them when sharing a bed with someone isn't recommended – they come from different brands/models and some of them offer RGB color options. Meaning, you can choose whichever color you like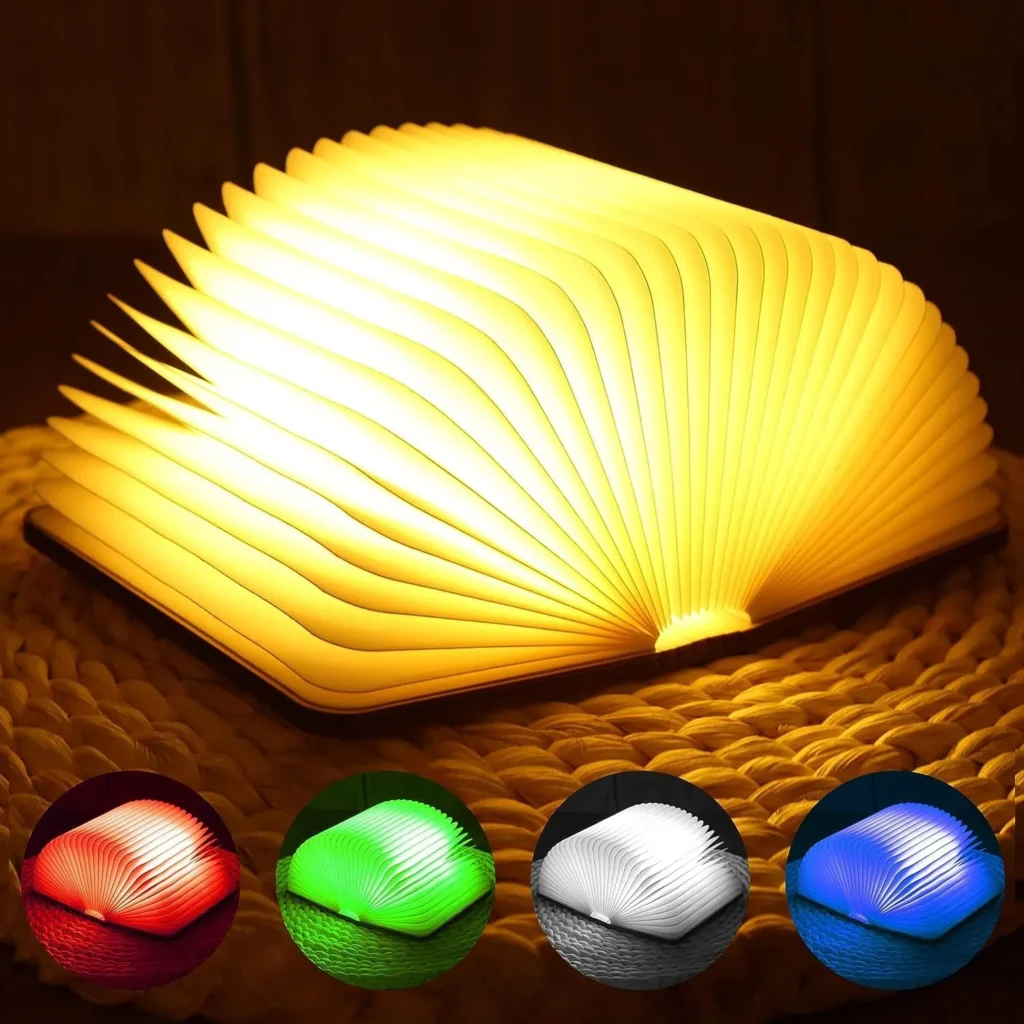 NASHARIA is one the best foldable wooden book lamp that you can use for reading in bed. It is a great gift for book lovers of any age. It has a rechargeable battery that you can easily charge from any USB outlet.
This lamp is a one-of-a-kind, fully unique; it's elegant and stylish and provides you with a touch of warmth.
It can be used in three ways: as a bedside lamp, wall mounted lamp or headboard light.
It produces warm ambient light, which casts a soft glow on the room.
The way it folds flat for easy storage is also an added bonus.
15. Amber Reading lights
If you struggle with staying up late to read before bed, then an amber light could be the solution. It may not seem like it, but the lack of blue light can actually help your body to release melatonin and sleep better. It can also be a good way to reduce eye strain and headaches that are caused by reading on screens all day.
Amber color light is the kind of light that has the least blue light. It is followed by the warm color light which produces lesser blue light and then white or cool color reading lights.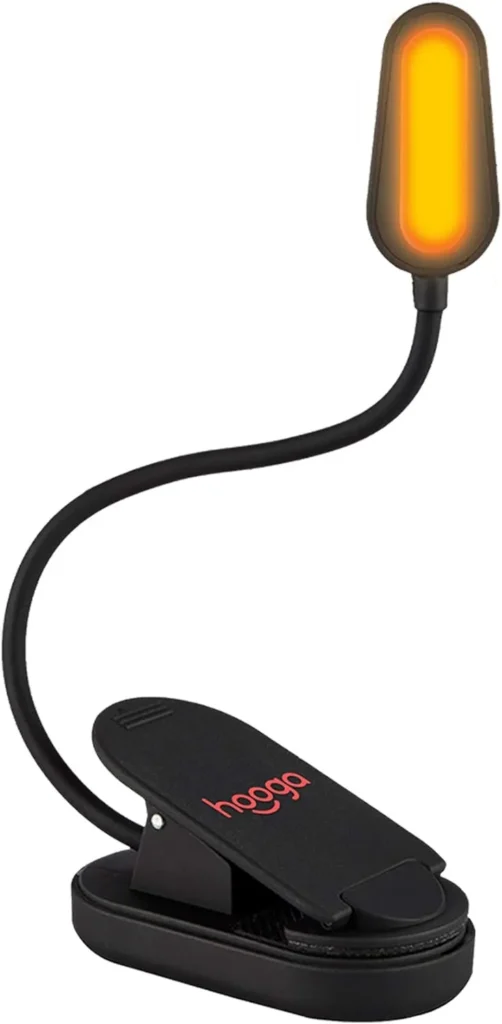 Hooga's Amber book light is one of the best on the market, designed to create a relaxing and comforting ambiance. It mounts to any book and has a rechargeable battery which will last for weeks when fully charged. Here are its top benefits:
1600K color temperature has the least amount of blue light, which means your sleep won't be disturbed.
3 brightness levels to suit the reading level.
Flexible neck in order to focus light precisely on the page without disturbing partner.
Lightweight and compact, easy to carry along with you anywhere you go.
Review: Amber clip-on reading light by Hooga
16. Reading light for Kindle
If you're reading digital books on Kindle, Kobo, or any other e-reader with no inbuilt illumination then one of the best options is a clip-on book light, which can be easily aimed to provide just the right gentle light.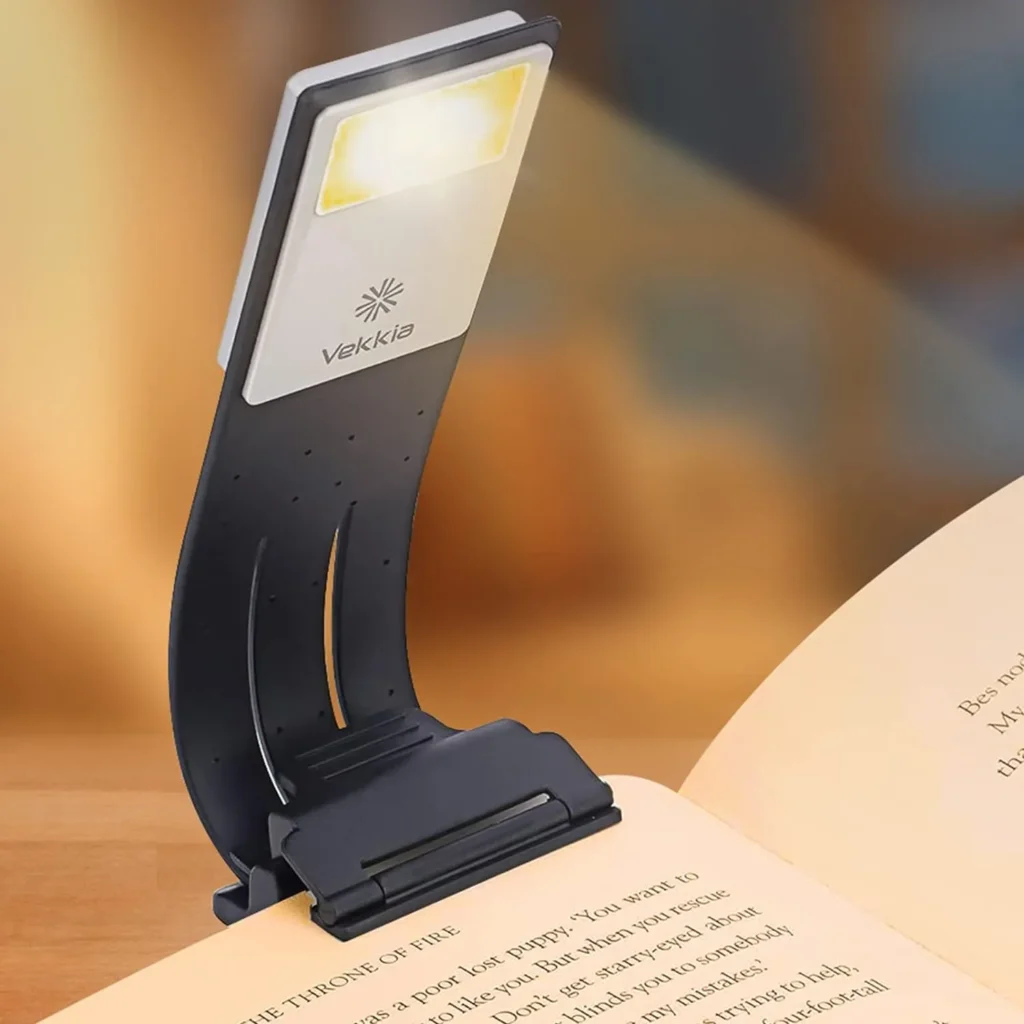 Vekkia's bookmark book light clips to your Kindle, illuminating your reading experience without the eye strain. With a tap of a button you can select from a range of illumination levels, and when you're ready to charge back up for more reading just connect to your laptop or charger via a built-in USB cable.
This reading light is perfect if you want a slim and lightweight option, since it will not hinder your reading experience.
The light has a rechargeable battery so you don't have to worry about running out of juice in the middle of your favorite book.
It also has a warm color soothing light that is perfect for reading eBooks in the dark or at night.
The Clip-on Book Light has adjustable clips for different sizes of books- Kindle, Paperbacks, and Hardcovers.
You can tuck it in the Kindle case when not in use
17. Magnifying reading lamps for elderly
If you are an elderly person who has difficulty reading without magnification, you can use handheld magnifiers, bedside lamps, floor lamps, or page magnifiers. All of these have built-in lights that are bright enough to read easily.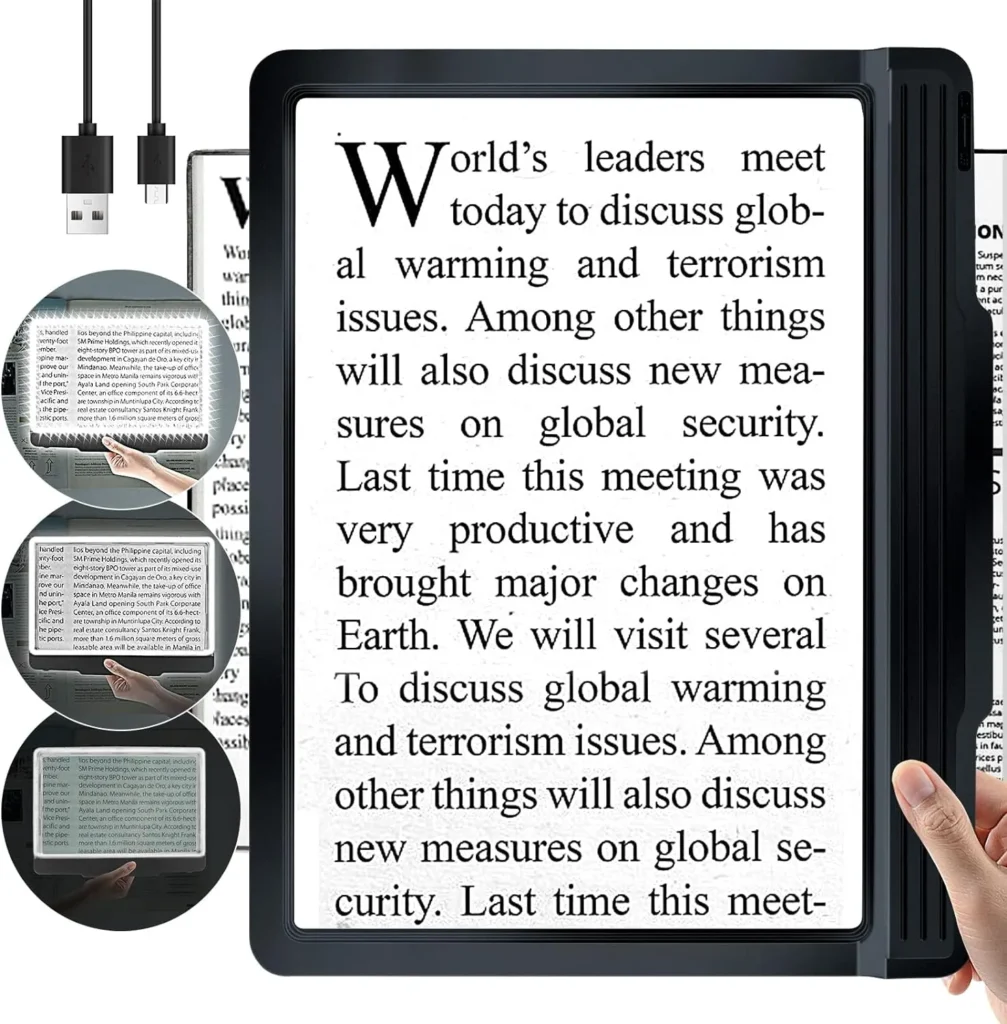 Magnifying light glass is one of the best handheld magnifiers with built-in reading lights for the elderly. This is a flat panel style Light. The top benefits of this magnifier light are:
2 LED light produce even light, anti glare reflector prevents glare.
Dimming switch to adjust the brightness of the monitor.
Lightweight and ergonomic design for long hours of reading, making it a perfect partner for your desk.
You can also get in other shapes and types. For example, you can get a bedside magnifier with light if you do not want to hold the light. A mini magnifier with light if you want portable light that is light in weight.
18. Incandescent bulb reading lights
If you have sensitive eyes and can only withstand incandescent or halogen light, then this would be a good fit for you.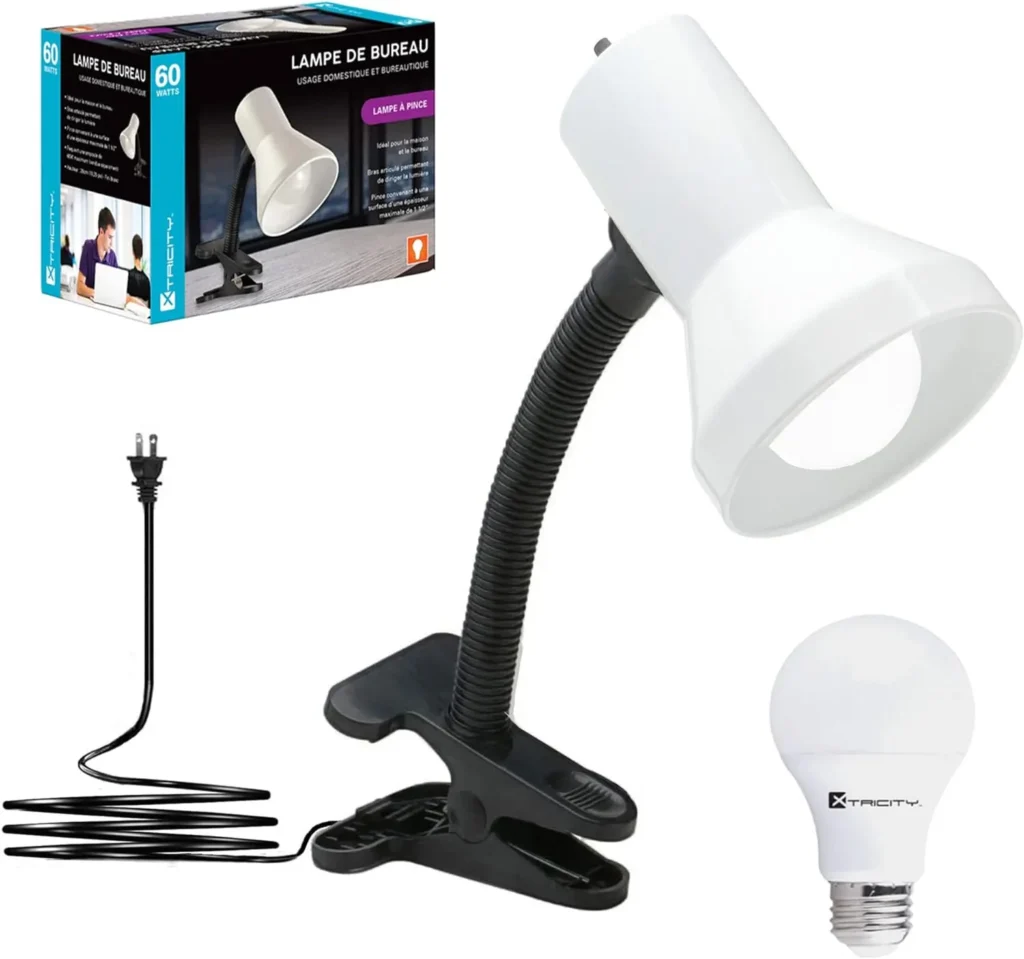 Xtricity Lamp with Clamp Base can be a quick go-to option if you want to use only the incandescent bulb for reading. It runs on direct power from the wall socket.
It comes with an LED bulb. So, you will have to Just buy an A19 Incandescent bulb and use it with this lamp.
As you can use this lamp with both LED and incandescent bulbs, you can compare them both. By using this lamp with a good incandescent bulb will give you an idea of whether you absolutely need incandescent light or a good quality LED book light will just work fine.
Other than this, there is clip-on, bedside, floor and wall-mounted styles are also available. Here you will find all the types of incandescent bulb reading lights.
What Makes a Good Reading Light for Bedtime?
Good reading light for bedtime should be compact enough to carry from room to room, adjustable enough to match your lighting needs, and produce no glare or harsh blue light.
More than the color, the watts, or the type of bulb, what matters most is the amount of light that is lighting the page. If you have a brightly lit page that your eyes can easily read through them, this is a good light.
The best light is the one that lights up the page evenly and with enough brightness that your eyes do not strain due to low light. Plus, It should be dimmable. Let me explain in detail…
Brighter starker light
If you worry too much about the color of the light, but the light is not enough and your eyes have to struggle to read then you are unnecessarily straining your eyes which is harmful in the long term, the first thing that you should make sure while getting a book reading light is that the light is bright enough for you to read.
Mostly, lights that are available in the market produces enough light to light up the pages, but the problem arises when the light is too much that it is leaking out of the desired area and disturbing your partner who might be sleeping beside you, or the light creates some hot-spots which are discussed in the next heading.
Evenly distributed light, without any glare
Glare on a page can frustrate and inhibit one's ability to read. A good reading light at bedtime should not produce glare.
The light should also be projected softly onto the paper so that it does not create any hotspot or glare that is poking into your eyes. This also causes stress when reading for longer sessions or even the shorter ones.
This problem can easily be avoided by choosing a light that has a soft filter on it. That will disperse light evenly on the page.
Dimmable Light
If a person is reading in a dark room, the best reading light will provide either adjustable brightness or a low-setting reading mode. Low-level light is recommended because high-intensity light can cause eye strain.
The light should also be adjustable so that you can adjust the brightness on the spot. Usually, the lights that are built for reading have enough brightness to read but sometimes when you are feeling sleepy you may want to dim the light a bit. This is when this function will come in handy.
Moreover, you might need a different amount of light than the standard, so there must be some room to play with. Whenever you are buying a book reading light is considered the one that can increase or decrease the brightness.
Low power consumption
If you're an avid reader like me, then you know how comforting it is to indulge in a good book before bed. The soft light and the warm blanket make it feel like home. But what if I told you that your reading habits could be hurting the environment?
The average household spends a significant amount per year on electricity just for reading lights. That's a lot of wasted energy! So save money while also saving the environment by using low power consumption lamps for nighttime reading.
No blue light
Blue light has been shown to disrupt sleep patterns and lead to a long time getting to sleep.
The blue light that is emitted from electronic devices can disrupt your circadian rhythm, which could lead to a lower quality of sleep, difficulty sleeping, and headaches.
Conclusion
Everyone is different, so if you like any of the book light styles, click the link mention at the end of each heading to check out all the best options in that category of reading lights for bed.