Do you love to read in bed? Are you looking for the best book light that neither disturb your partner, not cause eye-strain? Then this review of Ecologic Mart Eye Care Warm Book Light, will show you why it is the Best All-in-One light, for reading in bed?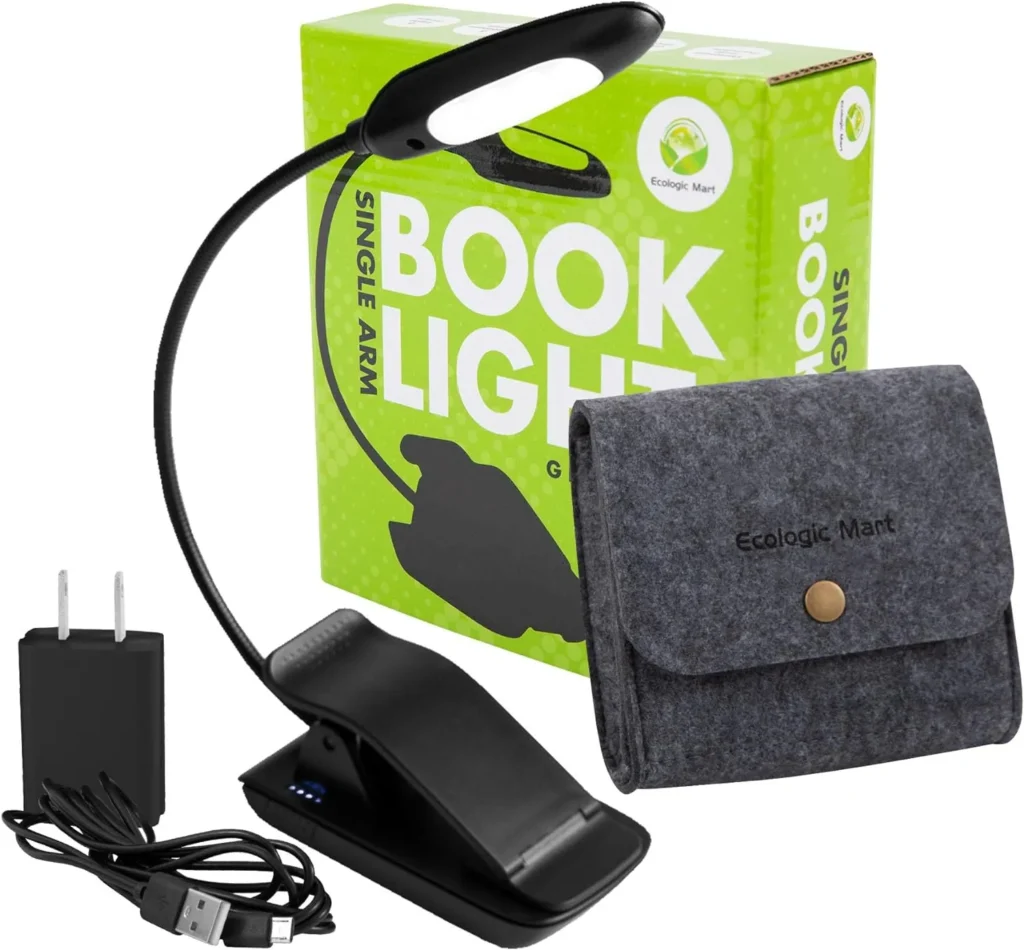 Ecologic Mart book light packs all these useful features in a single book light:
Warm and cool color light.
Clip to hold books and ereaders.
Keyhole hanger at the base to make it wall mounted or headboard reading light.
Easy charge long lasting battery, that is also easily replaceable.
Flexible and sturdy gooseneck for precisely directing the light away from your partner.
Small, lightweight, travel friendly portable reading lamp.
A great company dedicated to provide the best.
As you can see from the list above that the company had put a lot of thought in designing this book light. That is the reason, every book lover who loves to read in bed, will love this book light. It is highly adjustable, everyone can use this light for various needs. Be it Kids, adults or elderly.
Pros
Read in bed without disturbing your partner.
Two heads evenly illuminates both pages of books.
Warm light, plus two other cool white color light in one book light.
Get Dim light with Multiple brightness adjustment levels
Adjustable, yet sturdy gooseneck for perfect orientation
Clip-on light mounts to Books, Ereaders, Headboard and Wall.
Long lasting Rechargeable Battery & Charging Status Indicator
Replace the Battery yourself, once it dies after years of use.
Great Build Quality, backed by Awesome Customer Service.
Cons
Battery dies after 6 months, for some users (But, the company responded immediately, and replaced the light for them)
Benefits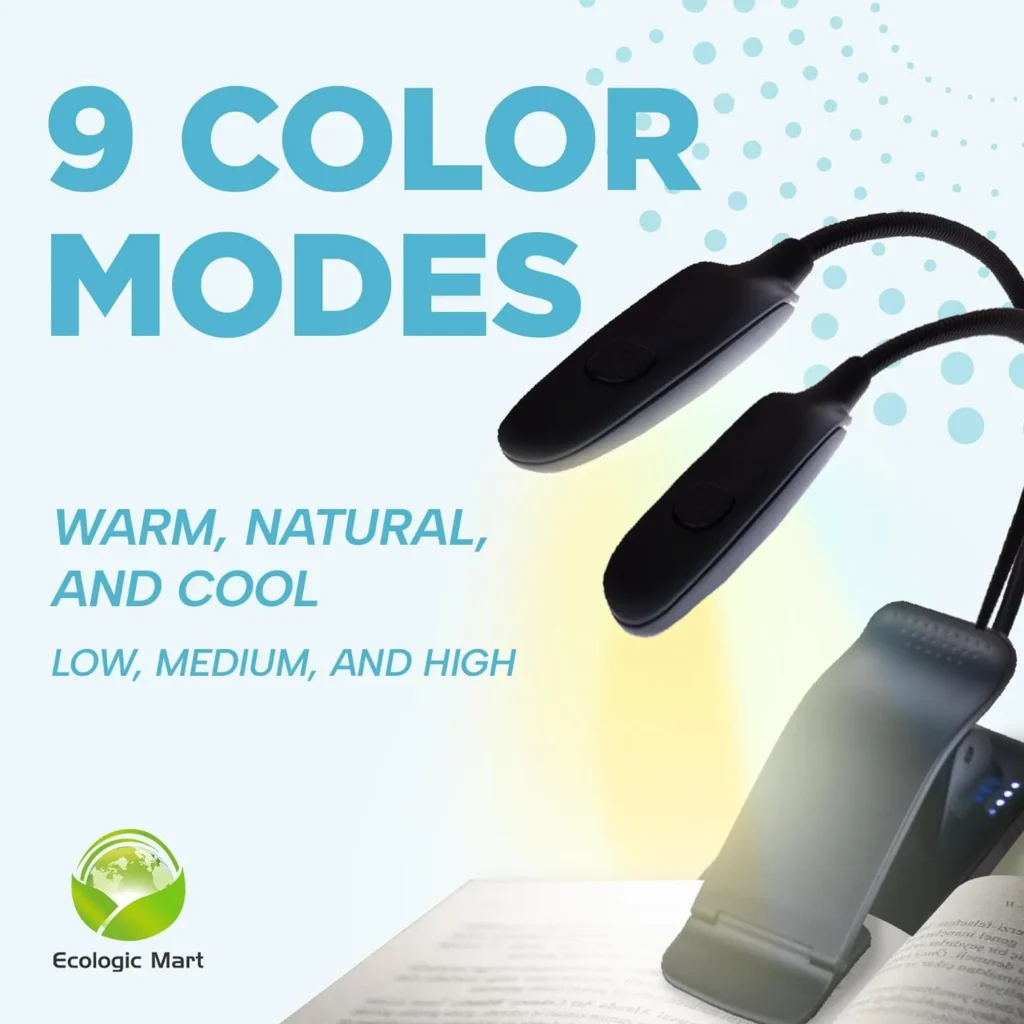 Lets review the benefits of Ecologic Mart's eye care warm book light for reading before sleep.
Enough Brightness to read without eye strain
If you are looking for a light that is bright enough to read easily in the dark, but also dim enough that it does not poke into your eyes, then this Ecologic Mart light is a great option.
Dim light Book light
Plus, if you do not like the brightness, you always have the power to adjust it, how much bright, or dim you would like. This is especially useful when you start to feel sleepy, and want to gradually decrease the brightness.
3 Color Light in One Book light
It has three light color temperatures. 3000K, 4900K, and 7000K. So, whether you prefer warm, daylight white, or Cool white light, you will get it all three, in this one Ecologic Mart clip-on book light.
Three levels Adjustable brightness
On each head, for each color (e.g. warm color), there are three brightness levels: low, medium and high. Now, you can image how many different variations in brightness you can have with just one single book light. For two heads, and three colors, there are whooping 18 brightness levels, which is more than enough for most people.
Warm light does not disturb your sleep
Warm light color of this light is specially useful while reading in bed, as this does not disturb your melatonin production. You will be able to sleep easily even after reading for a couple of hours in bed. Read more on Why warm color light is better for reading in bed?, and More Warm and amber color light book lights for sleep
Daylight and cool light Keeps you Alert
Sometimes, you do not need warm light. You might want to stay awake and alert and study for exams. This is when cool light is useful, as it will decrease your melatonin production, so that, you will feel less sleepy. It comes in two tones of cool white light: 4900k and 7000K. 4900K is still, a bit warm and feel pleasant to eyes, while 7000K is very bright and can be used at times, when you need extremely bright light.
Flexible yet sturdy neck holds its position
It has a flexible neck that changes its direction to virtually any position your like. The neck is sturdy and holds itself once you set it.
Read in bed without disturbing your Partner
This book light is best for reading in bed without disturbing your partner, because it is dimmable, with flexible neck. If your partner is being irritated by a lot of light in the room, then you can set the brightness to the most dim possible, and adjust the light so that it points away from him or her. Now, you will be able to enjoy reading, without worrying about the sleep of your partner.
No glares, or hotspots prevents headaches
Ecologic Mart has placed a diffuser shell on top of LEDs which eliminates harsh glares or hotspots. Still if you find one, just adjust the angle of the light head so that the light does not reflect from the book.
Small, Lightweight and Portable Reading Light
Take it with you while travelling in train, car, or on a Plane. It is a small book light and weighs just 3 ounces. Just fold its neck to keep in your pocket. It has a very small footprint, that is why it would take no extra space in your bag.
Rechargeable battery lasts upto 130 hours
You can read for week on one single charge with this book light. It means, you can finish several books without worrying about plugging in or charging the battery. Whether you are out in the woods, on the road, or in the air, while travelling, you do not have to worry about the battery. It come with a huge 1200mAH rechargeable battery that lasts for up to 130 in the dim light settings, that is one arm with white light. And if you use it on natural light, at full brightness of both heads then the usage time will reduce to 2.6 hours.
Easy to Charge Battery
The micro USB charging port makes it very easy to charge your book light. Whether you are at your home, or travelling somewhere, you can easily find a micro USB cable. You can charge from different USB sources, like power banks, power bricks, laptops, and solar panels.
Long Lasting Battery
This battery is high quality which is shown in the number of charge cycles i.e. 1000. This a a lot of charge cycles, and is better than the most batteries.
Replace the battery, not the light
Even after using it for so long, when the battery eventually dies, you do not need to throw the whole book light away. Just replace the battery with a new one and you will have a new book light, again. Plus, you do not need specialized tools to change the battery. Ecologic Mart does not sell these, but you can get replacement batteries from amazon, easily.
Never Have Power Issues
It comes with a long 6 ft charging cable. Combine that with a rechargeable battery and USB charging port, and you will get a light that will never have power issues. Let me explain. First of all, there will be some charge left, whenever you will start reading it, if there is none, then you can simple charge it with any USB cable lying around, or use the long wire to plug it directly and start reading.
Charging and Battery Status indicator Shows 25, 50, 75 Or 100%
This tells you whether the battery has started charging or not. This is shown by an indicator light that changes its color. Check user manual for Specific details. This is feature is not available in most of the book light, but Ecologic Mart has focused on small details that make a big difference. This shows that it is a well thought design.
Wall Mounted Or Headboard Reading Light
This clip on book light can also be used as wall mounted reading light, due to the keyhole hanger at the back side of the base of the light. Just place a nail or a screw in the wall and hang this light over it. Or you can clip this light to your headboard. But if, the headboard is wider the the clip, then use a screw or a nail to hang it to your headboard.
Best Portable Desk Or Bedside Reading Lamp
It is also the best if you are looking for a portable desk or bedside reading lamp. You can place on any flat surface and it will free stand on its base. Despite of the small size, it throws a powerful light that is enough to replace a portable reading lamp.
Best Book Light For Kids Or Elderly
Ecologic Mart eye care warm book light, is one of the best book lights for Kids or an Elderly person. It is small and lightweight which makes it easy to carry. There will no stress on kids or elders hands when holding the book with this light clipped on. There are no complex settings, just tap the button on the back of head to operate the light. Plus it is extremely safe for kids and easy to use for elderly person.
Extremely Versatile Light Goes Wherever You Go
This light is adjustable in every possible way to adjust where you are and what kind of light you need for reading. It is way more than the best book light for reading in bed.
Complete Accessories
It is one of the very few, or might be the only book light that comes packed with all the accessories you might need. You get a charging power adaptor, capable of fast 1A charging. Most of the other book light only come with a small wire, and they expect you to use your phone charging brick. Plus, you get a soft carry bag for safe and easy travelling. This is also missing in other light. Again, these small attention to detail shows how professional and serious they are about over-delivering value to the customer.
Alternatives
Of all the book lights I have reviewed, this one has the longest list of benefits. This is what makes it the best clip on rechargeable eye care warm book light for reading in bed. But, there are some alternatives that you can check: