Do you love reading in bed, but always end up adjusting your sheets, blankets, and pillows to avoid any awkward contortions? Check out these book holders that are perfect for propping up your book in bed!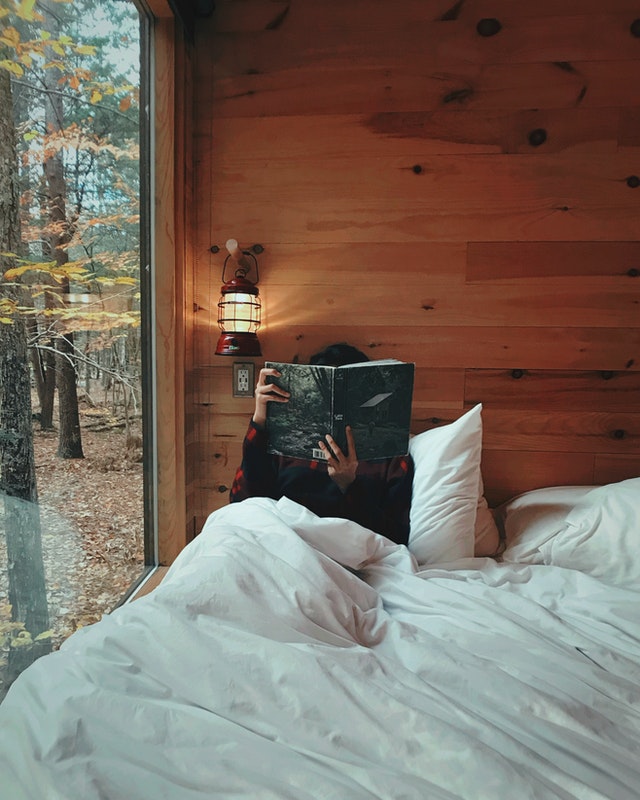 Enjoy Reading in Bed with One of These 7 Book Holders
1. The Book Seat Book Holder Pillow
Choose this book holder if you want to read in bed sitting or lying down. The height is fixed, and the angle adjustment is also limited.
The book seat is a bean bag pillow with a front pocket for holding books hands-free, and there is a built-in page holder to keep the books open.
The usage is simple. Place the book (or kindle/iPad) in the pocket, tighten the page holder plastic, Place The Book Seat on your belly, and start reading. You can also adjust the angle a bit.
It works for paperbacks and also the large and heavy hardcovers without tipping.
You can place book holder pillows on your belly while reading in bed. You can also use these on a sofa or chair and place them on your lap.
Available in multiple colors to match everyone's style. A detailed review of The book seat.
Check all the best pillow book holders for reading in bed
2. Mind Reader Adjustable Lap Desk Pillow
The MindReader lap desk is a soft pillow at the base and a hard surface at the top, with eight adjustable angles. To read in bed, Place the book or kindle, adjust your favorite angle, place the Mind Reader on your lap, and start reading.
It has two soft pillows attached at its bottom. They are comfortable to place on your lap, as they prevent sweating and allow for better airflow.
You can get it in pink color as well.
Lap desks with soft pillows attached at the bottom are great for holding books and tablets while reading in bed. Plus, you can use them as a breakfast table or laptop table. Check Best Lap Desk Pillows for reading in bed for all the best options.
3. Adjustable Over-Bed Reading Table Book Holder with Two joints
SYITCUN is a new addition to ergonomic book holders for beds. It is similar to the adjustable multipurpose table that is listed next. The difference is that it has one less joint and a built-in page holder for holding hardcovers or paperbacks easily. One less joint makes it stable and sturdy. Plus, as they save the material, it is cheaper than the next one. You can get it in white or black color. It folds flat for easy portability when not in use.
4. Adjustable Ergonomic Aluminium Bed reading Table with Three joints
This Aluminum bed reading Table is the most adjustable bed table for reading books and tablets. You can adjust its height or the angle to read in bed comfortably.
After reading, fold it flat and store it below your bed. It is also lightweight to carry but can hold heavy books up to 10lbs.
You can get it in 11 colors that suit kids, girls, boys, adults, or the elderly.
If you like this bed-table style book holder but read heavy books, I recommend you check out this Back-Pain-Help Adjustable Table with zinc metal alloy joints. Its joints are not made of plastic and can hold up to 110 pounds.
5. SAIJI Adjustable Bed table for holding books, e-readers, or a Laptop
Saiji Bed Table has two knobs at the bottom that hold your book, tablet, or laptop. These two knobs can easily hold a thick and heavy hardcover or a delicate paperback. First, you place the book on the table and then press the knobs to lock the book in place. It is a multipurpose adjustable table.
6. Wooden Adjustable Bed Table Book Stand
Songmics bamboo wooden over bed reading table is great for holding books and tablets while reading in bed, especially if you love wood. It is sturdy, waterproof, and durable. You can adjust its height and angle to read in bed in an ergonomic posture. Plus, your hands will also remain free.
There are five preset levels to change the angle. For example, you can change the height from 9 to 11 to 12 inches, approx. You can keep your phone, book light, or bookmark in a cute little drawer at the side. It is available in dark shade as well.
7. Levo Book Holder floor stand for reading lying down flat i.e. supine position
Floor stand book holders allow you to read in bed while lying down completely flat, i.e., when the book is facing downwards. You can also call them overhead book holders for bed. Check here for more Best floor book stands for reading in bed.
Levo floor book stand holds the books in front of your eyes, just like they are magically floating in the air. You can control its height and angle however you like. It helps read in a correct posture and eliminate neck and shoulder pain.
Whether you are sitting up in bed, lying down completely flat, or reading on one side. It can hold books up to 4lb. It means it will work for most of the books you read. For heavier books, add a counterweight to the base. Attaching books and turning pages is also easy.
This multipurpose book stand is great for all book lovers, including kids and the elderly. To know how it works with iPad or kindle, its pros and cons, check my Levo bookholder review.
Levo is adjustable and multipurpose, but If you only read in a supine position, this book stand for bed is the perfect option.