If you are looking for amber LED clip-on book light for reading before sleep, then Hooga is the best choice. It is great for kids, adults, teens, girls or boys, as well as elderly persons. The main benefit of Hooga eye-care book light is, it emits amber color light at 1600K with least amount of blue light that does not disturb your sleep (How, Why?).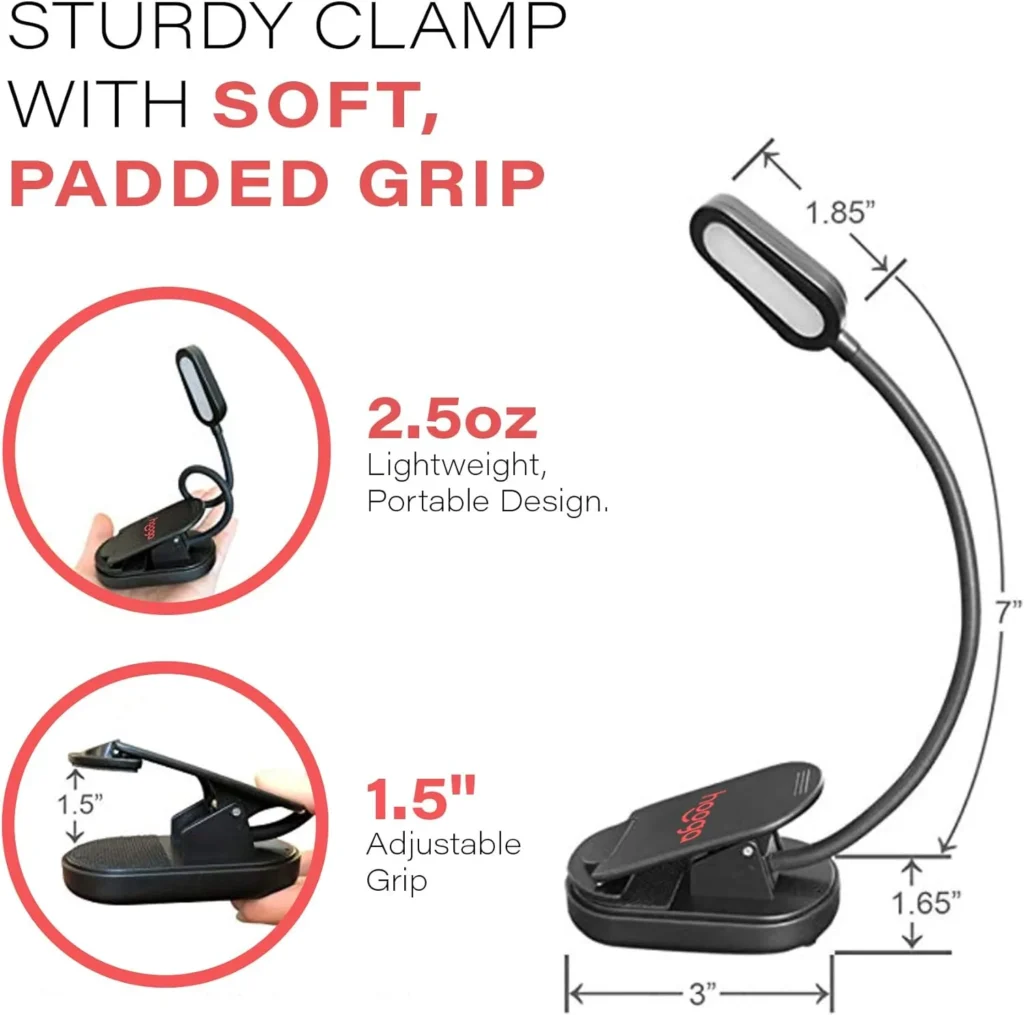 Pros
Amber color light, 1500K
99.94% free of blue light
USB Rechargeable, 4 hr charge lasts upto 30 hrs
2.5oz Lightweight and portable
Flexible neck to direct the light
Sturdy clip that opens 1.5''
2 Dimmable brightness levels
Cheaper than the competitor
Cons:
The on/off button is not recessed, so it sometimes turns on accidentally
Only two brightness levels
Benefits
Read in bed without disturbing your sleep
If you read with Hooga book light in bed, you will either fall asleep on time, or a bit earlier. It produces Amber color light with almost no blue light in it. This does not effect the Melatonin production, and hence does not delay sleep or has no effect on circadian rhythm.
For more info: on Which color light is best for reading in bed? White or yellow? Why? Check this post.
Read in bed without disturbing your partner.
If you have a partner sleeping beside you, then simply turn the light away from him or her. That is how you will be able to read without any worry. For the other two accessories that you will need for reading in bed without disturbing your partner, check this post.
Read in bed without eye strain
Hooga book light helps you to read at night without eye-strain. First of all, the light is bright enough to make text easily visible. Then, the light is smooth and evenly diffused that produces a soft glow. This does not irritates the eyes, even if you read for long period. And lastly, it is dimmable, so you can decrease the brightness if you find it too much.
So Lightweight that it does not weigh paperbacks down
If you love to read paperback books before sleeping, then Hooga light will not pull your book down. It also means, you do not need any extra effort to hold the book. It just weighs 2.5 oz which will be negligible to hold. For more, check Best book lights. Furthermore, If you want to read completely hands-free so that there is stress on your shoulders or hands, then get any one of the Book holders for reading in bed.
Sturdy clip hold the book without damaging it
Like all the other best clip on LED book lights, Hooga light also has a clip that is sturdy and strong, yet does not damage the pages of the book, or scratches the screen in case of Kindle.
Great for kindle Paperwhite and 8th gen
Hooga reading light has a sturdy clip that clamps to e-readers as well. That is why, it is not only useful for paperbacks or hardcover books, but you can also use it for reading digital books in bed, on your kindle paperwhite or kindle 8th gen.
Flexible neck is sturdy too
It has a flexible gooseneck that is 360 degree flexible. You can direct the light in any direction or angle you want. At the same time, it is sturdy enough to hold its position. You do not have to re-adjust it constantly.
Great book light for kids
If you are looking for a book light for kids, then this one is a great option. It does not have a auto-off sleep timer, but other than that, it is a great option. Your kids will fall asleep earlier if they read with this light.
Large USB rechargeable battery that lasts for weeks
It has a large 1200mah rechargeable battery, that can be charged from any USB power source, for example your laptop, phone charger and powerbank. Once charged, it lasts for upto 30 hours, if used on the low brightness settings.
Easy to carry with you while travelling
It weighs 2.5 oz, and has small size. Plus, you fold its neck to make it pocketable. This is specially useful, if you travel a lot, do camping, want to read on a beach, in a car, a train or on a plane.
Great gift for book lovers who love to read in bed
Considering the features and benefits mentioned above, it is a great gift for bookworms who love to read before sleeping. Hooga amber light allows them to read comfortably in bed, even for long period. For more gifts for book lovers who love to read in bed check this post.
User reviews summary
Most of the users love Hooga amber book light for reading in bed. They love how friendly its light is to their eyes, and it helps them read without any eye-strain. Its amber color is sleep friendly, and flexible neck allows you to precisely control the direction of the light. It means, If you wake up in the middle of the night and read with this light, you will neither disturb your partner nor your sleep. For more detailed user reviews check this link.
Alternatives
Somnilight Amber book light is also amber led clip on rechargeable book light with almost no blue light. It has two heads that illuminate both pages of your book more evenly. But the battery is small and lasts 10 hrs less than the Hooga light on low brightness. It is also good for reading in bed without disturbing your sleep. Overall, Hooga clip light is better than Somnilight. For details, check my Somnilight book light review, or check user reviews on amazon
Best clip on book lights – The collection of the best book lights overall.
For more types of reading lights, check reading lights for reading in bed.
Conclusion
Hooga is a great addition to market of amber book lights that produce almost no blue light. if you want to read in bed without compromising your sleep quality, then Hooga is the best choice among all of them. For more choices check the alternatives section above.