Are you looking for a tablet or e-Reader holder, stand or mount to hold your Kindle or iPad at the perfect angle, so you can read in bed comfortably, without neck pain? Plus, it will also relive your arms stress. Then, check out the 27 best options listed below.
Note: You must check Best book holders for bed and Pillow book holders, because many of those will also work perfectly for the Kindle, iPad or ant other e-Reader tablets.
1. Kindle, iPad, and eReader stands and holders that you can place on the bed
Adjustable, Over-bed, kindle and iPad stand that can hold the screen over your head while lying down.
Stillcool Tablet stand is one of the best tablet stands for reading in bed that works for all the devices, at every surface, and help you read without neck pain anywhere. You can attach the Kindle, the iPad, any other tablet or e-reader. The position of the Kindle/iPad can be fixed at the correct height and the perfect angle. The best thing, you can even position the tablet over you head while you are lying down flat. Other then bed, this multipurpose stand works on your sofa, the floor, the desk, and more. When not in use, it folds in a travel-friendly size for easy storage.
Kindle and iPad stand with four flexible legs that adjusts on any uneven surface, like bed or sofa.
Nbryte Tablift Tablet Stand is an adjustable tablet stand for bed, sofa or any uneven surface, that works for all tablets. Its four spider-like legs gives you the power to position the tablet in front of you at the right height and angle. This keeps your hands free, and your neck at the correct ergonomic angle, so you can read without any pain for long period.You can easily carry this portable stand with you. The only problem is, sometimes, it does not stay where you set it, because of the flexible legs.
2. Best Tablet mounting arms that attaches to the headboard, or the wall beside the bed.
Adjustable, yet sturdy mounting arm to hold tablets, e-readers and mobiles phones
Neewer Universal Smartphone and Tablet Stand holds you kindle or iPad securely in place, so you can read without stressing your neck, or hands. You can attach it to the headboard, or the side-table near your bed. The biggest benefit is, you can adjust it however you like, and it will stay there once set. Thanks to its metallic arms and spring mechanism that makes it adjustable yet sturdy.
Flexible Goose-neck Tablet mount that is also sturdy,but if you only use it for reading in bed
Tryone Gooseneck Tablet Stand is great for holding Kindle or iPad in bed, but you have to use it with care. It is flexible and sturdy, if you use it for reading only – Once you set, it will stay there. But, if you use it for activities which require touching or interacting with your device, then it will wobble and bounce. It has an extra-strong and wider that fits easily and securely on your headboard. Overall, it is a good option to hold tablets or e-readers at perfect angle while reading in bed.
3. Best Adjustable Floor Stands to hold iPad, Kindle, e-readers and tablet while reading in bed
Multiple types of floor stands are available to hold your tablet or e reader, like Kindle or iPad. All of these position the screen at the right height and the correct angle, so you can read for long period without neck pain. The difference is in, how much height you can adjust? How long you can extend the arm? And most important, How much sturdy they are, when used for reading in bed?
Gooseneck floor stand tablet holder with wheels is an inexpensive option for holding Kinlde/iPad in bed
CTA Digital tablet stand is a basic inexpensive goose-neck floor stand that can hold your Kindle, iPad or any 7"-13" inches device. Its goose-neck is flexible, yet sturdy enough to hold the device while reading. You can adjust its height, also the angle to position the screen in front of your eyes at the correct ergonomic position. Get one with wheels, or without them. Also, there are two colors to choose from.
Long Swing Arm floor stand is flexible, inexpensive, yet more sturdy for holding phones and tablets while reading in bed
Kufox adjustable floor stand helps you read in bed without neck pain, and without stressing your hands. It has a long arm that is flexible, and sturdier than the goose-neck stand. The height of the pole is 29 inches that enough to read on most beds, or sofas. Plus, the arms can be extended up-to 28 inches. It can hold devices from 4.5" smartphones to 10" tablets. You can get it in White or Black color to match your decor.
Elegant and minimal, phone and tablet holder floor stand that is adjustable, yet very sturdy
Viozon Tablet Floor Stand is one of the best iPad and Kindle holder for reading in bed. Its long and sturdy swing arm extends up to 20" to position the tablet exactly in front of you. You can adjust its height from 12 – 35 inches and extend the arm up to 20" horizontally, which is enough to read on most beds and sofas. The base is well designed, and prevents any toppling. It can hold smartphones (3.5″ to 6″) and tables(7″-13″). On top of that, it looks modern and minimal that can compliment any room decor. Get one in Black or Sliver finish.
Height and Angle adjustable that securely holds the tablet while you are lying in your bed
idée adjustable floor tablet stand is a good option for 7 to 13 inch tablets and e-reader including iPad and Kindle, for reading in bed. You can raise it up-to 44 inches (10″ more than the Viozon) and extend its arm up-to 20 inches horizontally. It has a study base weighing 9.6 lbs that holds its there, securely. You can also rotate the tablet in landscape or portrait mode according to your reading preference.
Tablet floor stand with less joints and balanced weight to keep your tab super-stable, without compromising adjust-ability
Supertek tablet floor stand is one of the best options if you love to read ebooks in bed. The unique thing about this stands is the design of the swivel arm that makes it way more stable than the ones which have jointed arms. Still, it keeps its ability to adjust. You can raise it form 26 to 47 inches, extend its arm up to 25 inches, and rotate the device 360 degrees. This flexibility gives your the control to position the device however you like. It works with smartphone and tablets up to 11" in size.
Heavy base tablet floor stand that can securely handle any tablet or Kindles with maximum adjustable.
Levo G2 is one of the best tablet holder floor stand that can also work for real paper books (with book holder attachment). It is highly adjustable and has superior build quality that makes it sturdy and durable. You can raise it from 30 inches to 56 inches. To raise it even higher for treadmills and bunk beds, you can add height extensions. The arms extends 24 inches. Its base weights 20 pounds that makes it extra stable. For more details, check my Levo tablet holder review.
Elegant and modern, Adjustable floor stand that holds tablets, e-readers and real books – All in one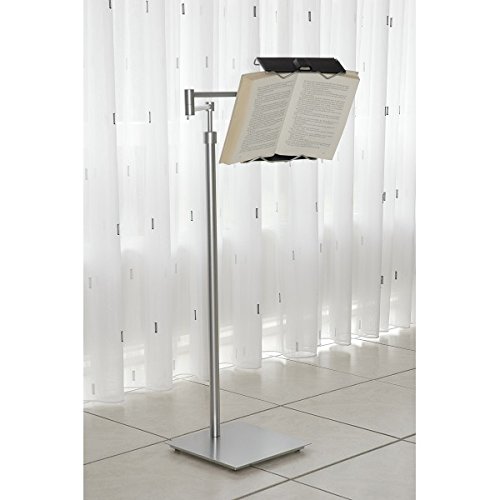 Lecco is one of the best tablet stands that offer a combination of flexibility, stability and modern elegant looks. Its holder work with tablets, e-Reader and books. It means, you do not have to separately buy the book holder platform like Levo G2. Plus, its base is thinner, and can easily slide under the furniture with tight spaces. This allows you to pull the book or the tablet closer to you. Read more at my Lecco book and e-reader holder floor stand review
4. Adjustable multipurpose Bed tables for holding iPad tablet or Kindle e-reader
Highly adjustable Multipurpose table that holds Kindle, iPad, Laptop or books at an ergonomic position
Furinno adjustable table is a multipurpose stand that you can use to read on iPad, Kindle, and real books too. Plus, you can work on your laptop, or have a breakfast on it. You can use it on your bed, sofa or while sitting on the floor. This gives you the power to adjust the angle and height of the device so that you can read without stressing your neck muscles. When not in use, it folds flat for easy storage. You can get it in any of the 11 colors available.
Adjustable, yet Sturdy wooden table to hold books, ereaders and tablets at the right angle and height
Songmics is a multipurpose table that folds flat for easy storage, when not in use. It is less adjustable, but more sturdy and heaver than the Furinno table. It is available in pure bamboo wood, Black and Brown MDF wood. There are other similar tables available, but this one is both height and angle adjustable, which is necessary to hold books or tablets at the correct ergonomic potion, so you can read without neck pain.
5. Bedside Table or wall mounted iPad and kindle holder stand
iKross 2-in-1 Wall & table tablet stand is a multipurpose, adjustable tablet holder that you can use while reading in bed. You can either place it on a bedside table, your over bed table, or attach it the the wall beside your bed. Using this stand, you can hold your Kindle or your iPad at the perfect height and at the correct angle. That way, you can read for long time without stressing your neck, and arms.
6. Ipad, kindle or tablet holder lap pillows for reading in bed
Triangular pyramid pillow to hold tablets and books on your lap or belly while reading in bed
Ideas in Life Pillow Holder can hold iPad, Kindle and even real books. It has a pocket that hide some bottom part your tablet or the book, but it is more secure as compared to other iPad pillows. You can move a bit in your bed without slipping or flipping your tablet. Plus, you can also flip the pillow to make its pocket less deep. The cover is removable and easily washable. You can get it in three colors.
Three different angles triangular pillow. Flip the pillow to change the angle of the iPad or the Kindle.
Urnanal is a Multi-angle pillow to hold tablets, ereaders and books while reading in bed. The design is quite unique. Just flip the pillow to change the angle. Kindles and iPads works best on this, than the books. It has a side pocket to keep you phone, remote, or book light. This one and the Finebaby are an off-brand and inexpensive versions of the popular Flippy tablet holder.
Another design of Tablet holder pillow with side pocket for reading in bed
Moko table holder is a great iPad pillow for reading in bed that has a low profile stopper, to hold you tablet in place, that does not block the lower portion of the screen. It holds your iPad, Kindle or any other e-reader at a better angle to release some stress from your neck. You can keep your pen, phone or hands-free in its side pocket. It is available in three colors. For even more colors, check Ipevo Padpillow. For cheaper option, check Foonee Pad Pillow
Bean Bag style tablet holder that doubles as a travel head pillow, available in small and large size
Lap Pro is a bean bag style lap pillow for holding iPad tablets, Kindle readers and books. You can use it by placing it on your lap and adjusting the angle to your preference. It is available in small and large size. Small one is for Kindle and iPad mini, while the large one can hold all tablets, from the iPad mini to the iPad pro. You can also use it as a head pillow.
Bean Bag style lap pillow that props up your kindle or iPad at an angle without blocking the bottom part of the screen, with washable cover
iProp tablet holder is bean bag lap pillow for holding Kindle e-readers, and iPad tablets. You can place it on your lap and its bean filling will adjust it self to provide your tablet a sturdy base. Plus, it gives you flexibility in adjusting the angle of the table. It helps you read digital books at a comfortable neck angle, and without stressing out your arms and shoulders. You can easily keep it clean by washing its removable cover.
iPad and kindle pillow that props up your tab at 14 different angles, without shaking
Prop n Go Slim is an adjustable iPad Pillow for reading in bed. Free you hands and say good bye to arms and shoulder pain. Its 14 predefined angles allow you to position the tablet at the perfect angle. This releases some stress out of your neck muscles. The memory foam pillow at the bottom conforms to any uneven surface like your lap, or belly, and provide steady and sturdy base to hold the tablet in place without flipping.
More pillow holders: If you need a tablet pillow that can also hold books while reading in bed, then check out pillow book holders for reading in bed
7. Straps, Handles and Rings for holding kindle/iPad with less stress on your arms
If you read in bed, but in short periods , then these can prove to be a handy and useful gadgets. Using these, you can hold tablets and e-readers without stressing your arms and hands, too much. They facilitate your hands to easily grip and properly position the Kindle, iPad mini, or small e-readers and tablets. Here are some of the best options:
Simple, yet an effective kindle holder with two Two-Hook strap and a leather thumb grip.
TFY Hand Strap is simple, yet an effective way to release some stress from your hands and arms. You do not have to constantly grip the Kindle while reading in bed. It works, whether you are lying down straight, on your belly, or on your side. You can easily attach it to any Kindle, with or without the case, that is 6 inches in height, like Voyage, Paperwhite and Fire). For bigger tablets like Kindle Oasis or iPad get this Wanpool strap.
Velcro Strap that sticks to any kindle and iPad, also help free-stand the tab at an angle
Finite universal tablet hand strap is great for reliving stress from your hands. The best part about this strap is its design that makes it possible to attach it with any kindle or iPad. The velcro page sticks to the back of the tablet, on which you stick the Velcro handle. Plus, you can use it as a stand alone stand to free your hands.
Three-Hook hand strap for 6 inch Kinlde, prevents rotation and shaking than the two-hook strap
WanPool Hand Strap has three hooks to hold your Kindle. This three hook design provides better stability, and security from rotation. It only works for 6 inch tablets and e-readers, including Kindle Voyage, Kindle Fire, and Kindle Oasis 6 inch. Plus you get a soft and plush protective cover to keep it safe while travelling.
2-in-1 Comfortable handle to hold the kindle or ipad, and an adjustable angle stand for your ereader
ComfortHandle does not completely free your hands from gripping the tab, but make it a bit easier to grip it with a comfortable handle. You can also place it on its own on a flat surface like a lap desk pillow or adjustable book holder for bed which can help while reading in bed. It allows you to adjust the angle as well. With some care, you can even place it on your belly or your lap. When not in use, simply detach it for easy storage.
Ring that sticks to any kindle or iPad, and makes it easier to hold while reading for a while
FitFort Ring holder uses different approach to hold the tablet without firmly gripping it. Just stick it to your tablet, and hold the that with a single finger. It looks minimal, and does not add any bulk to your eBook reader. But, if you want to hold your tablet, it will magically appear to make it easier for you. It works with all tablets and ereaders, like Kindle and iPad.
9. Lap desks pillow tablet holder for reading in bed
Pillow lap desk with storage and a tablet groove to place your iPad at an angle, for reading in bed
iCozy is one of many lap desks that allows you to hold tablets and e-readers with other books, notebooks and other essentials. If you study in bed and want to place other things than the kindle or the iPad, then this is a good choice. You can also use it to keep some snacks while watching a movie on your iPad. It also has some storage space under it to keep more things.
10. More Tablet holder stands
There are some 12 book holders for reading in bed that can also double as a kindle holder, so also check those out. And if, you read real paper books, then here is a post about reading stand for neck problems.
More accessories for comfortable bedtime reading
If you also feel pain in your back, and shoulders, then check out best back rest reading pillows for reading in bed that will support your body, and keep it in ergonomic posture so you can read comfortably for long hours.
Also check, blue light blocking reading glasses for night time reading on screen. They prevent you from harmful blue light emitting from screen, so you can enjoy a better sleep, hence a better overall life.